If there's one thing I can count on this world, it's that the Target near my house will always have the latest, greatest, limited edition Oreos. Right now the special flavor is Candy Corn, and they are the star ingredient in Halloween Cookie Bark.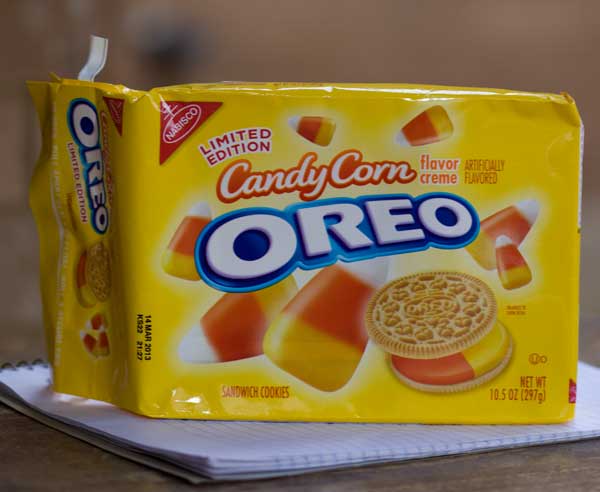 Unlike those who've had to travel all over the city in search of them, I found the Candy Corn Oreos while picking up a prescription. They were front and center at multiple registers, in the Halloween aisle, and in (of course) the cookie aisle. At one point, I felt I couldn't turn a corner without running into them.  Was I on the tail end of the Candy Corn Oreo crazy or had it just begun?  Did it even matter?
So How Do Candy Corn Oreos Taste?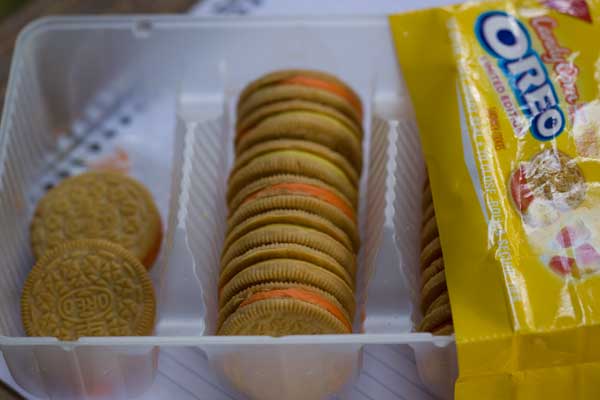 Having read other reviews, I had an idea of how they'd taste.  And somewhere between Target and my house, I came up with a good way to use them – Halloween Cookie Bark.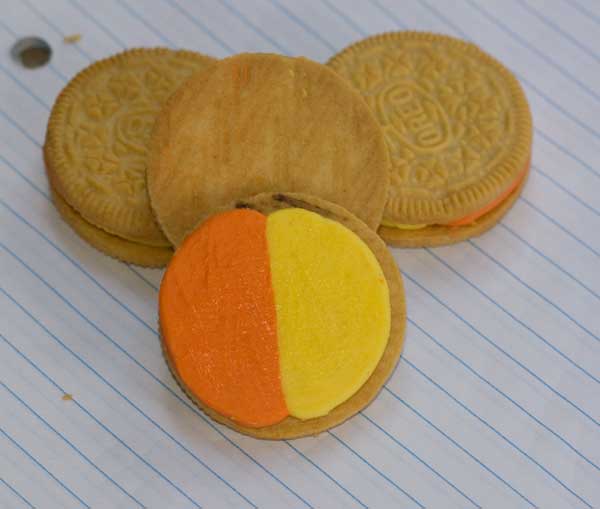 Okay, so how did they taste?  Well, like something that should go in Halloween cookie bark.  They weren't bad, nor were they great.  They were somewhere between okay and good, but too pretty to ignore.  As expected, they were right at home in the mixture of white chocolate coating, pretzels, peanuts and M&Ms.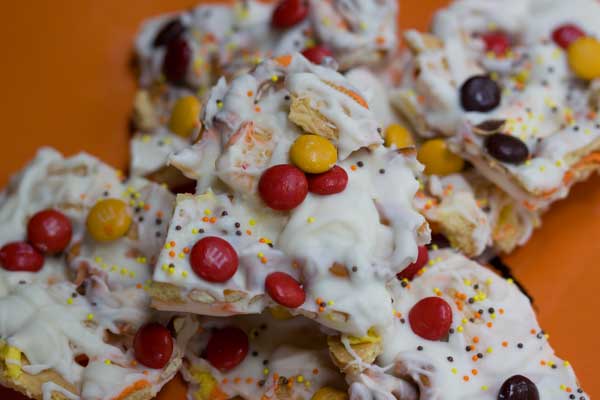 You could use Golden Oreos in their place, but these are so much more fun, so if you see them, pick them up and tell me what you think.
Recipe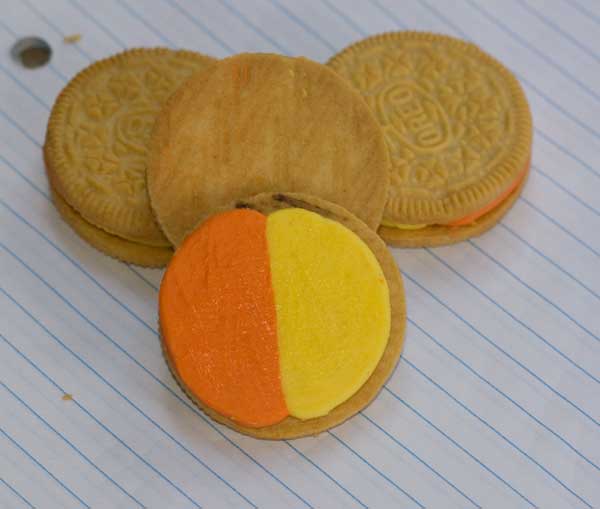 Candy Corn Oreos Halloween Cookie Bark
Fun Halloween treat
Ingredients 
8

ounces

of white chocolate candy "bark" or coating

1 to 1 ½

cups

pretzel twists

4 to 6

whole

Candy Corn Oreos or Golden Oreo

⅓

cup

lightly salted peanuts

¼ to ⅓

cup

M&Ms

Halloween or Fall colors

Halloween themed sprinkles

or orange & black
Instructions 
Line a baking sheet with nonstick foil.

In a microwave-safe bowl, melt the white chocolate as directed on the package. Alternatively, you can melt it in a candy melter or over a double boiler.

Meanwhile, break the pretzels and cookies into large chunks (I left my pretzels whole, which is an option).

Stir the pretzels, cookies and peanuts into the melted white coating, and carefully spread into a slab on your lined tray. Sprinkle M&Ms over the top.

Decorate with sprinkles. If you don't like sprinkles, just use a few anyway.

Let the candy sit until coating solidifies or put the whole tray in the refrigerator to solidify.

Break into pieces
Notes
Consider all the amounts given suggestions and use as many add-ins as you want.