Update: This is an old review. The Peanut Butter Candy Bar Blondies are still good, but the Hershey's Baking Melts have been discontinued.
One of the nice things about fall is that the baking aisle expands somewhat and stores in my area start carrying new products.  Case in point, the new  Hershey's Baking Melts which I found last week while searching for some milk chocolate to put in  mousse-topped cupcakes.   The cost of a 10 oz bag of Baking Melts was about the same as two giant Hershey's bars, so I went ahead and bought a bag.  As expected, they melted quite easily and worked well in the mousse, but where they really stood out was in these peanut butter bar cookies.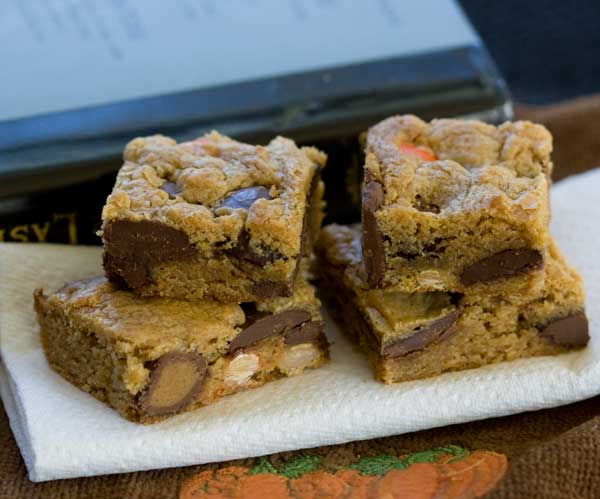 Baking melts are designed to melt into little layers, and as you can see by the cross-section, they lived up to their promise.   The peanut butter base was a perfect match for the milk chocolate, but now I'm going to have to find the semisweet flavor and try a few  more recipes.
Here's a lovely photo of the bag to help you identify them next time you're in the baking aisle.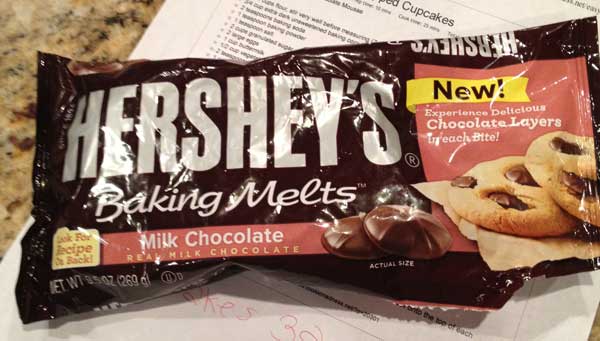 Recipe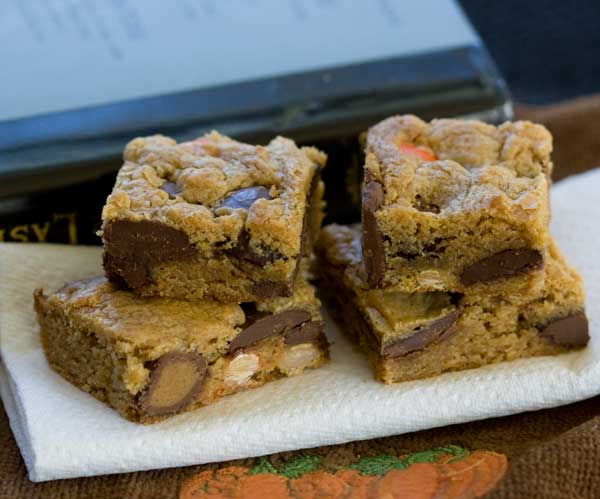 Peanut Butter Candy Bar Blondies
Peanut Butter Candy Bars
Ingredients 
1

stick

4 ounces unsalted butter

1 1/2

cups

packed light brown sugar

2

teaspoons

vanilla extract

1

teaspoon

mild molasses

2

large eggs

room temperature

1/2

cup

5 ounces weight creamy or crunchy peanut butter

1

teaspoon

baking powder

1/2

teaspoon

salt

plus an extra pinch

1 1/2

cups

6.8 ounces all-purpose flour

1

cup

Reese's Minis

1

cup

Hershey's milk chocolate melting chips

1/2

cup

Reese's Pieces
Instructions 
Preheat oven to 350°F Line a 9x13 inch metal pan with nonstick foil. For a half batch, use an 8 inch square metal pan.

In a small saucepan or microwave-safe bowl, melt the butter. Pour the hot butter into a large mixing bowl and add the brown sugar. Stir well and let cool slightly to that the brown sugar melts a little bit.

Whisk in the vanilla, molasses, room temperature eggs, and peanut butter.

Add the baking powder and salt and whisk until blended, then gently whisk in the flour.Stir in melting chips, Reese's Minis and Reese's Pieces (if using).

Spread in the pan and bake for 25 to 30 minutes or until wooden pick inserted in center comes out clean
Notes
-- For a half batch, use half the ingredients and bake in an 8 inch square pan.
-- If eggs are room temperature, you won't have to beat (whisk) them quite as hard to mix them with the other ingredients and will probably end up whisking less air into the batter. In my experience, whisking or stirring ingredients rather than beating them usually makes a denser, less cakey, bar. these are not cakey at all.