Caramel Filled Blondies are vanilla flavored bar cookies. They are composed of a layer of vanilla blondie batter, a thick layer of caramel and another layer of blonde brownie. There are dozens of ways to make these, but this 8-inch square version uses a slightly different technique.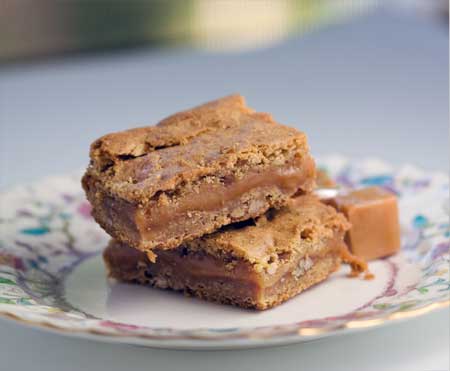 Freezing Caramel Filled Blondies Batter
To make this particular rendition of caramel filled blondies (I feel like I am writing like AI with that sentence), you do this. Start by baking a base layer of the blondie batter. Spreading caramel over it, then top with the remaining layer of batter and re-baking. Because the batter is thick, you shape that second layer of batter into a square and freeze it. You then plop it right on top of the baked caramel layer before it goes in the oven for round 2.
If you try the caramel brownies, let me know! I think this technique would work with just about any blondie recipe, and I might experiment and see which version I like best. This one had a very strong, brown butter and (of course) caramel flavor.
Recipe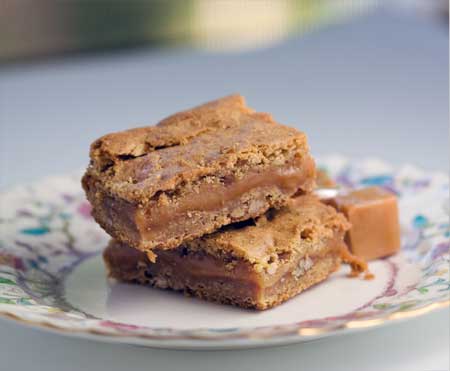 Caramel Filled Blondes
Rich blondies filled with a layer of caramel
Ingredients 
10

tablespoons

unsalted butter

1

cup

plus 2 tablespoons all-purpose flour

4.8 ounces

¾

teaspoons

baking powder

¾

teaspoons

salt

1

cup

packed light-brown sugar

¼

cup

granulated sugar

1

large egg plus 2 tablespoons lightly beaten egg

1

teaspoon

pure vanilla extract

½

cup

toasted and chopped pecans

7

ounces

about 24 unwrapped caramels

2

tablespoons

plus 2 teaspoons heavy cream
Instructions 
Preheat oven to 350 degrees. Line an 8 inch square pan with nonstick foil.

Melt the butter in a saucepan and cook just until it starts to brown. Remove from heat and let cool slightly.

Meanwhile, Mix the flour, baking powder, and salt together in a separate bowl and set aside.

In a mixing bowl, combine both of the sugars, egg, and slightly cooled melted butter. Using a handheld mixer, beat on medium-high until light and fluffy. Beat in vanilla. By hand, stir in the flour mixture until combined. Stir in the pecans. Pour about half of the batter in the prepared pan (just enough to cover bottom) and bake for 20 minutes. Let cool completely.

While bottom layer is baking and cooling, spread remaining batter on a piece of foil and using a rubber scraper or spatula, shape it into an 7 ½ inch square just about big enough to fit in the pan. Put the square of batter on a flat surface in the freezer for about an hour or until it is solid enough for you to peel off the foil. This should take about the same amount of time it took you to bake and cool the first layer.

Now make the caramel filling. In a microwave-safe glass measuring cup or bowl, combine the caramels and cream. Heat on high for 30 seconds. Stir well. Repeat, stirring every 20 seconds, until melted and smooth. Alternatively, you can do this in a saucepan set over medium-low heat. Pour melted caramel mixture over cooled base.

Remove your square of almost-frozen batter from the freezer, peel away the foil and carefully lay it on top of the caramel. Let sit for an hour or long enough for the frozen top batter to come to room temperature.

Preheat the oven and bake for 30 to 35 minutes or until top is fully cooked. Let cool completely, then chill. Lift from pan and cut into squares.