After seeing some caramel sauce topped Martha Stewart blondies on Pinterest, I decided to try making caramel filled blondies, where instead of being poured over the top, the caramel was sandwiched in between two layers of blondie.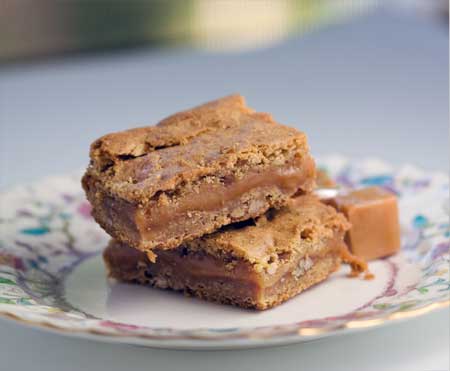 The experiment worked! I've only made these once, but I plan to make them again and serve them to a group. They're fairly rich, and at first I thought they might be too rich, but later in the day (when I was actually hungry) they tasted great.
If you read through the recipe, you'll also notice that I added kind of a weird step. You can do it another way if you prefer, but since these are made by baking a base layer, spreading caramel over it, then topping with the remaining layer of batter and re-baking, I shaped the remaining batter (top layer) into a square and froze it so that I could pop it right on top of the first layers and not worrying about it becoming too thick to spread. It seemed to work pretty well and I had a nice even top. Plus this particular batter does thicken upon standing so it could be tricky to spread the traditional way. If you try them, let me know! I think this technique would work with just about any blondie recipe, and I might experiment and see which version I like best. This one had a very strong, brown butter and (of course) caramel flavor.
Recipe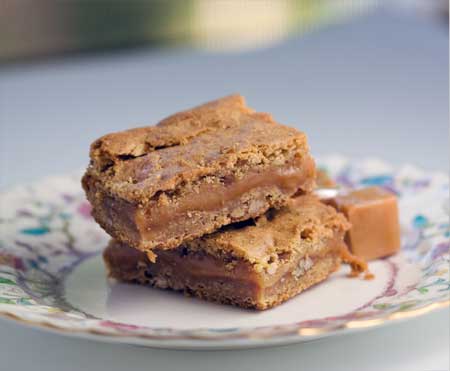 Caramel Filled Blondes
Rich blondies filled with a layer of caramel
Ingredients 
10

tablespoons

unsalted butter

1

cup

plus 2 tablespoons all-purpose flour

4.8 ounces

3/4

teaspoons

baking powder

3/4

teaspoons

salt

1

cup

packed light-brown sugar

1/4

cup

granulated sugar

1

large egg plus 2 tablespoons lightly beaten egg

1

teaspoon

pure vanilla extract

1/2

cup

toasted and chopped pecans

7

ounces

about 24 unwrapped caramels

2

tablespoons

plus 2 teaspoons heavy cream
Instructions 
Preheat oven to 350 degrees. Line an 8 inch square pan with nonstick foil.

Melt the butter in a saucepan and cook just until it starts to brown. Remove from heat and let cool slightly.

Meanwhile, Mix the flour, baking powder, and salt together in a separate bowl and set aside.

In a mixing bowl, combine both of the sugars, egg, and slightly cooled melted butter. Using a handheld mixer, beat on medium-high until light and fluffy. Beat in vanilla. By hand, stir in the flour mixture until combined. Stir in the pecans. Pour about half of the batter in the prepared pan (just enough to cover bottom) and bake for 20 minutes. Let cool completely.

While bottom layer is baking and cooling, spread remaining batter on a piece of foil and using a rubber scraper or spatula, shape it into an 7 ½ inch square just about big enough to fit in the pan. Put the square of batter on a flat surface in the freezer for about an hour or until it is solid enough for you to peel off the foil. This should take about the same amount of time it took you to bake and cool the first layer.

Now make the caramel filling. In a microwave-safe glass measuring cup or bowl, combine the caramels and cream. Heat on high for 30 seconds. Stir well. Repeat, stirring every 20 seconds, until melted and smooth. Alternatively, you can do this in a saucepan set over medium-low heat. Pour melted caramel mixture over cooled base.

Remove your square of almost-frozen batter from the freezer, peel away the foil and carefully lay it on top of the caramel. Let sit for an hour or long enough for the frozen top batter to come to room temperature.

Preheat the oven and bake for 30 to 35 minutes or until top is fully cooked. Let cool completely, then chill. Lift from pan and cut into squares.