Michelle Obama's White and Dark Chocolate Cookies is a recipe from Family Circle's old presidential cookie contest where candidates' wives cookie recipes were put against each other, with the superstition being that the winning cookie predicted the winning candidate. Or something like that. I never got too much into the history of it because I was busy baking the cookies, but it's kind of an interesting thing to read about now that it's over and Family Circle has folded.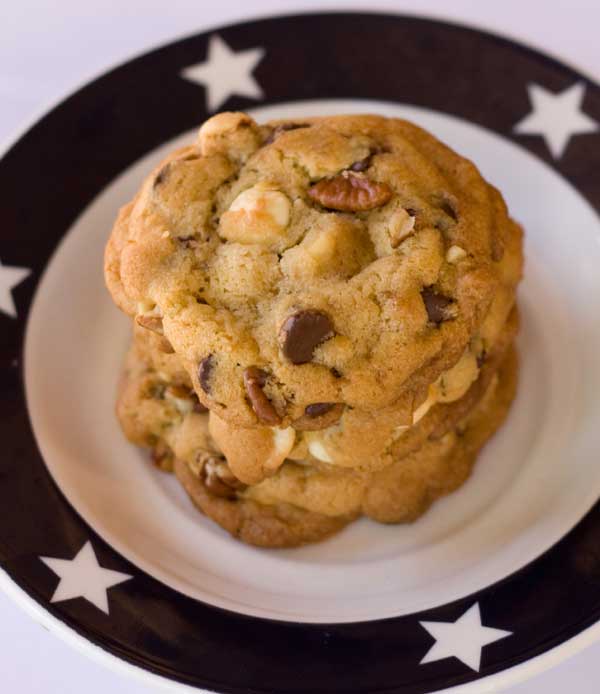 Anyhow, I named the cookies Michelle Obama's Chocolate Chip Cookies, but it was originally published as Mama Kaye's White and Dark Chocolate Chip Cookies. You can find that version with a Google search, but be careful because it has a typo in it. It calls for 1 cup of butter and 1 stick (which is one cup) of Crisco and all the other proportions where the usual Toll House. So I changed it to 1 stick of butter and ½ stick of Crisco -- 1 cup total fat with half butter half shortening. I think that's how Mama Kaye (who is Sasha and Malia's godmother) made them. It's how my great grandmother made them.
But back to the competition! Family Circle put Michelle Obama's Chocolate Chip Cookies up against Ann Romney's Oatmeal M&M Cookies. Michelle Obama's recipe won. However, having baked both presidential cookies multiple times, I'd say it's a tie.
Michelle Obama's White and Dark Notes
The recipe uses half butter and half Butter Flavor Crisco. The mixture of butter and shortening gives them just the right balance of butter flavor and crispy edges. Feel free to substitute regular Crisco for the butter flavored. I usually do. I wish they'd improve the butter flavor type to make it taste more natural. But regular Crisco is fine. I don't feel like I'm missing anything by not using the butter flavored type.
Here's a link to the Michelle Obama's Chocolate Chip Cookies recipe. I make it so often I did a whole different post on it.