This recipe is special. It's the recipe for Michelle Obama's Chocolate Chip Cookies, but it's also my great grandmother's chocolate chip cookie recipe. I think the only difference between the two recipes is that my grandma used toasted pecans tossed in butter and Michelle Obama uses walnuts.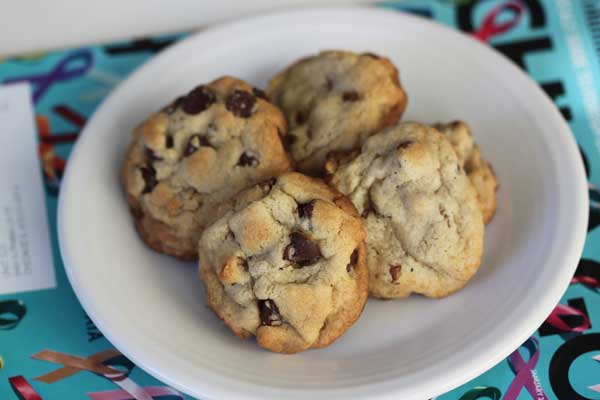 Chocolate Chip Cookies aren't usually considered Christmas-y, but my grandmother's chocolate chip cookies were packaged in Christmas tins which she gave out and her annual Christmas Eve party in Houston. So for me, this recipe is tied to the holidays and their flavor takes me back in time.
To get just the right flavor, Toll House brand chips are a must just a suggestion (I can't help but use Ghirardelli Bittersweet, which I love!) since that was pretty much the main brand available back then.
My grandmother was generally a margarine user, but when it came to these cookies she splurged and used real butter — probably salted Land o' Lakes. I'm not sure if she incorporated Crisco, but her cookies always tasted fresh even after a few days, so it's likely. I sometimes pretty much always make these with half butter and half shortening. The texture is just so, so much better with shortening. If you want an all-butter recipe, I recommend the Gold Medal Extraordinary, but so far nothing can replace the texture the shortening gives. Or at least for those of us who like cookies that are slightly crunchy.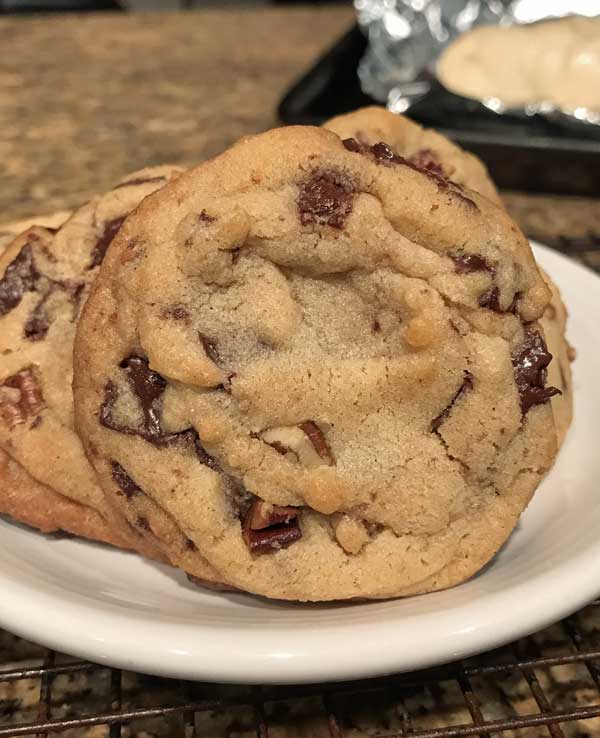 Bleached Flour
If you're going to make these with shortening, you might as well go ahead and use bleached flour as well. Or at least that's my line of thinking. I typically used unbleached for just about everything, but these chocolate chip cookies come out a little thicker with bleached. I feel like my grandmother probably used bleached flour as well.
Pecans Tossed in Butter and Salt
Finally, Michelle Obama's Chocolate Chip Cookies (and my Grandma's Chocolate Chip Cookies) are best with nuts. If I'm making cookies without nuts I generally use one of my other favorite recipes, but these taste so good with Texas (or Georgia or North Carolina!) pecans. Walnuts are an option too, but I personally like the pecans because it reminds me of the cookies from childhood.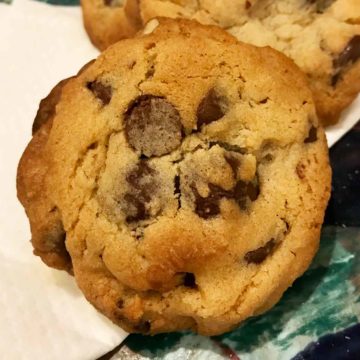 Michelle Obama's Chocolate Chip Cookies
For this recipe, I recommend using toasted pecans tossed in butter. They're perfectly fine without them, but I think any sort of nut really enhances this recipe, which is just a variation on the Toll House recipe. For the traditional flavor, stick with Nestle Toll House chips. Even though there are a lot of really good brands of chocolate chips, I think Nestle's have the most nostalgic taste.
Ingredients 
1

cup

pecan halves

feel free to use more plus a teaspoon of butter

2 1/4

cups

all-purpose flour (weigh for best results)

(285 grams)

1

teaspoon

baking soda

1

teaspoon

salt

1/2

cup

salted butter, softened

(114 grams)

1/2

cup

Crisco

(96 grams Crisco)

3/4

cup

granulated sugar (organic is best)

(150 grams)

3/4

cup

packed light brown sugar

(150 grams)

1

teaspoon

vanilla extract

2

eggs**

2

cups

Nestle Tollhouse Morsels

or whatever brand you like Semisweet Chocolate Chip
Instructions 
Preheat the oven to 350 degrees F. Lay pecans on a rimmed baking sheet and toast for about 5 to 7 minutes or until they start to release their oil. Toss the pecans with butter and let them cool, then chop them up. Set aside.

Adjust oven heat to 375 degrees F.

In a medium size bowl, mix together flour, baking soda and salt.

In a large bowl with an electric mixer, beat butter, Crisco, granulated sugar, brown sugar and vanilla extract. With mixer on low, add the eggs and beat on low just until mixed — don't beat a lot of air into the batter.

By hand, or if using a stand mixer use the paddle on low, stir in the flour mixture.

When flour is blended, stir in the chips and nuts.

Drop batter by tablespoons (I use a medium cookie scoop these days) onto ungreased or regular foil lined baking sheet and bake at 375 for 10 to 12 minutes.

Let cool on baking sheets for 5 minutes; remove to wire racks to cool completely.
Notes
I like to use slightly less than two large eggs, which means cracking the eggs into a little cup, mixing them up and weighing out about 90 grams. Feel free to ignore the egg shenanigans, but I think the cookies are better with less egg.