Clarified Butter Chocolate Chip Cookies remind me of the Otis Spunkmeyer Chocolate Chip Cookies. I'll probably never make an exact clone of the Otis Spunkmeyer Cookies because they seem to use some kind of special baking fat available only to the food industry, but Clarified Butter Chocolate Chip Cookies are a pretty good stand-in.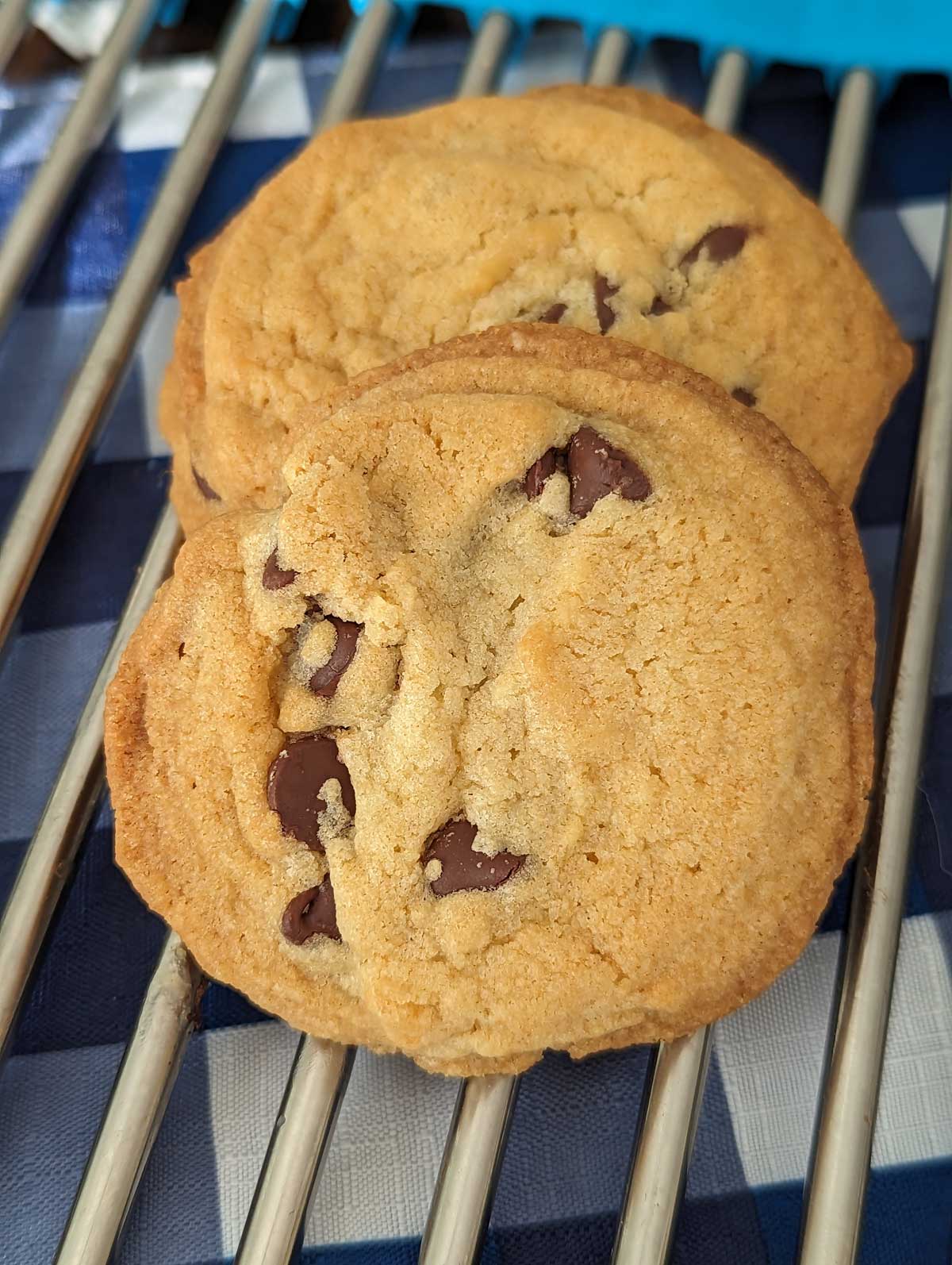 Texture and Flavor
They have crispy edges and chewy centers and an overall handsome appearance. And yes, they do have a buttery flavor. That being said, if you don't feel like dealing with clarified butter and are okay with using shortening, just follow the recipe below but use ⅓ cup shortening and ⅓ cup butter. The texture of the cookies is actually better with shortening, but I know not everyone likes to use it.
Clarified Butter
Clarified butter is good in cooking and baking. It's great for sautéing since clarifying butter lowers its smoking point. Since I usually just need a few tablespoons for cooking, I make small amounts. For a tutorial on how to make it in larger amounts, here's a really good YouTube video by Chef Pierre. If you are just clarifying 1 stick for this recipe, it won't take nearly as much time as it does in the video.
Recipe Updates
You can bake the cookies at 350 degrees F if your oven runs hot, but 375 also works and the cookies might spread less. This really depends on your oven and whether or not you've chilled the dough. Chilling the dough makes the cookies better.. For the flour, the measurement is 1 ½ cups. I think the best weight is 204 grams for the flour rather than 190, so I've updated that. Also, the yield is about 20 cookies when measured with a medium size scoop, which is a good size for these cookies. They're also good made smaller.
Recipe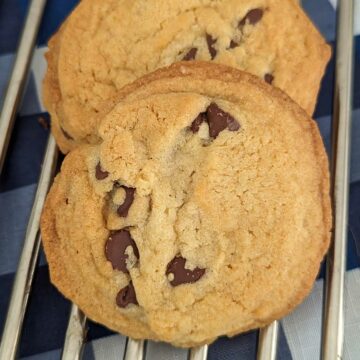 Clarified Butter Chocolate Chip Cookies
Chocolate chip cookies with soft centers and crisp edges.
Ingredients 
1 ½

cups

all-purpose flour

(205 grams)

½

teaspoon

baking powder

¾

teaspoon

baking soda

½

teaspoon

salt

5 ½

tablespoons

clarified butter or ⅓ cup shortening

(75 grams shortening)

5 ½

tablespoons

unsalted butter, room temperature

(75 grams)

½

cup

firmly packed brown sugar

(100 grams)

½

cup

granulated sugar

(100 grams)

1

large

egg

¾

teaspoon

vanilla extract

1 ⅓

cups

extra dark chocolate chips

½

cup

toasted nuts

optional
Instructions 
Preheat oven to 375 degrees F. Have ready a couple of ungreased cookie sheets.

In a bowl, thoroughly stir together the flour, baking powder, baking soda and salt

In a mixing bowl, using an electric mixer, beat together the clarified butter (or shortening) and regular butter until creamy. Add both sugars and continue beat just until blended. Add egg and vanilla and beat just until blended. By hand, stir in the flour mixture. When blended, stir in the chocolate chips and nuts (if using).

Scoop up measuring tablespoons of dough and arrange on the baking sheets spacing about 2 ½ inches apart. Alternatively, put the scoops on a plate, cover and chill until ready to bake. Chilling improves the dough. It makes the cookies browner and helps them spread more evenly.

Bake on ungreased cookie sheets for 10-14 minutes or until lightly brown around the edges. Let cool on baking sheets for five minutes, then transfer to a wire rack.
Notes
About the clarified butter, I'm not an expert and recommend you read a tutorial if you've never done it. For this recipe, you'll need to start with a stick (½ cup 4 ounces) of unsalted butter to make ⅓ cup (2.3 ounces) clarified. Melt the butter over medium heat until it starts to separate. Skim any whey that's risen to the top, then pour into a bowl and let cool.  As it cools, the milk solids sink. Pour off the clear butter.  Save the milk solids for something else or discard.