Here's a way to test your self control: Bake a batch of cinnamon swirl bread, let it cool for a few minutes and turn it from the pan.  Now try — just try to restrain yourself from slicing into it. I really thought I could, but after baking a loaf using Dorie Greenspan's recipe I couldn't stop myself from cutting into it.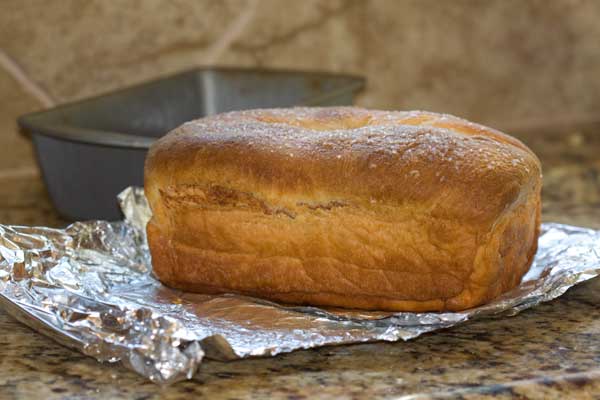 This recipe is part of my new search to find the best cinnamon swirl bread. The kind I like is less like the Pepperidge Farm type and more like the sweet, cinnamon roll-ish kind they used to sell in our elementary school cafeteria for 10 cents a slice. Boy, I sound like an old lady reminiscing about school days, but I remember exactly how that bread looked, smelled and tasted and how its cinnamon aroma made the cafeteria less institutional and more homey. I guess public schools aren't allowed to make delicious things like scratch cinnamon bread these days, so I'm glad I have that memory.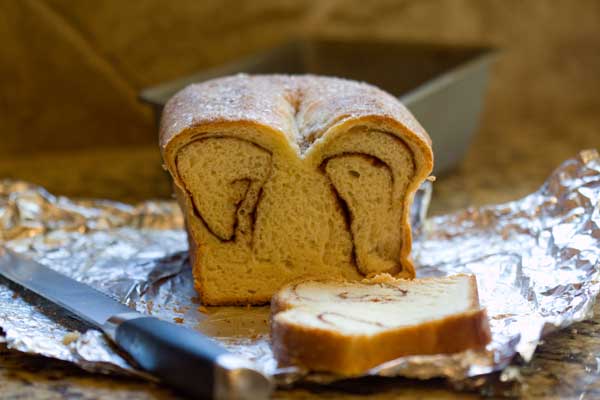 Anyhow, Dorie's recipe was not quite what I was going for, but it was still excellent. It was less sweet than the old school cinnamon bread and perfect for toasting (unlike old school's, which would probably leak buttery filling all over the toaster). Originally, this recipe was supposed to include raisins and I am kicking myself for leaving them out. However, I wanted Fuzz to help me eat this (and she will), so I had to. At least the swirls are nice!
I used the recipe from Dorie's Book, Baking From My Home to Yours, but you can find it with a simple Google search. Susan from Food.Baby.Life baked it for the Tuesdays With Dorie Club, and posted the recipe on her blog.  She also took the best picture of toast that I ever have seen!  I'll have to add a toast picture tomorrow.
My changes were to use bread flour instead of all-purpose, use Red Star yeast (because I just can't kill that particular brand. Hooray!) and to fold it starting on the long side, turn it into a "U" shape, push the sides of the "U" together, and push it all in the loaf pan. That's how I got that (almost) symmetrical pattern.