After baking dozens of cookies, I needed a change of pace and decided to try a Cafe au Lait Ice Cream recipe I found on the Folgers website. While it appeared perfectly fine as written, I modified it a bit by incorporating fudge sauce and pecans and by using an ice cream maker to speed things up.  The new name is Coffee Fudge Swirl!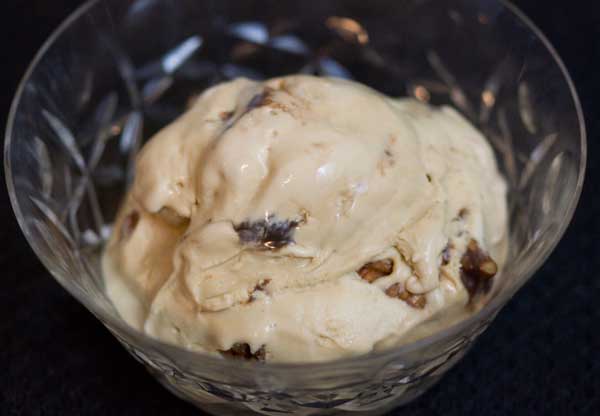 We don't typically eat coffee flavored ice cream, but I'm glad we tried this one because it's even better than expected and the condensed milk flavor was not detectable.   We liked it so much that it will certainly make its next appearance in this coffee ice cream pie I've been meaning to make since 2006. And I'm looking forward to being able to just mix the ingredients and pour them into the pie shell as opposed to buying ice cream and softening it (which always makes me anxious for some reason).
So that's all I have to say about this ice cream, but I do have something else to recommend.  Check out the Folgers Wakin' Up Club Promotion, because they are giving away different prizes every week, and week 8 is $10,000!  In addition,   if you (or a kid you know) likes playing around with your phone, there's a Folgers Wake Up the Holidays app which lets you put yourself in a holiday scene and send it to friends.  Fuzz and I had some fun with it this afternoon, but I'm too embarrassed to post the pictures we made.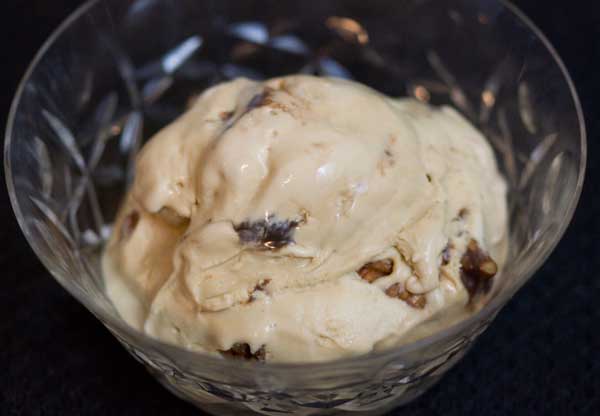 Coffee Fudge Swirl Ice Cream
An easy and very tasty coffee flavored ice cream with fudge topping swirled through
Ingredients 
4

teaspoons

Folgers Classic Roast Instant Coffee Crystals

1/2

cup

hot water

1

14 oz can Eagle Brand condensed milk

2

cups

heavy cream

1/4

teaspoon

almond extract

Some cold fudge ice cream topping

Handful of toasted and chopped pecans
Instructions 
Combine the coffee and hot water in a large mixing bowl and stir to dissolve coffee. Let it cool.

Add the condensed milk, cream and almond extract and beat with an electric mixer for seven minutes or until light and fluffy.

Transfer it to an ice cream maker and freeze according to manufacturer's directions (or pour it into a pie shell to make the base of a magnificent ice cream pie!

When ice cream is frozen, scrape about 1/4 of it into the container you plan on storing it in. Add small dollops (however many you want) of cold fudge sauce, and continue layering remaining ice cream, fudge sauce and nuts (if using). Cover and freeze until it's firm enough to eat.
Notes
You can also make it without an ice cream maker. Mix as directed, but scrape into a loaf pan and freeze until firm.