Coffee Fudge Swirl Ice Cream is another one of the quick and easy ice cream recipes calling for whipping cream and condensed milk. This recipe is originally from Folgers and calls for instant coffee. You can use Folgers or any brand, regular or decaf. Both versions taste great and the decaf ice cream is less likely to keep you up at night. As for the fudge swirl, with this recipe you can use any brand of fudge sauce or you can make it yourself using your favorite fudge sauce recipe.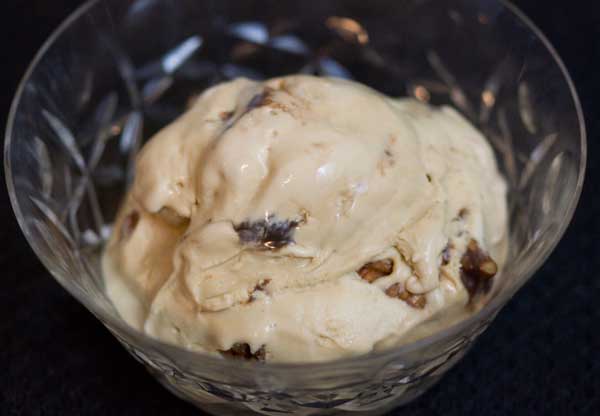 This recipe is great by itself, but it's also perfect for ice cream pie recipes such as this coffee ice cream pie. Rather than take a pint of ice cream out to soften, you just mix the ingredients and pour them into the pie shell.
Coffee Fudge Swirl Ice Cream Sauce Recipes
You'll want to use your very favorite homemade or store bought fudge sauce for this. I tend to jump around and don't have one favorite, but this old fudge sauce recipe from Gourmet (also used on a pie) is a good one. An even easier one is this condensed milk fudge sauce which goes with the Folgers Black Silk Ice Cream Dessert. That's another good coffee dessert, but it's not as quick because it involves making a brownie layer.
Recipe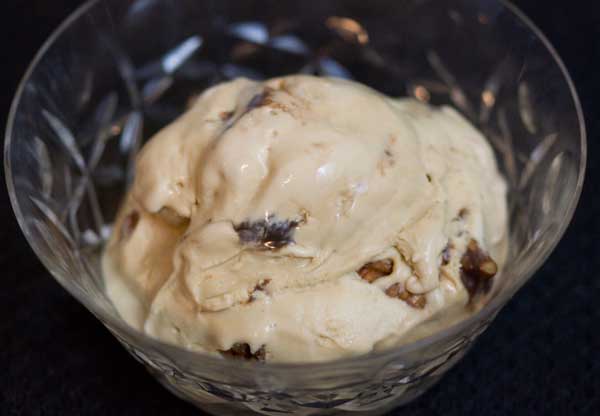 Coffee Fudge Swirl Ice Cream
An easy and very tasty coffee flavored ice cream with fudge topping swirled through
Ingredients 
4

teaspoons

regular or decaf instant coffee crystals

½

cup

hot water

1

can

condensed milk (14 oz)

2

cups

heavy cream

¼

teaspoon

almond extract

Some cold fudge ice cream topping

Handful of toasted and chopped pecans
Instructions 
Combine the coffee and hot water in a large mixing bowl and stir to dissolve coffee. Let it cool.

Add the condensed milk and almond extract and beat with an electric mixer for seven minutes or until light and fluffy.

Beat the cream until stiff peaks form. Fold it into the condensed milk mixture.

Scrape mixture into an ice cream maker and freeze according to manufacturer directions. Toward the end of the freezing period, swirl in chocolate fudge sauce.

Alternatively, just pour the mixture into a loaf pan, cover with plastic wrap and freeze until firm. If using the fudge sauce, add layers of fudge sauce as you scrape it into the loaf pan.
Notes
You can also make it without an ice cream maker. Mix as directed, but scrape into a loaf pan and freeze until firm.