After testing at least five different recipes for cinnamon swirl bread, I finally have a favorite. And while my original goal was to find a recipe similar to the one served in my old elementary school cafeteria -- a cinnamon swirl bread baked free-form and served warm with icing, I realized that the best cinnamon raisin bread was the one Fuzz liked.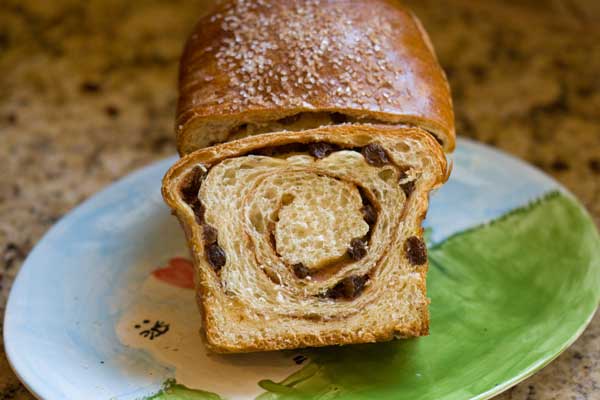 Unlike the old elementary school cafeteria bread, this one doesn't have to be served warm. Its good at room temperature and toasted, and it freezes well.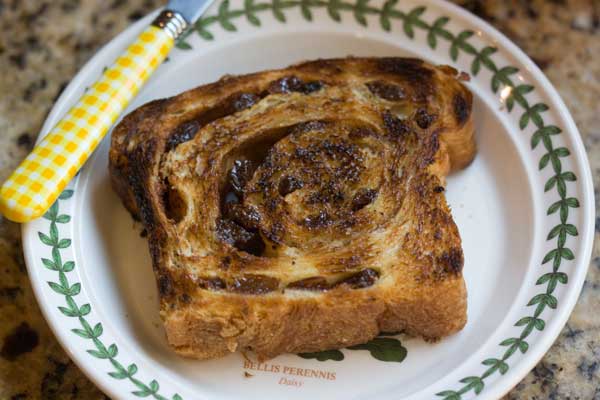 Cinnamon Swirl Bread Turned Into Cookies!
And as an added bonus to the recipe, it can easily be turned into cookies! Just cut it into thin slices, brush with butter, sprinkle with cinnamon sugar, and dry it out in a 250F oven until it becomes crispy and light.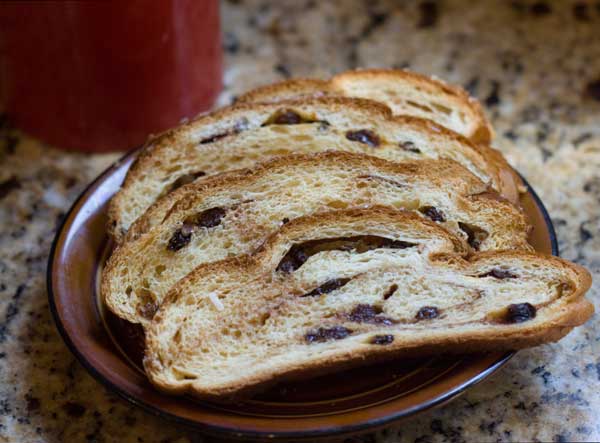 This recipe is a variation on Dorie Greenspan's cinnamon swirl bread. Hers is perfectly good, but I wanted to make it my own and made some alterations.
The original recipe makes a giant loaf and the slices fit awkwardly in our pop-up toaster. This version makes two slightly smaller loaves. I made one in an 8x4 inch pan and one free-form because I knew that the second loaf was going to be turned into cinnamon toast thins.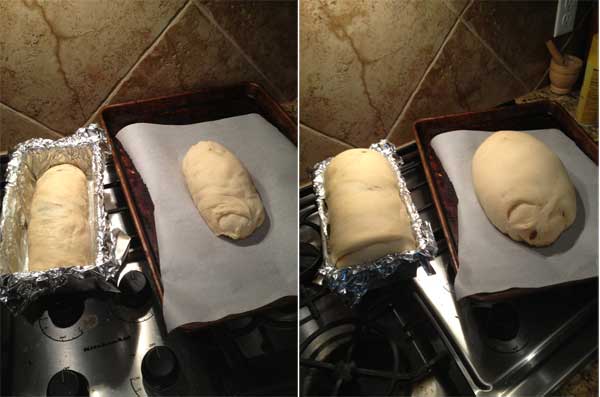 Princess Emulsion, Made From Pure Princess
Compared to Dorie's, this dough has a little bit more sugar, salt and vanilla, plus a dash of Princess Cake and Cookie emulsion. The filling is also different in that it calls for an egg water mixture instead of butter.  Brushing the dough with egg white instead of butter keeps the swirls from separating quite so much.  You do lose a bit of richness, but in this case that's okay since you'll probably put butter on at the end anyway.
And finally, for sweet breads such as this I recommend using a stand mixer with dough hook. Some doughs are so sticky that they are impossible to knead by hand without adding a lot of extra flour. The stand mixer can turn a sticky dough into a smooth and elastic dough that's easy to roll and doesn't stick.
Recipe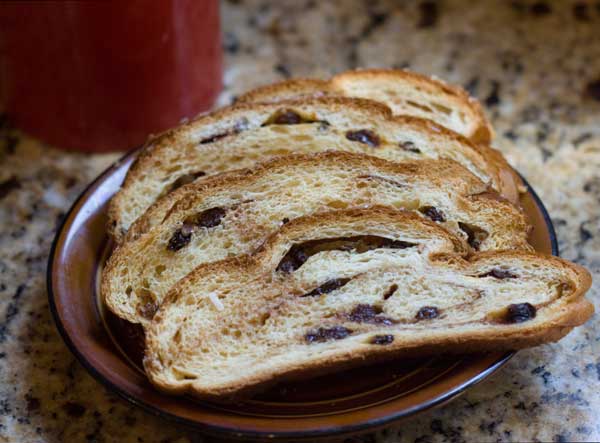 Cinnamon Swirl Bread
This is an easy, reliable recipe for cinnamon swirl bread. When I first posted this I used an 8x4 inch pan and made a second loaf free form. Now I usually use two 8x4 inch pans. Also, all-purpose and bread flour both work very well.
Ingredients 
Dough:
1 ¼

cup

warm milk

115 F

1

packet active dry yeast

⅓

cup

granulated sugar

4

tablespoons

unsalted or salted butter

very soft

1

large egg

room temperature

1

teaspoon

vanilla extract

1

teaspoon

Princess emulsion or lemon zest

optional

1

teaspoon

salt

20

ounces/560 grams

3 ¾ to 4 ½ cups all-purpose flour or bread flour
Filling:
⅓

cup

granulated sugar

1

tablespoon

cinnamon

1

tablespoon

flour

1

egg beaten with 1 tablespoon water

1

cup

raisins

optional
Instructions 
In a small bowl, combine ¼ cup of the warm milk, the yeast, and a pinch of the sugar. Stir to dissolve the yeast. It may not bubble at this point.

Combine the remaining warm milk, butter and sugar in the bowl of a stand mixer. Stir in the egg, vanilla, zest and salt – you can use the paddle or a spoon. Add the yeast mixture and 3 ½ cups of flour and stir until very well mixed but still sticky. Attach the dough hook, and with mixer on medium-low speed, add the remaining flour, gradually (about ½ cup at a time), until the dough is thick and stretchy. Continue beating with the dough hook for about 3 to 5 more minutes or until the dough is smooth and you pull it. It should be fairly easy to handle, but should not feel dry.

Grease a bowl with oil and put the dough in the bowl. Cover bowl with plastic wrap and set in a warm place to rise for 1 ½ hours.

Make the filling by mixing the sugar, cinnamon and flour together in a bowl. In another bowl, mix together the egg and water.

Divide the dough into two equal pieces. Take the first piece and roll or press it into a long rectangle about 6x18. Brush the rectangle generously with egg mixture and sprinkle half the cinnamon sugar over it. Sprinkle on about ½ cup of raisins. Starting with the short side, roll into a cylinder. Pinch ends to seal and place in an 8 ½ by 4 ½ inch metal loaf pan which has been lined with foil or parchment and sprayed with baking spray. Repeat with second dough section and remaining filling.

Set the loaves in a warm place to rise for another hour.

When dough has risen, brush the dough with a little remaining egg mixture being careful not to deflate it. Bake the bread in a preheated 350°F oven for about 45 minutes, tenting the loaves with aluminum foil for the final 20 minutes if needed. Remove the loaves from the oven, and after about 10 minutes, remove loaves from the pans. Let cool.
Notes
To make cinnamon toast thins, cut the free-form loaf into thin slices and lay them on a parchment lined baking sheet. Brush slices lightly with a mixture of melted butter and oil, then sprinkle with cinnamon sugar. Bake for 45 to 50 minutes or until slices appear dry. Let cool. They should crisp as they cool.