Today's "Cream Cheese Filled Pineapple Pound Cake Muffins" resulted from and attempt to use up half a can of crushed pineapple.
At first I was going to make regular pineapple muffins, but since I  eat baked goods during the day rather than at breakfast, I decided to go with something a little more dessert-like. I used a pineapple pound cake recipe as a base, stuffed the "muffins" with cream cheese and topped them with streusel (and icing too, which was an afterthought).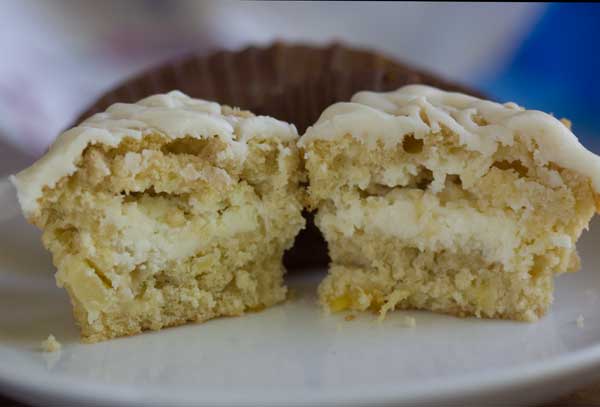 So technically these are little cream cheese filled pound cakes, but given their flavor and texture, you could serve them as a breakfast muffin. Actually, you can serve them as whatever you want.

I made these with vanilla extract and am irritated with myself because I forgot to add some of the pineapple extract I'd picked up in the Cayman Islands over Spring Break.  They sell it everywhere there, and my Cayman Island friends say they put it in everything from banana bread to corn bread to add that little "something". Of course I forgot to add it to the most obvious recipe.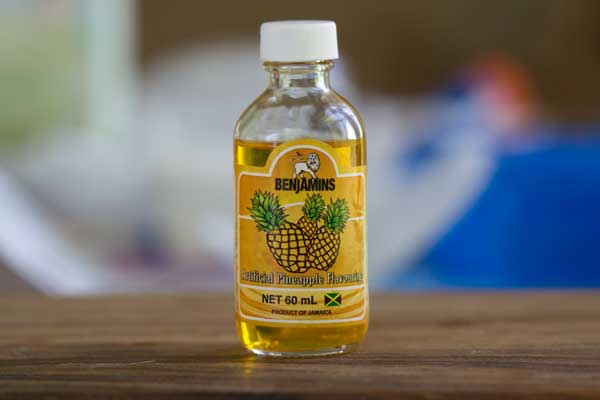 Oh well.  If you have pineapple extract, this is definitely a recipe where you can use it.
Cream Cheese Filled Pineapple Pound Cake Muffins
Pineapple pound cake made in muffin cups, filled with cream cheese and topped with streusel.
Ingredients 
Filling:
8

oz

softened cream cheese

5

tablespoons

of sugar

1 1/2

teaspoon

of vanilla extract or 1 teaspoon of pineapple extract and 1/2 teaspoon of vanilla
Cake
1 1/2

cups

sifted all-purpose flour

6 oz – weight it or sift carefully

1/2

teaspoon

salt

1/2

teaspoon

baking powder

12

tablespoons

6 ounces unsalted butter, softened

3/4

cup

granulated sugar

1/4

cup

brown sugar

3

large eggs

2

teaspoons

vanilla extract

2

tablespoons

milk

1/3

cup

well-drained crushed pineapple
Streusel Topping
2

tablespoons

brown sugar and 2 tablespoons granulated

6

tablespoons

flour

2

tablespoons

cold unsalted butter

cut into bits
Icing (optional – see directions)
Instructions 
Do not preheat the oven yet. Line 12 muffin cups with jumbo size (3 ½ inch type) paper liners.

Make the cream cheese filling first. In a medium size bowl, beat cream cheese and sugar until smooth, then beat in vanilla. Set aside.

Thoroughly mix together the sifted flour, salt and baking powder; set aside.

In a mixing bowl using a hand-held electric mixer, beat the butter and sugar until creamy. Add the eggs, one at a time, beating for 30 seconds after each egg. Beat in the extract(s) and milk. Add the flour mixture and stir just until blended, then stir in the pineapple.

Divide half the batter evenly among the cupcake cups.

Put a spoonful of cream cheese filling in the center of each cup, dividing evenly among cups.

Divide remaining batter evenly among cupcake cups, covering the cream cheese.

To make the streusel, mix together the sugar and flour, then cut in the butter until crumbly. Sprinkle streusel mixture evenly over the top.

Put the cupcakes in a cold oven and set it to 325 F. Bake cupcakes for 35 minutes or until a tester inserted comes out clean. Let cool completely. These are best served after they've sat around for a while.

For the icing, put 2 teaspoons of butter in a large Pyrex measuring cup and melt in the microwave. Add 2/3 cup of confectioners' sugar and stir until pasty. Add 1/8 teaspoon of vanilla, then add pineapple juice 1 teaspoon at a time until icing is just thin enough to fall nicely from a spoon, but not so thin that it's a glaze.
Notes
These were made with large "jumbo" size cupcake cups. If you want to use regular size cupcake cups, make sure to check the cupcakes after 25 minutes.
This recipe starts in a cold oven.