I felt like making a big old pineapple cake this weekend, but given the heat and the fact we don't have anyone around to help us eat a giant cake, I decided to go with these super easy crushed pineapple bars. Unlike my usual go-to pineapple desserts Millionaire Pie and Banana Split Cake, these bars are baked and then chilled.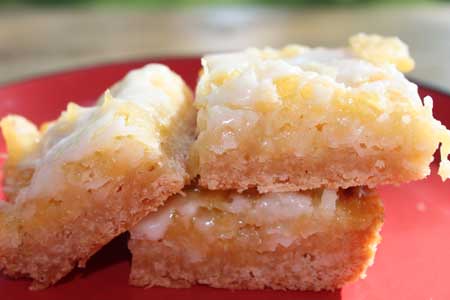 Pineapple Bars
1 cup (4.5 oz) all-purpose flour
6 tablespoons granulated sugar
¼ teaspoon baking powder
pinch of salt
6 tablespoons unsalted butter, cold
Filling:
1 large egg plus 1 egg yolk
¼ cup brown sugar
¼ cup granulated sugar
¾ teaspoon vanilla extract
1 ½ tablespoons flour
¼ teaspoon baking powder
pinch of salt
½ of a large (20 oz) can of crushed pineapple, drained, save the juice
⅔ cup flaked coconut
Icing:
½ tablespoons melted butter
½ cup plus 2 tablespoons powdered sugar
1 tablespoon pineapple juice (from above)
Preheat oven to 350F. Line an 8 inch square metal pan with non-stick foil or spray with flour-added cooking spray.
In the food processor, combine the flour, sugar, baking powder and salt. Pulse to mix, then add butter and pulse until mixture is coarse. Empty into your lined pan and press tightly to make a crust. Bake for about 13 minutes or until edges start to brown. Let cool completely before making filling.
Filling: Mix together the egg, egg yolk, both sugars and the vanilla. Stir together the flour, baking powder and salt, then stir them into the batter. Add the pineapple and coconut. Pour over the cooled crust and bake for about 25 minutes. Let cool completely.
Icing: Mix together all the ingredients, using as much pineapple juice as needed to make a smooth icing. Drizzle icing over the top of the cooled bars.
Chill bars, then lift from pan and cut into 16 squares. Serve chilled or at room temperature.
Makes 16