If you like making Bundt cakes but don't have a big group to help eat them, treat yourself to a brand new a 6 cup Bundt pan! It took me forever to finally buy one, but Target had them on sale a few weeks ago and I finally gave in. Of course now I'm wondering why I didn't buy one sooner.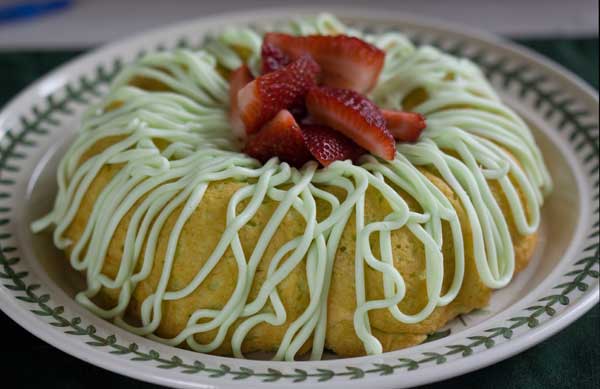 A 6 cup Bundt pan is the perfect capacity for making half batch Bundt cakes.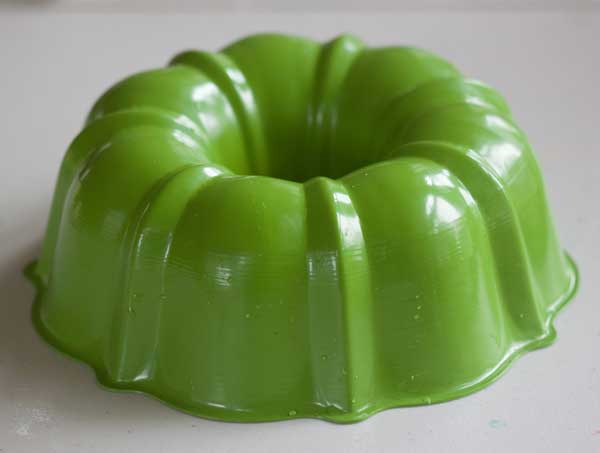 Plus, if you have a digital scale, you can easily make half batch cake mix recipes by weighing out half boxes of cake mix and adding half the ingredients listed on the box.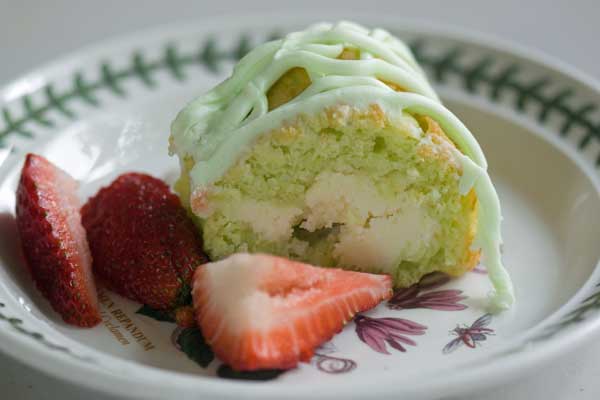 That's how I made this cake, which has a filling of white chocolate cheesecake surrounded by an easy cake mix cake. You could certainly use a scratch scratch Key lime cake, but since Pillsbury has a new seasonal Key lime cake mix, I used a mix. As for the filling, it works with just about any flavor of cake. I've used it in red velvet Bundts, peanut butter Bundt cakes and carrot.

White Chocolate Cheesecake Filled Key Lime Bundt Cake
A key lime flavored Bundt cake filled with white chocolate cheesecake
Ingredients
Filling:
6 oz white chocolate, chopped
12 oz cream cheese, softened
1/4 cup granulated sugar
1/2 teaspoon vanilla extract
Cake:
1 box Key lime flavored cake mix (or use lemon)
3 large eggs
1/2 cup vegetable oil
3/4 cup plus 2 tablespoons water
2 tablespoons lime juice
Glaze:
I used store bought Key lime frosting for this, but if you can't find it you can mix 1 teaspoon of melted butter with about 2/3 cup of powdered sugar, then add fresh lime juice 1 teaspoon at a time, stirring constantly, until the mixture is a good drizzling consistency.
Instructions
Preheat oven to 325 degrees F. Spray a regular size Bundt pan with baking spray.
Prepare filling. Melt the white chips in the top of a double boiler or in a microwave-safe bowl using 50% power and stirring every 30 seconds. Meanwhile, in a medium size mixing bowl, beat the cream cheese, sugar and vanilla with an electric mixer until smooth. Beat in the melted white chips. Set aside.
In a large mixing bowl, combine the cake mix ingredients. Using an electric mixer, beat for 2 minutes on high until smooth. Pour about 1/2 of the batter into the Bundt pan. Spoon the white chocolate mixture in a ring in the center of the cake batter, being careful not to let it touch the sides. Spread remaining cake batter over the white batter.
Bake cake for 45 to 55 minutes or until a tester inserted comes out clean. Let cool in pan for 10 minutes, then carefully turn from pan. Let cool completely.
Spoon the lime icing into a heavy duty zipper bag. Snip off the end of the bag and squeeze the icing all over the cake.
Makes 24 servings
Notes
If you haven't been able to find the Key Lime flavored cake mix yet, try using lemon.

Store in the refrigerator