I came home from vacation ready to bake, but there were piles of laundry and personal matters to attend to, thus experimenting in the kitchen was not an option.  Since I was pressed for time, I turned to my cooking magazines for inspiration.  I found it in the November issue of Eating Well.  It's called Chocolate Pumpkin Bundt Cake.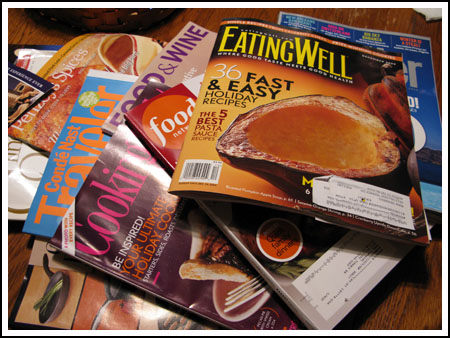 I had most of the ingredients to make the cake, but had to make it twice because I accidentally left out the sugar the first time. But that's what happens when you try to bake a cake while on the phone with your mother. Maybe I can blame it on the fact the ingredient order is kind of strange.  Granulated sugar is mixed in with the flour and the brown sugar is mixed in with the pumpkin. That threw me off, but it all worked out in the end.
Fuzz and her buddywere crazy about this cake.  In fact, both girls loved the pumpkin chocolate combo.
Since I thought the cake was perfect, I'll link you directly to the original Chocolate-Pumpkin Bundt Cake Recipe and give you a few notes.
—If using a black Bundt pan, you may want to reduce the baking temperature to 325 and bake for a little longer
—Flour-added cooking spray works fine
—Use a generous ¼ cup of oil
–For the cocoa powder, I used Scharffen Berger "natural" which may have been why this cake was so good.
—And for the flour, I fluffed it up before measuring then used the spoon and sweep method.
It's an easy cake, so give it a try. The fact that it's from Eating Well, has less fat and some nutritional value from the pumpkin is just a bonus.