Gluten-Free Vegan Chocolate Chunk Cookies are from a recipe I made up a few years ago when we were living near a Sprouts. I had easy access to what I considered "alternative' ingredients such as almond meal and ground flax. These days those are pretty mainstream ingredients available at just about any grocery store.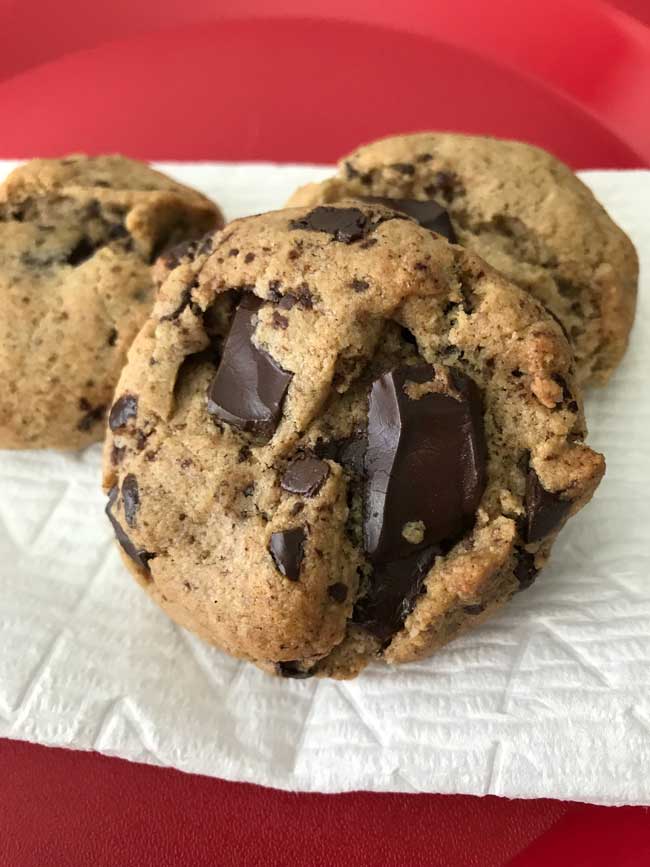 Gluten-Free Vegan Chocolate Chunk Cookies

To start I used an old almond flour recipe which calls for an egg and is not vegan. This recipe uses ground flax instead of an egg, brown sugar instead of maple syrup, and a combo of coconut oil and almond butter for fat. The cookies bake up thick, soft and have a pretty strong almond flavor from the almond butter. Here's a photo of the dough. I baked a couple of balls right away and frozen the rest for later.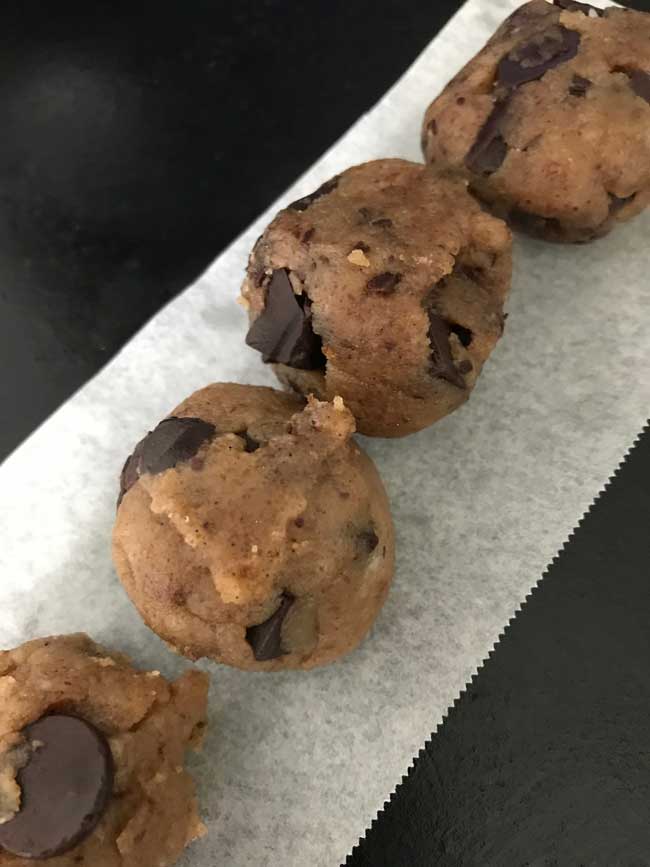 The smaller size (18 per batch) cookies weigh about .85 oz each, so if you want larger cookies just double up the balls and make 9 or 10 cookies. Here's a photo of the larger size cookies.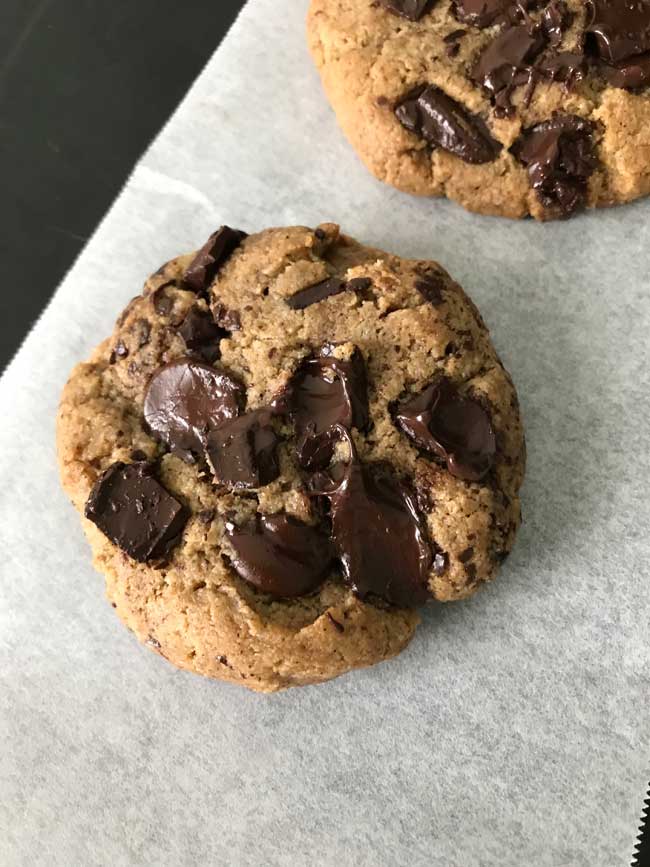 Recipe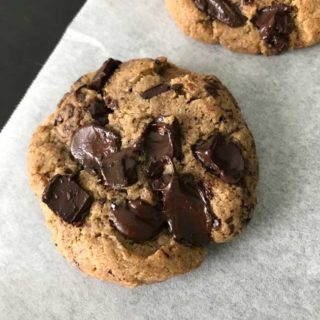 Gluten-Free Vegan Chocolate Chunk Cookies
Gluten Free Vegan Chocolate Chunk Cookies made with almond flour, almond butter, brown sugar and coconut oil.
Ingredients 
1 ½

cups

blanched almond flour

150 grams

½

teaspoon

baking soda

½

teaspoon

salt

¼

cup

packed dark brown sugar

50 grams

1

teaspoon

vanilla extract or vanilla bean paste

¼

cup

almond butter

without salt or sugar

2

tablespoons

coconut oil

30 grams

1

flax egg

1 T. flax mixed with 3 T. water

¾

cup

dark chocolate chunks or chips

feel free to use more or less
Instructions 
Preheat oven to 375°F. Line a large baking sheet with parchment paper.

Mix together the almond flour, baking soda and salt and set aside.

In a second bowl, using an electric mixer, beat the sugar, vanilla, almond butter and coconut oil for 1 minute, scraping the side of the bowl often. Beat in the flax egg.

Add the almond flour mixture and stir by hand until blended.

If the dough looks too wet, sprinkle in some more almond flour. The dough should be the consistency of thick mashed potatoes. Stir in chocolate chunks.

Using a tablespoon, scoop up 18 heaps of dough and arrange on the parchment lined baking sheet spacing about 2 ½ inches apart. Bake one sheet at a time for about 10-12 minutes.

Let cool on the baking sheet for about 3 minutes, then transfer to a wire rack and let cool completely.
Notes
For larger cookies, make 9 or 10 dough balls instead of 18 and flatten them slightly before baking.