I found this wheat free oat nut chocolate chip cookie recipe back in 2008, so in some ways it was a little ahead of its time.  Now there are hundreds of recipes for gluten-free cookies, but I still like this one because it's made with things I usually have around the house -- oats, hazelnuts and almonds.  The catch is they have to be ground into flour.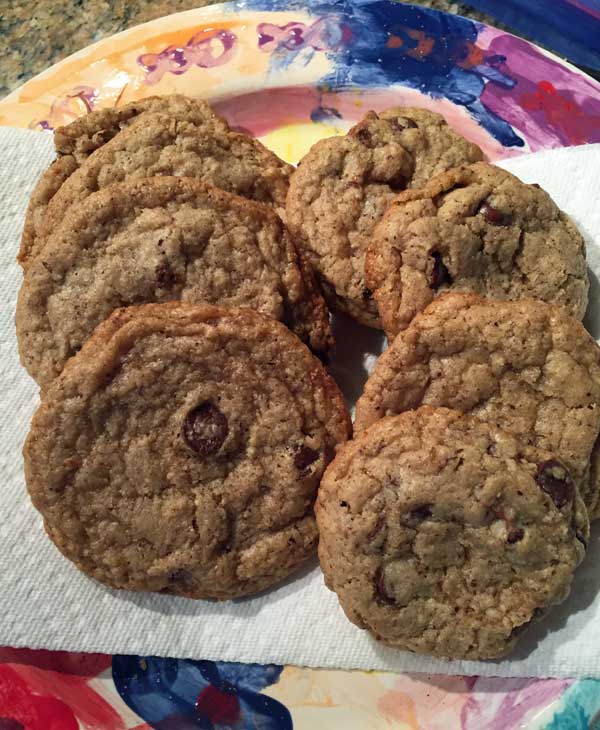 Wheat Free Oat Nut Chocolate Chip Cookies Flours
All three types of flour (oat, hazelnut and almond) can be found at the grocery store, but unless you plan to use those flours for other things, it's probably more economical to just grind the oats & nuts yourself. For this batch I ground the oats and hazelnuts, but used some almond meal I'd stored in the freezer.
Overall, these were pretty easy, especially since I'd been using the processor all week and had it out and ready to go.  As for taste and texture, the cookies were chewy with crispy edges and not overly sweet. The ones on the left of the plate were made with dough straight out of the bowl. The cookies on the right were made with dough that had been shaped into balls and chilled. If you want nicer looking cookies, I recommend chilling the shaped dough balls.
Recipe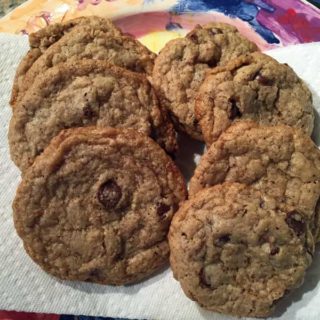 Wheat Free Oat Nut Chocolate Chip Cookies
Wheat Free Oat Nut Chocolate Chip Cookies are made with ground oats, hazelnuts and almond meal.
Ingredients 
1 ½

cups

120 grams oats --- to make 1 ½ cups oat flour

½

cup

60 grams whole hazelnuts to make ½ cup hazelnut flour

½

cup

40 grams almond meal or almond flour

½

scant teaspoon salt

omit if butter is salted

½

teaspoon

baking powder

8

tablespoons

1 stick unsalted butter, at room temperature

½

cup

packed dark brown sugar

¾

cup

granulated sugar

1

large egg

1

teaspoon

vanilla extract

¾

cup

dark or semisweet chocolate morsels

use more or less if desired
Instructions 
Preheat the oven to 350 degrees. Line two baking sheets with parchment paper. If making dough ahead of time you can skip this step.

In the bowl of a food processor, grind the oats to make 1 ½ cups oat flour. Empty oat flour into a second bowl and grind the hazelnuts to make ½ cup of hazelnut flour. Add the hazelnut flour to the oat flour, then add the almond meal, baking powder and salt and whisk until thoroughly mixed.

Process the butter and both sugars in the bowl of the food processor, then add the egg and vanilla and process until smooth. Scrape sides of processor bowl and add the nut flour mixture, then pulse to make a dough. Empty into a bowl and stir in the chocolate morsels.

Drop by tablespoonfuls on baking sheets; bake one sheet at a time for 12 to 15 minutes, until lightly browned. Transfer to a wire rack to cool completely. Alternatively, drop the rounds onto a foil lined plate, chill for several hours, then shape into neater more compact balls and bake for 12 to 15 minutes.
Notes
Adapted from "Cookies for Breakfast: A Teen's Not So Bad Guide to Wheat and Gluten-Free Baking".