This recipe was inspired by the strawberry shortcake served at Disney's Sunshine Seasons restaurants. They call is shortcake, but it's not the biscuit type common in the South. Disney's is a sponge cake with layers of cream and strawberries. I do not really know much about Fraisier Cakes, but Disney's seems to be more of a Fraisier Cake than a shortcake.
Sunshine Seasons Strawberry Shortcake
The Sunshine Seasons strawberry shortcake has a base consisting of two very thin cake layers sandwiching a layer of strawberry glaze. On top of the two thin layers rests a layer of whipped cream and strawberries, a thicker layer of cake, more glaze, another layer of whipped cream and strawberries, and a final layer of cake.
The top layer of whipped cream seemed a little thicker than the whipped cream that was between the layers so they must combine the top layer of whipped cream with cream cheese. I also noticed the middle layer of cake seemed like a different kind of cake than the top and bottom layers, but now I think it's just because the middle layer absorbed more moisture.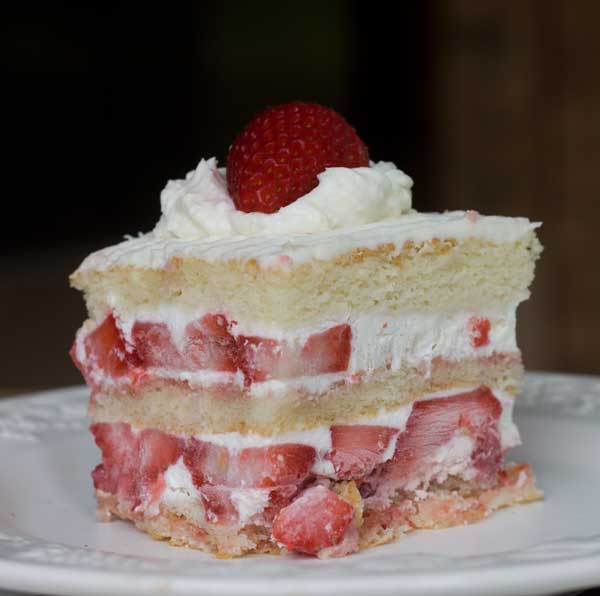 I made three versions of the cake this weekend — two adapted from recipes that people said were from Disney and one using one of my favorite sponge cakes with oil. The one we liked the best was one of the supposed Disney versions, only the recipe clone didn't give all the steps on assembly so I had to come up with my own method. By the time I got to this version of the cake, I was a little slap happy with carving and this piece isn't the greatest representation, but I am going to stick with the method I used for all future versions of this cake.
All Ears Version
For anyone tempted to send me the link to the recipe on allears.net, that's the one this is based on :). It calls for 3 eggs, 1 cup sugar, 1/3 cup water etc. but the sponge is not the same as Disney's. It's a good start, though!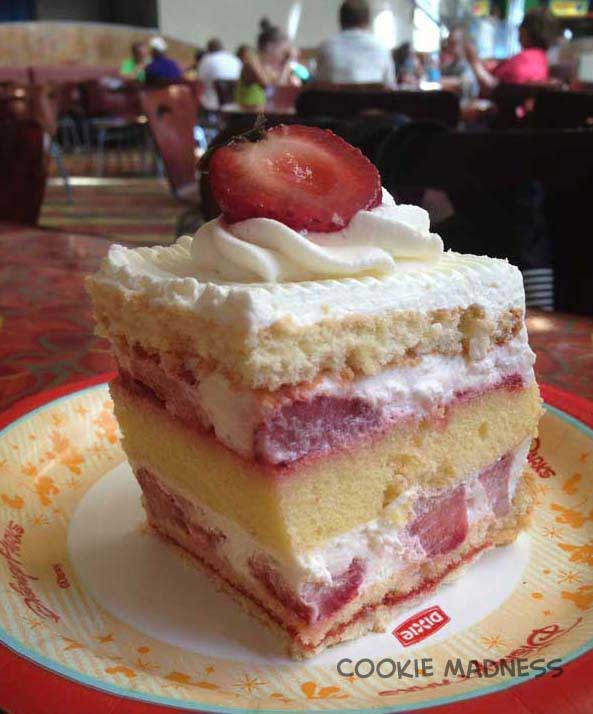 Strawberry Shortcake Recipe Like the Kind from Disney's Sunshine Seasons Version One
Strawberry shortcake recipe similar to the one served at Sunshine Seasons in Disney.
Ingredients 
Cake
3

large

eggs

room temperature

1

cup

granulated sugar, super fine if possible

(200 grams)

1

cup

cake flour

(120 grams)

1

teaspoon

baking powder

1/4

teaspoon

salt

1/3

cup

water

(80 grams)

1

teaspoon

vanilla
Filling
1 1/2

cups

whipping cream

1/4

cup

plus 2 tablespoons confectioners' sugar

(40 grams)

1 1/2

teaspoon

vanilla extract

3/4

cup

more or less Smucker's strawberry sundae topping**

5

or 6 cups fresh strawberries

trimmed and sliced (buy 2 pounds to be safe)
Whipped Cream Cheese Topping
1/2

cup

heavy whipping cream

(120 grams)

2

ounces

of softened cream cheese or mascarpone

(56 grams)

1/3

cup

confectioners' sugar

(40 grams)

1

teaspoon

vanilla extract
Instructions 
Preheat the oven to 375 degrees F. Grease bottom only of a 15×10 inch jellyroll pan and line bottom with parchment paper.

Beat eggs in the bowl of a stand mixer fitted with a whisk attachment for five minutes. Gradually beat in sugar, beating for another 2-3 minutes. While the mixer is going, sift together the dry ingredients (flour, baking powder and salt).

Reduce mixer speed to medium low and beat in water and vanilla.

Remove bowl from stand and fold in the flour mixture. Batter should be fairly liquid and bubbly.

Pour into the pan and bake for 12-15 minutes or until toothpick inserted comes out clean. Loosen edges from pan with a knife and let cool in pan for about 10 minutes. Invert onto a flat surface. Peel away parchment paper, then invert again onto a large cooling rack. Cool completely. Freeze for about an hour to make carving easier.

Prepare the whipped cream filling. Beat the cream until stiff peaks just start to form, then beat in confectioners' sugar and vanilla (don't overbeat). Keep chilled while you carve the cake.

Line the inside of a 9×13 inch pan with plastic wrap leaving a couple of inches of overhang.

To carve, put the cake on a cutting board. Cut it in half so that you have two 10×7 ½ inch rectangles. Take one of the rectangles and split it into two uneven layers, one very thin and one thick. Repeat with the second rectangle. You should end up with two thin layers and two thick layers total.

Put one of the thin layers of cake in the bottom of the lined pan and spread a thin layer of sundae topping over it. Top it with the second thin layer of cake. Spread a layer of whipped cream over the cake, then arrange strawberry slices evenly over the whipped cream. Spread a little more whipped cream over the strawberries, then lay one of the thick layers of cake over it, cut side up. Spread strawberry topping over that layer of cake, then add a layer of strawberries and whipped cream. Top with remaining thick layer of cake. Cover cake with plastic wrap and chill while you make the topping.

To make the cream cheese topping, beat the 1/2 cup of heavy whipping cream JUST until stiff peaks form (don't overbeat). Set aside. In another bowl, beat the cream cheese (or mascarpone), confectioners' sugar and vanilla until smooth. Fold the lightly whipped cream into the cream cheese mixture. Spread across top of the cake, reserving some of it to pipe rosettes if desired. Run a cake comb or a fork through the top to make stripes.

Chill for 4 to 6 hours or until ready to serve. To serve, lift from the pan and cut into squares. Garnish each square with a rosette (or just a blob) of frosting and a strawberry half.
Notes
If you can find actual strawberry glaze, use that instead of Smucker's sundae topping. I found the sundae topping worked just fine. Strawberry preserves might work, but make sure they're not too sweet. And then there's always the option of making strawberry glaze yourself if you have time.
If you want to make the cake lighter, skip the heavy whipping cream and use low fat or fat free whipped topping!