Here's a recipe for all the Black & White Cookie lovers out there who don't have time to bake from scratch.  Sugar Cookie Mix Black and White Cookies start with packaged sugar cookie mix.  If you're skeptical, that's all the more reason to try them!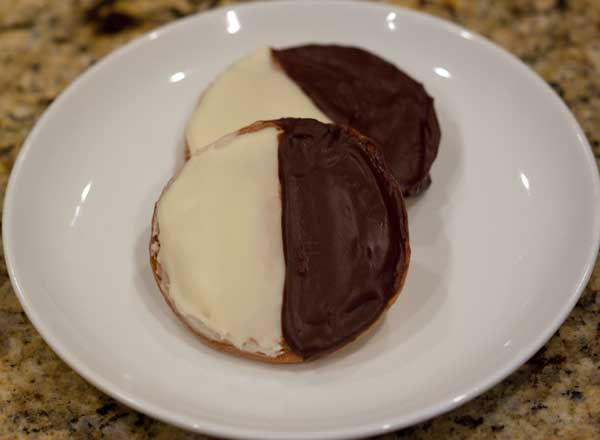 I wasn't sure I'd love these since I've grown accustom to scratch Black & Whites, but the buttermilk and lemon really do enhance the packaged cookie mix and I can see why the original recipe got high scores in the Mix It Up With Betty contest. Still, I thought the icing was a little too sweet. I also prefer a smooth coat on Black & Whites, and the icing that goes with the recipe appears to be spread on.
So given how convenient the cookies were, I tested some of them with quick microwave white and chocolate ganaches made with cream and chips. I was worried ganache wouldn't go well with Black & White since they are typically coated with icing, but the melted chip and cream combination worked just fine and set up quite nicely.
Recipe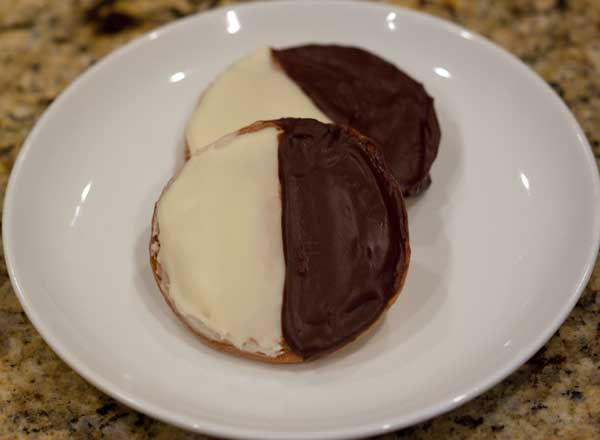 Sugar Cookie Mix Black and White Cookies
Black & White Cookies made with packaged sugar cookie mix.
Ingredients 
Cookie
1

pouch

1 lb 1.5 oz sugar cookie mix

4

tablespoons

softened butter

1

teaspoon

grated lemon zest

½

teaspoon

vanilla extract

2

eggs at room temperature

½

cup

buttermilk
Icing
1

cup

white chips

3

tablespoons

heavy cream

1

cup

semi sweet chocolate chips

3

tablespoons

of heavy cream
Instructions 
Preheat oven to 350 degrees F. Line two baking sheets with foil or parchment paper.

In a large bowl, stir together the cookie mix, butter, lemon zest, vanilla, eggs and buttermilk until smooth.

Using a heaping tablespoon, drop batter onto baking sheet spacing a few inches apart. I only did 6 per sheet. My batter was a little runny, but the cookies still baked up into nice circles.

Bake 12 to 15 minutes or until edges are light golden brown. Cool 5 minutes; remove from cookie sheets. Cool completely.

Make some of the white icing first. You can do it all at once, but given how sensitive white chips can be to heat, I recommend making a small batch first. Combine a tablespoon of the heavy cream with ⅓ cup of the white chips. Microwave at 50% power for 30 seconds. Stir until smooth. If chips do not completely melt in 30 seconds, continue microwaving for 20 seconds and stirring until mixture is smooth. Spoon white mixture over as many cookies as you can, then repeat procedure with remaining white chips and cream.

Repeat with dark chips. Combine 1 tablespoon of the heavy cream and ⅓ cup of the dark chips. Microwave at 50% power for 30 seconds, then stir well. Repeat until chocolate is melted and smooth. Spoon ganache over other side of cookies.
Notes
I used Ghirardelli white chips and Ghirardelli semisweet chips. It's easy to overcook white chips in the microwave, so microwave the chips at a slow and low 50% power and stir often. To gauge how much heat you need, I recommend making ⅓ of the ganache at a time. Also, I'm pretty sure regular white chocolate would work, but I used white chips and they melted smoothly and set quite nicely.