It's not too late to make a King Cake! Or at least that's what I kept telling myself yesterday as I put together my first scratch King Cake just days before Mardi Gras.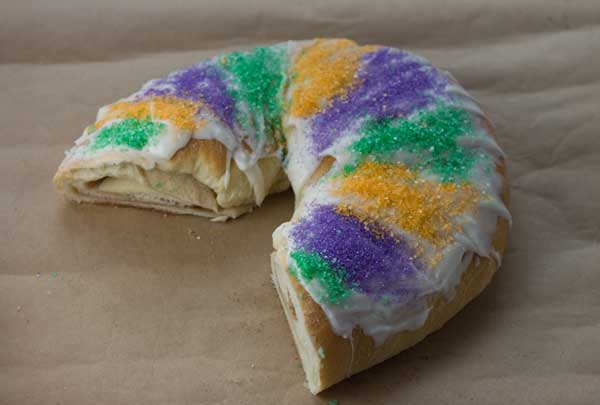 I'd had plans to make a scratch King Cake for months, but other recipes kept taking priority and I just never seemed to get around to it. Seeing the colorfully packaged grocery store King Cakes at HEB is what motivated me to finally do it. That, plus I found a really good recipe in Southern Living.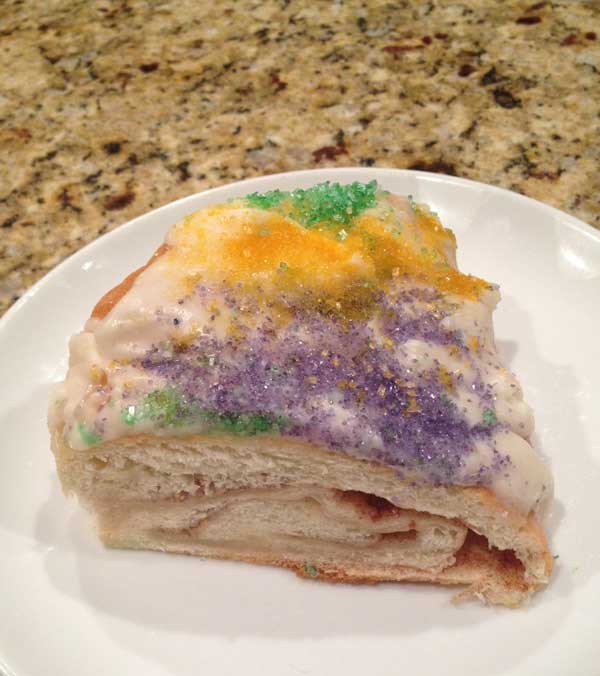 The Southern Living recipe made two cakes.  Since this was my first ever scratch (though I have made a delicious canned biscuit dough King Cake), I halved the recipe and made just one. We all enjoyed it and I'll probably stick with this recipe forever since the sour cream gives it a wonderfully light texture and tart flavor. The filling was good, but you might want to add more or less butter to taste and just use the amounts in the recipe as a guideline.
Recipe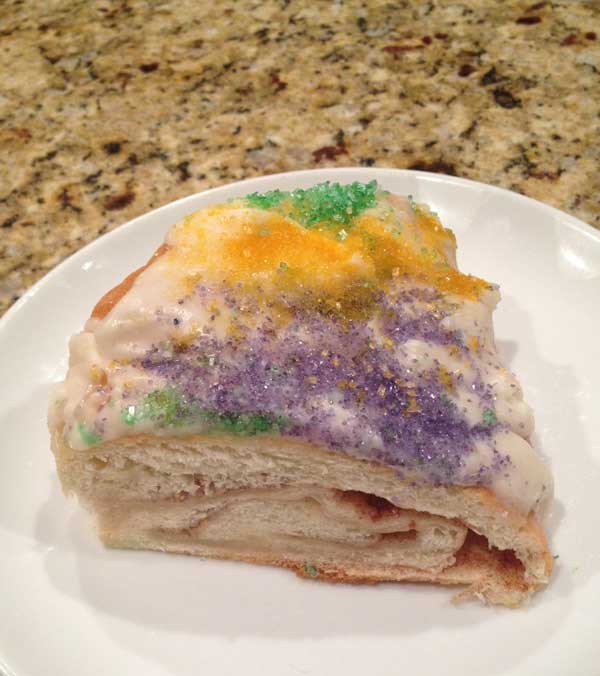 Scratch King Cake Recipe
A scratch version of King Cake made with sour cream.
Ingredients 
1

cup

sour cream

(240 grams)

¼

cup

granulated sugar

(50 grams)

2

tablespoons

butter

(28 grams)

½

teaspoon

kosher salt

1

packet active dry yeast

(2 ¼ teaspoons)

¼

cup

warm water

100° to 110°

1

large egg

lightly beaten

3 ¼

cups

bread flour

14.6 oz/408 grams

1

teaspoon

vanilla extract
Filling
4

tablespoons

softened butter

(56 grams)

¼

cup

granulated sugar

(50 grams)

1

teaspoon

ground cinnamon
Glaze
2

tablespoons

butter

(28 grams)

2

cups

confectioners' sugar

(240 grams)

½

teaspoon

vanilla

Whole milk as needed

1-2 tablespoons

Purple

green and yellow colored sugar
Instructions 
Heat the sour cream, sugar, butter and salt together in a small saucepan over medium heat until butter melts. Let cool to about 110 degrees F.

Meanwhile, stir together yeast and ¼ cup warm (115 degrees) water. Let sit for five minutes or until yeast becomes frothy.

Put 3 cups of flour in a stand mixer bowl. Add the cooled sour cream mixture and stir well, then stir in the egg, yeast mixture and vanilla. Beat by hand or with paddle attachment until well mixed and all flour is incorporated.

Set the bowl on the stand mixer and knead with the dough hook. If dough seems sticky and does not leave the sides, continue adding remaining ¼ cup flour one tablespoon at a time (I used it all). Knead until dough is smooth and elastic.

Rub a large bowl generously with butter and put the dough in the bowl. Turn it over to coat with butter, then cover and put in a warm place for 1 hour to rise.

Punch down dough and roll into a large rectangle. It should be around 22x12, though mine was more like 20x12. Spread softened butter over rectangle leaving a 1-inch border. Stir together ¼ cup sugar and cinnamon, and sprinkle evenly over rectangle. This is also the point where you can put a plastic baby or a bean in it if you choose to do so. I don't recommend it because it's a choking hazard, but it's tradition.

Roll up in a jelly-roll fashion starting from the long side. Place dough roll, seam side down, on a lightly greased baking sheet and bring ends of roll together to form an oval ring, moistening and pinching edges together to seal.

Cover loosely and let rise for 20 to 30 minutes or until doubled in bulk.

Bake at 375° for 14 to 16 minutes or until golden. Slightly cool cakes on pans on wire racks (about 10 minutes).

Let cool (you can ice while warm or let cool completely) and prepare glaze. In a 2 cup Pyrex measuring cup, melt the butter in the microwave. Add the sugar and stir it around until thick and powdery but still dry. Add the vanilla, then add 1 tablespoon of milk and stir well. Continue adding milk 1 teaspoon at a time until icing is a good consistency for drizzling. Pour over the cake and decorate with colored sugar.