Frozen Brownie Mint Ice Cream Pie is an ice cream cake with a brownie base, two flavors of ice cream and a topping of whipped cream and chocolate syrup. I came up with it years ago while experimenting with brownie crusts. To be more specific, desserts which sit on a base of brownie rather than chocolate crumbs or crusts.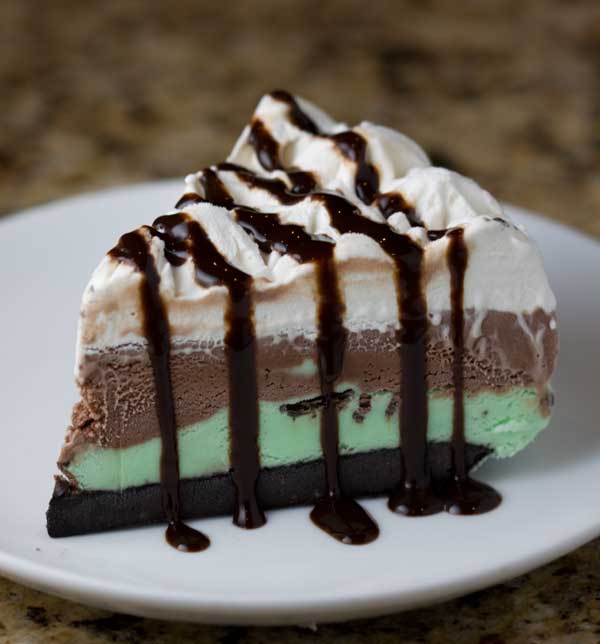 Frozen Brownie Base
This dessert is served frozen, so the frozen brownie needs to be tender enough to stick a fork in. Packaged brownie mix usually works because it doesn't freeze rock solid. However, you can also use a scratch recipe. Oil based brownie recipes like chewy brownies should work well for frozen brownie crusts, but for this egg yolk, buttermilk and brown sugar to do the job. It makes a fairly soft crust and is just the right amount for a 9 inch round springform pan.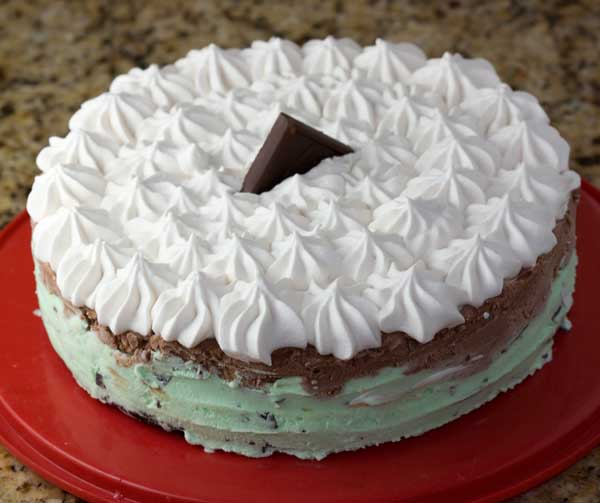 Mint Ice Cream Pie Pan Size
I used a 9 inch round springform for the pie in the photos, but I think a 9 inch deep dish pie pan would work just as well.
More Recipes
Recipe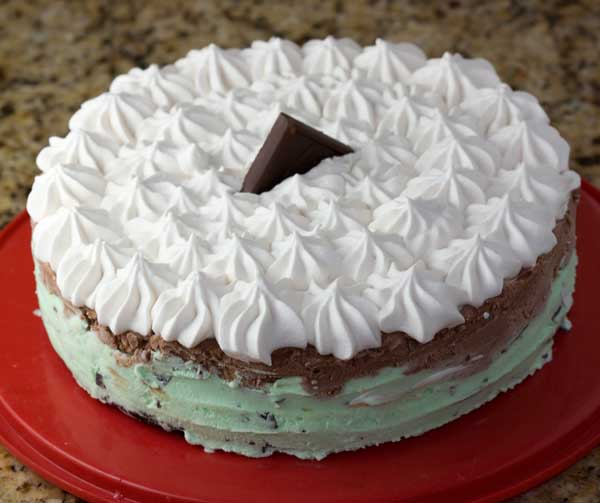 Frozen Chocolate Brownie Mint Ice Cream Pie
Frozen Chocolate Brownie Mint Ice Cream Pie
Ingredients 
4

tablespoons

unsalted butter

⅔

cup

light brown sugar

⅓

cup

Hershey's Dark cocoa powder

1

egg and 1 egg yolk

¼

teaspoon

salt

1

teaspoon

vanilla extract

¼

cup

buttermilk

¼

cup

flour

1

quart

4 cups mint chip or chunk ice cream

1

quart

4 cups chocolate ice cream

2

cups

sweetened whipped cream or whipped topping

Handful of toasted pecans

optional

Chocolate Syrup

optional
Instructions 
Preheat oven to 350 degrees F. Line the inside of a 9 inch round springform pan with nonstick foil.

In a large saucepan or in a microwave-safe bowl, melt the 4 tablespoons of butter over medium heat. Stir in the sugar and cocoa powder. Let cool slightly, then whisk in the egg, yolk, salt, vanilla and buttermilk. Stir in the flour. Pour into the pan and bake for about 18 minutes or until set. Let cool completely and keep chilled until ready to use.

Soften the mint ice cream. When ice cream is soft, spread it as evenly as possible across the brownie layer. Put a sheet of plastic wrap over it and freeze for an hour or until firm. When firm, soften the chocolate ice cream and spread chocolate ice cream over the mint ice cream.

When both layers of ice cream are very firm, pipe or spread whipped cream over the top. Store in freezer until ready to serve. Before serving, remove springform and peel away the foil. Drizzle with chocolate syrup if desired.