I looked over my Boston Cream Pie category and noticed that rather than having one good solid recipe, I had one or two I'd tried, plus recipes for the basic components (best sponge, best pastry cream, best topping). This recipe puts all the components together to make one good scratch Boston Cream Pie. It's really kind of a project, but it's a fun one and a good way to practice some basic pastry and baking skills.
Three Recipes in One
The base is made with Bev's Hot Milk Sponge cake. It's a basic sponge cake with a great texture.
The pastry cream is from Chef Paige. It's a very thick one which works well for Boston Cream Pie. I've increased the milk slightly since posting and have reduced the amount of cornstarch and flour by just a tad. You'll still get a very thick pastry cream that holds up well for Boston Cream Pie.
The chocolate glaze is more like a ganache, but simple and decadent.
Bev's Hot Milk Sponge Cake
Bev, a retired pastry chef, shared this recipe years ago. It is my go-to sponge cake. It requires a stand mixer due to the fact the eggs are beaten for about 10 minutes. This is to help add volume, but also to dissolve the sugar. Adding part of the batter to a hot milk/melted butter mixture also helps dissolve more sugar. I've streamlined it a bit since I first posted. I recommend using a 3 to 3 ½ quart saucepan for the milk mixture, because you can rinse it out and use it again for the pastry cream.
This cake is baked in a springform pan and then split. Splitting cakes takes practice, but you have a cake leveler it's a lot easier. If you don't have a cake leveler, you can put a metal skewer through the cake and guide your knife along the skewer, using it as a guide. You can also use two 8 or 9 inch round cake pans and just reduce the heat, but I recommend using a thick cake and splitting it.
Pastry Cream
I've added some more notes and gram measurements to the pastry cream recipe along with one major change in technique. When making this pastry cream, you do not have to heat the milk first and temper the egg yolks. That step is only necessary when you are using hot milk or cream to infuse vanilla bean flavor. If you are not using a vanilla bean ( I rarely do, I use paste), you can just combine all the dry ingredients in the saucepan off heat, add part of the milk and all of the egg yolks, then gradually whisk in the remaining milk. Once blended, you can put it over the heat and stir. This makes the process a whole lot easier. And again -- this is a really thick pastry cream. The recipe gives you enough for a thick layer of cream. Feel free to halve it if you are short on ingredients are just want a higher ratio of cake to cream.
Scratch Boston Cream Pie Freezes Well
This cake freezes very well, so if you plan on taking it to an event you can assemble the cake and filling ahead of time, freeze, wrap tightly, then prepare and pour on the glaze a few hours before you plan on serving the cake.
Recipe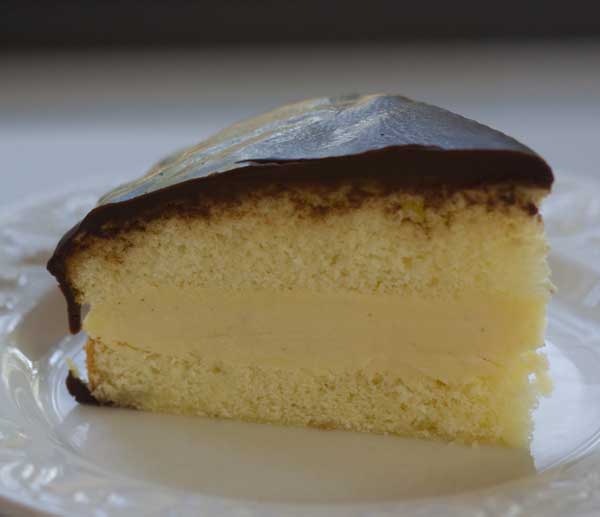 Scratch Boston Cream Pie
Cookie Madness Boston Cream Pie
Ingredients 
Basic Sponge Cake
1 ½

cups

plus 3 tablespoons cake flour (not all-purpose)

(190 grams)

1 ½

teaspoons

baking powder

3

large

eggs at room temperature

1 ½

cups

granulated sugar

(300 grams)

6

tablespoons

unsalted butter or salted butter

(170 grams)

¾

cup

whole milk

(170 grams)

¼

teaspoon

salt (add an extra pinch if using unsalted butter

1

teaspoon

vanilla extract
Pastry Cream Filling
⅔

cup

granulated sugar

(130 grams)

3

tablespoons

all-purpose flour (best to weigh)

(30 grams)

3

tablespoons

scant cornstarch

(24 grams)

⅛

teaspoon

salt

2 ¼

cups

whole milk

(480 grams)

4

large

egg yolks

3

tablespoons

butter, salted

1 to 1 ½

teaspoon

vanilla extract or vanilla bean paste
Glaze
⅓

cup

heavy cream

1

tablespoon

corn syrup

4

oz

chopped semisweet chocolate
Instructions 
Preheat oven to 350 degrees F. Grease the bottom of a 9 inch round springform pan and line bottom with a round of parchment. Leave sides ungreased. Alternatively, you may use two 8-inch round cake pans. The baking time will be reduced to about 28 minutes if using two pans. You'll also need less pastry cream.

Weigh your flour and whisk it together with the baking powder and salt. Set aside. You can sift if you have time, but if you weigh it and whisk it you don't have to sift.

In the bowl of a stand mixer fitted with the whisk attachment, beat the eggs for about 3 minutes. Continue beating for about 7 more minutes, adding the sugar a few tablespoons at a time, very gradually.

Meanwhile. combine the butter, milk, and salt in a 3 to 3 ½ quart saucepan and heat just until mixture boils and butter is melted Add the vanilla extract and set aside.

With mixer on low speed or by hand, mix the flour/baking powder mixture into the whipped egg mixture.

Stir about 2 cups of this mixture (you can eyeball it) into the saucepan with the hot milk mixture, then add it back to the main mixing bowl and beat medium low until smooth (about 1 minute).

Pour the batter into the pan, set the pan on a rimmed baking sheet and bake for about 40 minutes (check at 35) or until cake springs back when touched. Run a knife around sides of pan to loosen and let cool for about a half hour in the pan. Remove sides of springform and let cool completely. Alternatively, you can divide the batter between two 8 inch pans and bake for about 25 to 30 minutes.

Split cake horizontally and fill with pastry cream. Put the cake in the refrigerator until you are ready to make the glaze.
Pastry Cream
In a 3 to 3 ½ quart nonstick saucepan, off heat, whisk together the sugar, flour, cornstarch, and salt. Whisk in the egg yolks and a little of the milk and stir until well blended, gradually adding the rest of the milk.

Set the saucepan on the stove and heat over medium low, whisking often, until hot. Start whisking continuously as the mixture heats and thickens.

The pastry cream will thicken pretty quickly. It will go from lumpy to smooth, but you have to keep whisking it to keep it from burning, so control your heat carefully. Continue to cook and stir until 1 or 2 large bubbles break the surface (this might take a minute or two, but it helps kill the enzymes that cause thinning). Remove from the heat and whisk in the butter and vanilla. Note. If you have a deep fry thermometer, you may want to use that the first time you make pastry cream just to make sure the pastry cream hits 173 degrees F.

Whisk the butter into the cream off heat.

Transfer the pastry cream to a clean bowl, then whisk in the vanilla paste. Press a piece of parchment to the surface and let cool to room temperature.
Ganache Glaze
For the glaze, combine ⅓ cup of heavy cream and 1 tablespoon of corn syrup in a 2 cup glass measuring cup. Heat in the microwave for about 30 seconds or until the cream is very hot, then stir in 4 oz of chopped semisweet chocolate. Stir until smooth and creamy. At this point it will be kind of thin, so let it cool down to a slightly thicker consistency and spoon over the cake.