To celebrate Fuzz's 13th birthday, I made the famous "Neapolitan Cake" which has a layer of chocolate, vanilla and strawberry.  Truth  be told, Fuzz wanted nothing to do with this cake because she doesn't care for strawberry cake mix, but her friends thought it was neat.  I did too.
Since we had two birthday cakes (the other was marble), I made this as a small, 8 inch layer cake using 1/3 of a box of chocolate, vanilla and strawberry cake mix. For a 9 inch cake or an 8 inch cake with thicker layers, you'll want to use 1/2 a box of each. And don't worry about the leftover cake mix because you can either freeze it until you're ready for another Neapolitan cake or use it to make small batches of cake mix cookies.  This cake was so fun!  Now that I've made the box version, I'm going to try developing an easy, streamlined, scratch version.
Recipe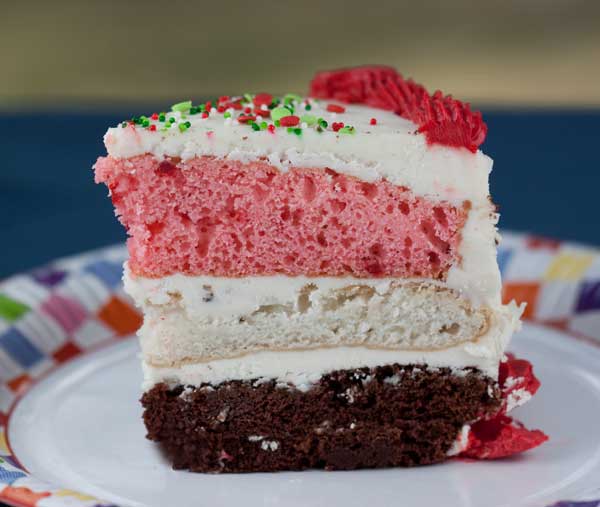 Neapolitan Cake
An easy, fun cake with a layer of chocolate, vanilla and strawberry.
Ingredients 
1/3

of a 16.5 oz box strawberry cake mix

154 grams or about 1 cup Duncan Hines brand

1/3

of a 16.5 oz box of vanilla cake mix

154 grams or about 1 cup

1/3

of a 16.5 oz box of chocolate cake mix

154 grams or about 1 cup

Oil

eggs and water as directed on the box of each (probably 3 eggs, 1 cup water and 1/3 or 1/2 cups oil)
Vanilla Frosting
2

sticks

8 oz unsalted butter, softened

3

cups

powdered sugar

plus more if desired

2-3

tablespoons

heavy cream

1 1/4

teaspoons

vanilla extract

Whole milk as needed
Instructions 
Preheat oven to 350 degrees F. Grease 3 8 inch round metal pans and line with circles of parchment. The strawberry cake mix is sticky! Dust pans with flour.

Have ready 3 small to medium size mixing bowls. Measure out your cake mix in each bowl. If you have a scale, that's the best way to do it.

Add eggs, oil, and water using 1/3 the amounts called for on the packages. Beat the cake batters as directed with a handheld electric mixer. Pour into the pans and bake for about 22 minutes or until they spring back when touched.

Let cool in the pans for 10 minutes, then turn from the pans and let cool completely.

Frosting: In a large mixing bowl, beat the butter until creamy. Gradually add the sugar, beating and scraping the bowl. Add the cream and vanilla and continue beating, then add the milk until you reach a consistency that works for you. Taste and add more sugar if needed.

Ice and stack the cakes with a very thin layer of this frosting, then set the cake on a parchment lined tray and put in the freezer. This step is optional, but frozen cakes are easier to frost.

Once you have your "crumb" layer (thinly frosted cake), spread the vanilla icing all over the cake and decorate.
Notes
A scale is the very best way to measure out cake mix, but if you don't have one you can use about 1 cup of each of the Duncan Hines flavors. Other brands might have different volumes per gram weight, so again -- using a scale is the best method. For a 9 inch cake, use half of each box rather than a third.