Terry's Apple Oatmeal Muffins recipe comes courtesy of Terry Paulding, a Bay Area caterer and cooking instructor who ran a successful catering business with her daughter, Stacy.  Terry gave me her muffin recipe years ago, and it's a good one considering there's no oil or butter. The two large eggs provide most of the fat.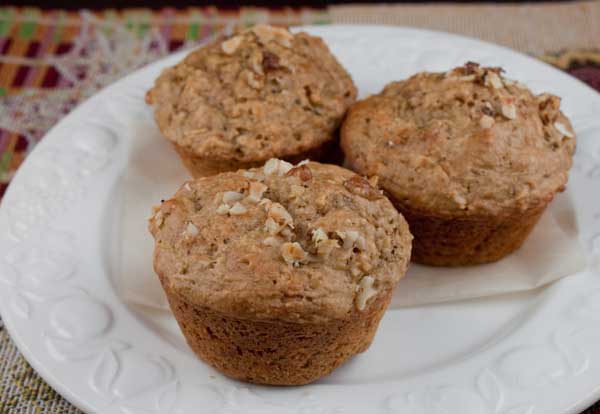 Apple Oatmeal Muffins with Soaked Oatmeal
Terry's Apple Oatmeal Muffins are about as easy as they come, but I goofed up and my first batch came out flat.  I emailed Terry who replied immediately to troubleshoot.  She had several suggestions and mentioned that the batter is supposed to be thick since the oats soak up moisture as they sit. At that point my mistake became obvious. I'd skipped the step of soaking the oats overnight.  So after Terry told me exactly how the batter should look and recommended I give the oats a soak, I tried again. This time I had big, plump, almost fat-free muffins.  
They taste great and their nutritional profile is such that I won't feel guilty throwing one in Fuzz's lunch box.
Recipe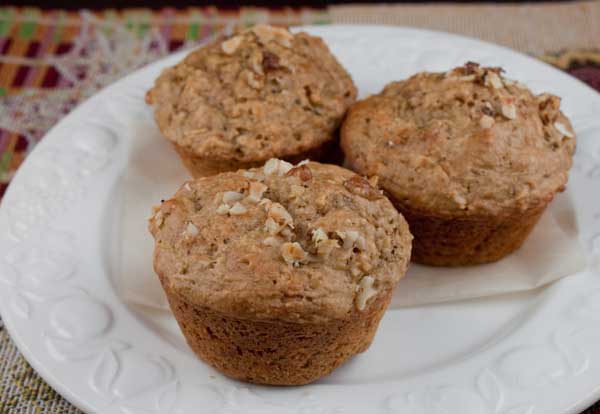 Terry's Apple Oatmeal Muffins
This recipe was developed many years ago by Terry Paulding who created them for a recipe project in a food science class. They're made without any oil or butter.
Ingredients 
2

cups

buttermilk

1

cup

old-fashioned rolled oats

2

"large" eggs

⅓

cup

packed dark brown sugar

1

unpeeled medium size tart apple such as a pippin or granny smith

grated

choice of flavor additions

below

1

cup

whole wheat flour OR 1 cup gluten-free flour

⅔

cup

unbleached flour OR ⅔ cup almond flour

if making gluten free muffins

1

tsp.

baking soda

2

tsp.

baking powder

¾

tsp.

salt
Instructions 
In a large bowl, combine buttermilk, oats, eggs, sugar, apple, and your choice of optional flavor additions below. Soak the mixture overnight so it will be ready at breakfast, or soak the oats for a few hours so that the oats will absorb the milk.

Combine flours, baking soda, baking powder and salt. Sift. Set aside until ready to mix.

In the morning, or whenever you're ready to mix the batter, preheat oven to 375°F. Grease a 12 ct. muffin tin very well, or line it with paper muffin. Fold sifted dry ingredients gently into buttermilk mixture until just combined. Do not over-mix.

Fill muffin tins (easy with an ice cream scoop). Bake 25 - 30 minutes, until brown and fragrant. Loosen from tins immediately. These muffins keep well for several days, and can be frozen.

Flavor additions: 1 cup fresh blueberries, plus grated zest of 1 orange or lemon, ⅔ cup raisins and ½ cup chopped walnuts, 1 cup fresh cranberries (ADD ⅓ cup white sugar), ⅔ cup dried cherries or cranberries & ½ cup chopped pecans. -- You get the idea, make up your own combos!