If you like the flavor of Kahlua or just want to get drunk on popcorn, no worries! The Internet's got covered. I found this Kahlua Popcorn recipe in a few different places, and while I was just kidding about the "drunk" park, it's a recipe worth making if you're a fan of coffee liqueur or need an interesting party snack.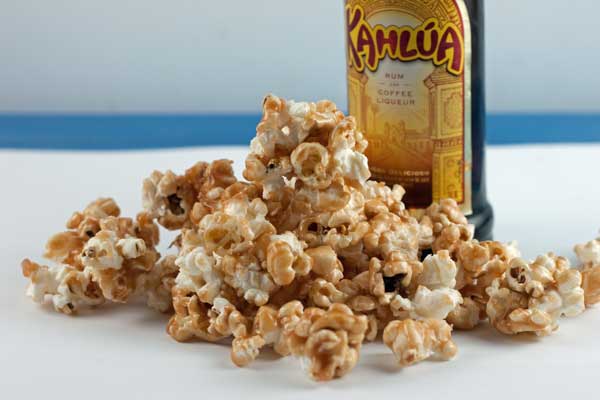 Kahlua popcorn is fairly simple to make, but you do need a candy thermometer. Kahlua, sugar, vinegar and butter are boiled to the hard crack stage and poured right over the popcorn, which crisps as it cools and becomes quite candy-like. It's not quite as rich as some caramel corn recipes and the Kahlua flavor wasn't that strong at first. However, there's a simple remedy to that -- just douse the popcorn with straight Kahlua before serving. See? Problem solved.
Recipe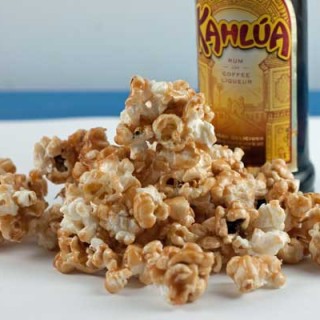 Kahlua Popcorn
Kahlua popcorn is popcorn coated with a crisp Kahlua and sugar mixture.
Ingredients 
8

cups

popped corn

Large handful of cashews or other nut

1

cup

granulated sugar

½

cup

Kahlua

2

tablespoons

apple cider vinegar

3

tablespoons

butter

Salt

optional
Instructions 
Put the popped popcorn and nuts in a greased roasting pan and set it in a 250 degree oven to warm. Warm popcorn is easier to coat.

In a large saucepan, heat the sugar, Kahlua and vinegar until very hot. Add the butter and bring to a boil, stirring often. Insert a candy thermometer and continue boiling, stirring often (I stopped a couple of times, but stirred here and there to prevent burning) and bring the mixture to 300 degrees F – hard crack stage. Immediately remove from heat.

Pour over the warm popcorn and nuts and stir to coat. At this point it will be very chewy. Let it cool completely. If you cooked it to hard crack, it will crisp when it is completely cool.

Eat as is or douse with more liqueur and eat immediately.