This recipe is for all the bourbon lovers out there who want to try Kentucky's finest in popcorn form.  Not that there aren't other versions of bourbon caramel corn, but this is the one I ended up going with, and we just couldn't stop eating it.

I was worried that 2 1/2 tablespoons of bourbon added to my usual caramel corn recipe wouldn't add much flavor, but it really did.  If you try it, let me know what you think.  The flavor reminded me of a butter rum Lifesaver, which is weird since there's no rum in it.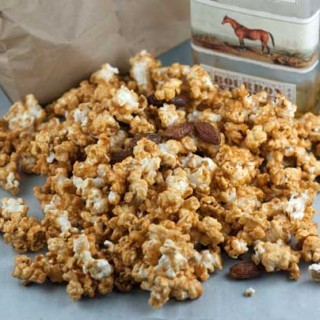 Bourbon Popcorn
Bourbon Caramel Corn is an oven baked caramel corn recipe with bourbon thrown in right before baking.
Ingredients 
6

cups

popped popcorn

½

cup

almonds or other nuts

½

cup

packed light brown sugar

1/4

cup

unsalted butter

room temperature

2

tablespoons

light corn syrup

1/4

teaspoon

salt plus an extra pinch

2 1/2

tablespoons

bourbon mixed with ½ teaspoon vanilla

¼

teaspoon

baking soda
Instructions 
Preheat oven to 250 degrees F. Grease a large roasting pan with some extra butter and put the popcorn and whatever nuts you are using in the roasting pan. Set the pan in the oven as it's preheating to keep the popcorn warm while you make the sauce.

In a small saucepan, heat brown sugar, butter, corn syrup and salt over medium heat, stirring often, until it begins to boil. Boil for 3 minutes more, stirring occasionally. Remove from heat. Stir in bourbon/vanilla mixture (mixture will fizzle up quite a bit, so be careful) and baking soda (mixture will foam up a bit).

Pour over warm popcorn and stir so that it's evenly coated. Bake for 1 hour, stirring ever 20 minutes.

Empty onto a parchment lined baking sheet or other cool surface and let corn cool completely.
Notes
Note: The caramel mixture is looser and soupier than usual due to the bourbon, but the syrup will thicken as it cooks and popcorn should crisp as it cools.