Here's a question: Do people still buy pudding mix to make actual pudding or is most pudding mix purchased to use as an ingredient? When was the last time you bought a box of instant pudding mix and just whipped it up for dessert? I'd like to see some charts and graphs! Okay, not really. But I was thinking about that as I made Pina Colada Popcorn, a type of candied popcorn made with pudding mix. .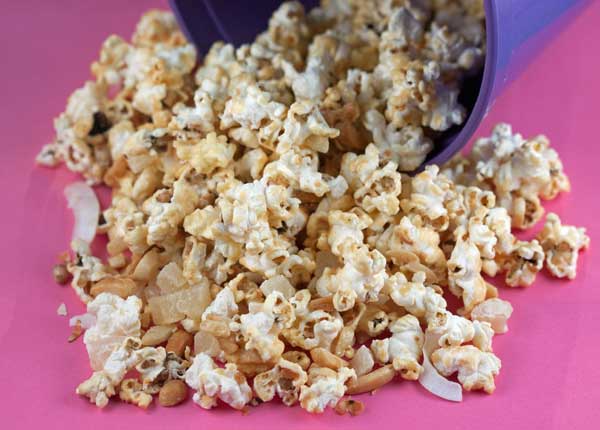 Someone somewhere (I don't know the origin of this one, unfortunately) combined coconut pudding mix, rum extract and dried pineapple to make a pina colada popcorn. It really does have a pina colada flavor, and it's nice and crisp despite the fact no candy thermometers or strict boiling times are involved. I thought it was a fun little recipe and would definitely make it again for a coconut lover or a tropical themed party.
Oh, not that you asked, but I always pop corn in a brown paper sack in the microwave. It usually takes about 2 or 3 minutes, but if you put a handful of popcorn in a brown bag, fold down the top of the bag and shake it up a little, you can pop corn without any oil.
Recipe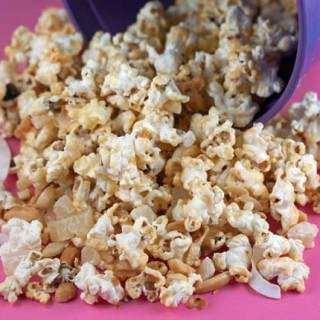 Pina Colada Popcorn
Pina Colada Popcorn is made by tossing popcorn with a mixture of butter, corn syrup and pudding mix.
Ingredients 
8

cups

popped popcorn

2

tablespoons

butter

⅓

cup

light corn syrup

¼

cup

instant coconut cream pudding mix

¾

teaspoon

rum extract

½

cup

diced dried or candied pineapple

Slivered almonds

Coconut flakes

optional
Instructions 
Rub a large roasting pan with butter and put the popped popcorn in it. Put the pan with the popcorn in a 300 degree oven to keep it warm while you make the sauce.

In a saucepan, melt the butter. Add the corn syrup and pudding mix, then remove from heat and stir until smooth – mine still had a few lumps in it, but apparently that is okay. Stir in the rum extract.

Pour the syrup mixture over the popcorn and stir to coat. Bake popcorn, uncovered, in a 300 degree F oven for 15 minutes. Stir well and bake for another 5 minutes. Transfer to a large baking sheet covered with nonstick foil or parchment and let it cool completely. Toss with a little dried pineapple and some coconut flakes.Serve popcorn immediately or store, tightly covered, in a cool, dry place. I store mine in the freezer.