Chocolate Covered Cherry Cake was inspired by a Valentine's Day creation from Texas Co-op Power. The original calls for oil, more eggs and less sugar. It's a delicius cake, but I wanted to make it a little richer so I changed it up a bit (making it more like Nana's Devil's Food) and added a chocolate ganache glaze. Here's a new picture of the updated cake.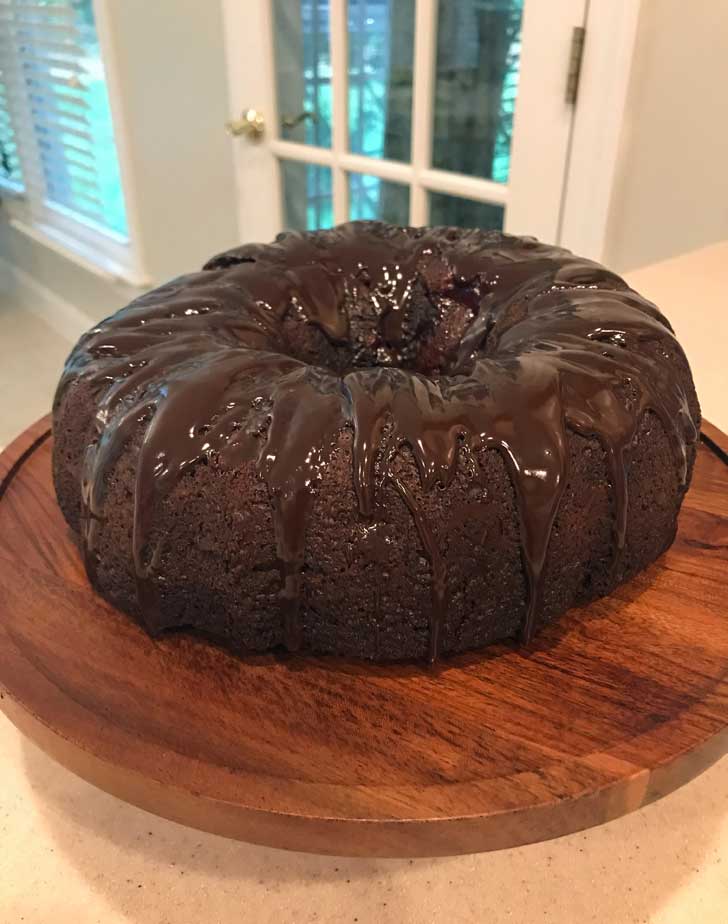 Here's the old picture of the cake I linked to above. The ratios are different and it is made with oil rather than butter.
Chocolate Covered Cherry Cake
This is basically a dump and stir cake, though you may want to use an electric mixer just to make sure everything is thoroughly blended. Half a can of cherry pie filling is mixed in with the batter and the other half is spread in a ring in the center. The original version in the link does not include chocolate chips, but they are worth adding if you have some.
Ganache Glaze
The original Chocolate Covered Cherry Cake from the link does not have a chocolate glaze, but rather a vanilla glaze that you drizzle on while warm and let sink into the cake. The vanilla glaze adds moisture and flavor and is a must for that cake. The new improved cake is moist enough to be served with just a dusting of powdered sugar, but I added a ganache glaze anyway.
Cake Garnish
You are supposed to garnish the cake with fresh cherries, but I didn't have any and was simultaneously making our family's dinner while baking this cake so I left it as is. But here's my attempt at an artsy photo! I need a shorter vase of flowers, more light and probably more commitment to photography. Will try again next time.
Recipe