Back when Fuzz was a pre-teen, I discovered chocolate covered marshmallows were the key to her heart. I'd put one in her lunchbox and she'd be nice to me the rest of the day! So no surprise I got really into chocolate covered marshmallow recipes. This post talks about a few different recipes I've tried and includes a link to an even easier marshmallow delight. This week I discovered how to get on my 13 year old daughter's good side.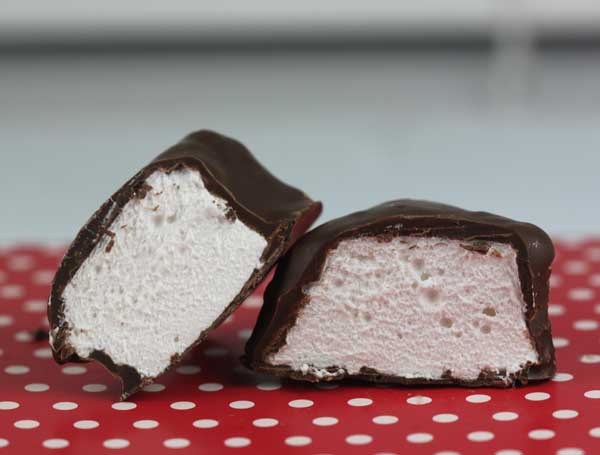 Scratch Chocolate Covered Marshmallows

I've made marshmallows from scratch, but have only piped the mixture out to make homemade Whippet Cookies. Yesterday was my first time pouring them into a pan, letting them set, then cutting into squares. The process was simple, but what was hard was choosing a recipe. Several people recommended David Lebovitz's marshmallow recipe which uses egg whites. Ina Garten has a more straightforward one without any eggs, as does Alton Brown. I was going to go with Alton Brown's recipe but had some issues with the way they wrote the sugar measurement and changed my mind.  In the end, I went with Molly Wizenberg's homemade marshmallows recipe on Epicurious. It worked perfectly! The original version calls for potato starch, but like everyone else I used a mixture of cornstarch and confectioners' sugar.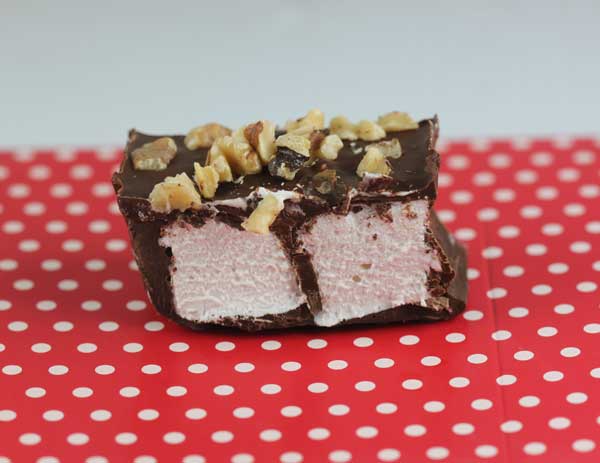 Marshmallow Taste and Texture
The marshmallows tasted okay when they were first cut, but I didn't experience the wow factor until I let them sit overnight and dipped them in chocolate. They were time consuming, but totally worth it once dipped in chocolate.
Also, you'll notice the second picture is more like Rocky Road Candy. I got tired of dipping the individual marshmallows in chocolate, so I lined a loaf pan with some nonstick foil, arranged the marshmallows in the pan, poured chocolate over the whole lot, threw on some walnuts, let them set, then cut into squares.  Here's the recipe as I made it.  For fatter, taller, marshmallows, use a 9 inch square pan.  I was actually pretty happy with the not-quite-so statuesque 9x13 inch pan version because they were just right for dipping in chocolate.
Recipe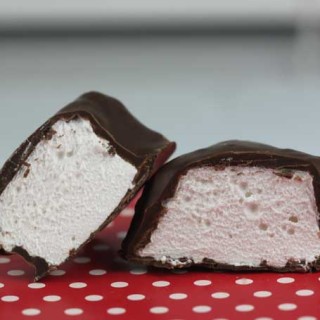 Chocolate Covered Marshmallows
Chocolate Covered Marshmallows made with homemade marshmallows and melted chocolate
Ingredients 
1

cup

cold water

divided

3

¼-ounce envelopes unflavored gelatin

2

cups

sugar

(14 oz/390 grams)

⅔

cup

light corn syrup

¼

teaspoon

salt

2 ½

teaspoon

pure vanilla extract

¼

cup

confectioner/s sugar

¼

cup

cornstarch

½

pound

of your favorite dark chocolate for melting

½

pound

of your favorite milk chocolate

Some coconut oil

optional
Instructions 
Line 13x9x2-inch metal baking pan with foil or parchment and spray with cooking spray.

Pour ½ cup of the cold water into bowl of a stand mixer fitted with whisk attachment and sprinkle gelatin over water. Let gelatin sit and "bloom" for 15 minutes.

Combine 2 cups (14 oz/400 grams) sugar, corn syrup, salt, and remaining ½ cup cold water in heavy medium saucepan. Stir over medium low heat until sugar dissolves, brushing down sides of pan with wet pastry brush. As soon as it begins to boil, cover with a lid and let boil for 2 minutes. Remove lid , insert thermometer and boil until it reaches 240 degree F.

With mixer running at low speed, slowly pour hot syrup into gelatin mixture in thin stream down side of bowl. Gradually increase speed to high and beat until mixture is very thick and stiff, about 15 minutes. Add vanilla and beat to blend, about 30 seconds longer.

Pour marshmallow mixture into prepared pan. Smooth top with wet spatula. Let stand uncovered at room temperature until firm – at least four hours.

Stir confectioners' sugar and cornstarch together in a small bowl, then sift a generous amount of mixture over a clean work surface covering 9x13 inches of space. Invert the marshmallow onto the sugar mixture and peel away the foil. Sift more sugar mixture over marshmallow. Using a sharp knife coated with nonstick spray, cut mixture into cubes. Toss marshmallows squares in remaining sugar mixture.

Chop half the chocolate and put it in the top of a double boiler or a microwave-safe bowl. Add about 2 teaspoons of coconut oil and stir. Melt over simmering water in the double boiler, or melt at 50% power in the microwave, stirring every 30 to 50 seconds (I stir ever 30 seconds for milk and every 50 for dark).

Dip marshmallow squares in chocolate and allow excess to drip back into bowl. Arrange pieces on a small tray lined with nonstick foil. Chill until chocolate is set.