Nana's Favorite Devil's Food Cake is Reddit famous! It took me a while to try it because I am jaded and thought it was just a variation of Hershey's Perfectly Chocolate, but since the Divorce Cake didn't let me down I gave it a go. After all, you can't have too many easy and basic cake recipes, right? Turns out it's as good or better than some more complicated cakes, and makes a good blank canvas for Silky Chocolate Frosting.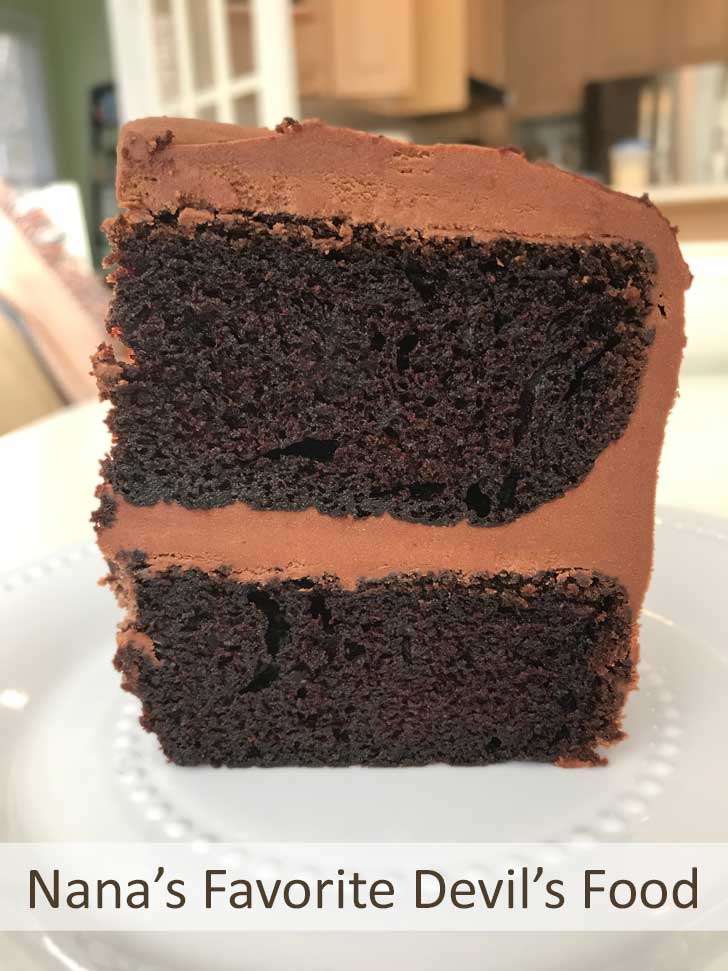 Silky Chocolate Frosting
Since Nanas Favorite Devil's Food Cake was so easy, I figured I'd complicate things by making a difficult frosting. Just kidding. But this frosting does require a bit more attention to detail than my usual favorite chocolate frosting. It starts with a simple pudding-like mixture which you stir together over the stove. You have to let it cool (this requires patience and planning ahead), and then you whip in room temperature butter and cooled melted Lindt chocolate. The frosting is fun to make if you give yourself enough time and pay careful attention to ingredient temperatures. Make sure that the pudding mixture and the melted chocolate are not too warm and that the butter is not too cold.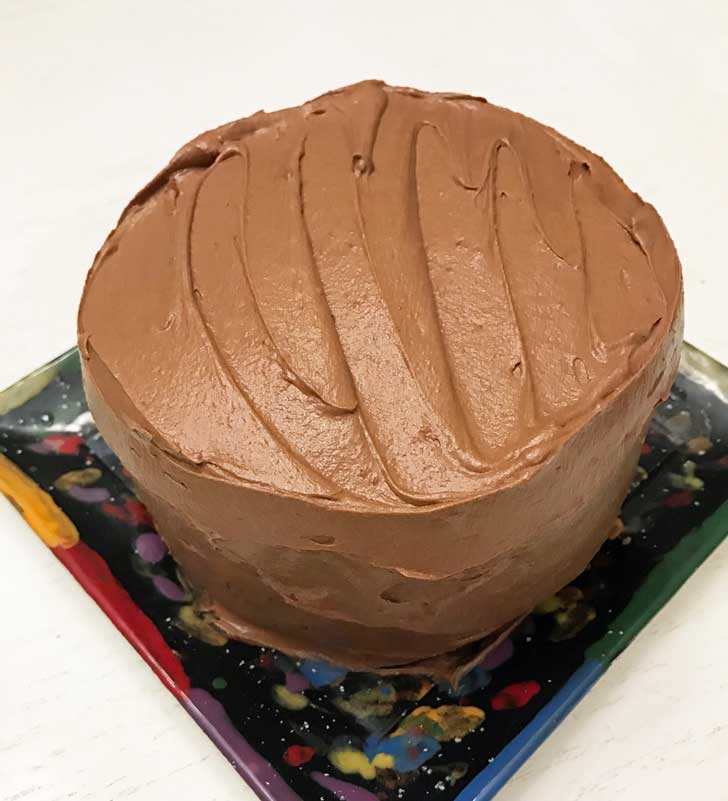 Cocoa Powder in Hot Liquid
The original recipe is basically dump everything into the bowl, stir and bake. The only thing I changed was to combine the cocoa powder and hot coffee, stir until smooth, and let cool. Dissolving cocoa powder in hot water is supposed to make the chocolate flavor more pronounced. Or at least according to the July 1994 issue of Cook's Illustrated. It works for cakes with water (or hot coffee, apparently), but doesn't work if the main liquid is milk. Nana's cake has coffee and milk, so I figured why not try? The cake was definitely chocolate-y!
Nana's Favorite Devil's Food in Six Inch Pans
If you want to make Nana's Favorite Devil's Food Cake as a six inch layer cake, just halve the ingredients and bake for 32 minutes (approximately). If you use the frosting below, you'll only need about ⅔ of it to frost the six inch cake.
Recipe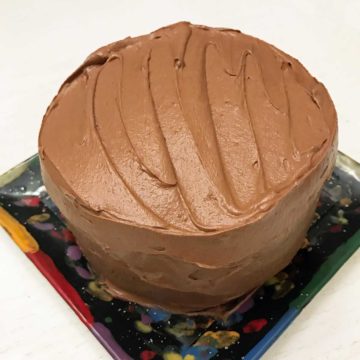 Nana's Favorite Devil's Food Cake from Reddit
A very popular and easy chocolate cake with a super smooth frosting.
Ingredients 
2

cups

all-purpose flour

270 grams

1

tsp

salt

1

tsp

baking powder

2

tsp

baking soda

2

cups

sugar

(385 grams)

¾

cup

unsweetened natural style cocoa powder

1

cup

hot brewed coffee

1

cup

vegetable oil

canola or light olive oil

1

cup

whole milk

2

large

eggs

1

tsp

vanilla
Silky Chocolate Frosting
¾

cup

granulated sugar

(150 grams)

¼

cup

all-purpose flour

(35 grams)

3

tablespoons

unsweetened natural cocoa powder

1

cup

whole milk

2

sticks

butter, salted or unsalted

(225 grams)

salt

If using unsalted, add about ¼ teaspoon salt

6

oz

bittersweet or dark chocolate, melted and cooled

(170 grams) I use 70% Lindt bars
Instructions 
Preheat oven to 350 F. Grease and flour two 9 inch round pans or one 13x9 inch pan. If halving the recipe, use two 6 inch round pans.

In a large mixing bowl, whisk together flour, salt, baking soda, baking powder and sugar.

Whisk together the cocoa powder and the hot coffee and let it cool.

Add the cocoa mixture to the bowl with the dry ingredients, then stir in the oil, milk, eggs and vanilla.

Pour the batter into the pans.

Bake at 350 for 30 to 35 minutes. (or until done). Alternatively, you can bake at 375 for 27 minutes or until done. I prefer the lower and slightly longer time for cakes.
Silky Chocolate Frosting
In a large saucepan, stir together sugar, flour and cocoa powder. Gradually whisk in the milk.

Put the saucepan over medium heat. Whisk over medium heat until mixture thickens. Reduce heat to low and continue stirring and whisking for two minutes (this is to cook out any floury flavor). Scrape the thickened mixture into the bowl of a stand mixer and press a piece wax paper directly over it to keep a skin from forming. Let cool for about 40 minutes.

While this mixture cools, cut your butter into about 10 to 12 chunks. Melt the 6 oz of chocolate using your favorite method. I recommend the microwave, heating on high and stirring every 30 seconds. You want to melt the chocolate early enough in the process so that it has time to cool, so maybe about 20 minutes before the mixing phase.

Using the whisk attachment, begin mixing on medium speed. Add one chunk of butter at a time with the mixer going. Scrape sides of bowl often. Check and make sure the mixture is not too warm and that the butter is not too cold. Cold butter can cause the chocolate to lump up and too warm batter will melt it too fast and make the icing too soft. If you used unsalted butter, add some salt.

Once your butter is incorporated and you have a smooth and light cocoa mixture, gradually drizzle in the melted chocolate, whipping at medium until smooth. Beat in the vanilla. Frosting should be smooth and silky. Frost the cake. You can store this cake in the refrigerator or at room temperature, but I recommend the refrigerator.