I've put some weird things in peanut butter cookies, but it never occurred to me to to add sriracha sauce. With its robust peppery flavor and a hint of garlic, why would I put it in sweets? But then along came the Sriracha Peanut Butter Chocolate Chip Cookies from Red Hot Sriracha: 50 Recipes that Will Kick Your Ass!
  I couldn't resist!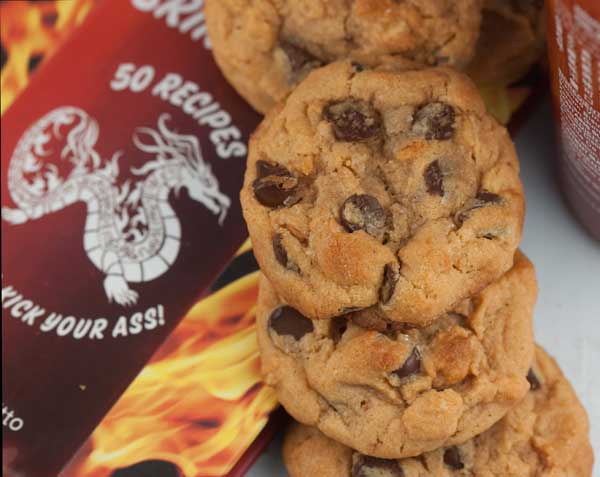 Easy to Work With Dough
Aside from the sriracha, the peanut butter cookie dough was pretty standard and included a lot of peanut butter.  Bonus points for that!  I hate it when peanut butter cookies don't have enough peanut flavor.  More bonus points for the fact each ingredient includes a weight. I didn't have to play guessing games on the true amount of flour, so my dough wasn't too dry or too wet.  It had a pleasantly fluffy texture, was easy to work with, and the cookies baked up into a perfect medium thickness and with rounded sides.
Sriracha Peanut Butter Chocolate Chip Flavor
As for flavor, they were peanut buttery-y and hot!  I'd used a newly opened bottle of sriracha and definitely felt the kick.   The garlic flavor was also quite prominent, which made for a very interesting cookie. I love Chipotle Peanut Butter Cookies and have even enjoyed peanut butter cookies with ketchup. However, this sriracha addition is different.  It's going to be fun serving these and gathering opinions.  Speaking of which, here's my opinion on the book:  I think you should buy it!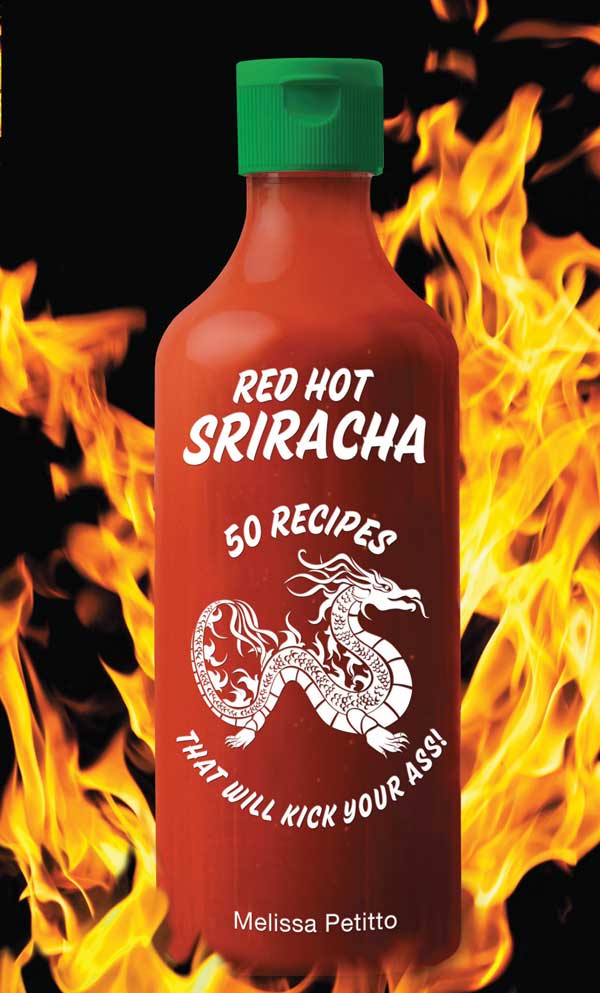 Why Buy The Book?
Fun "party cookies" aside, this book is a serious collection of good, solid recipes. The author, Melissa Petitto, is a professional chef who develops very approachable, tempting recipes.  At one point, she worked in the Cooking Light Magazine test kitchen, and her style of recipes reminds me of Cooking Light's style, but without the sugar and fat restrictions.  Nothing in the book seems overly fussy, and from the 50 total, I have already bookmarked about 20. A few titles include the Sriracha Chickpea Salad, Fiery Glazed Nuts, Cracklin' Candy Bacon and Black Bean Hummus with Five Spice Pita Chips and "Cin" City Spaghetti – a Cincinnati style chili with cinnamon and Sriracha.  I also want to try the Smokin' Sweet Corn Salsa and definitely the Salted Honey-Lime Popcorn.  And those are just a few.  There are seafood recipes, ribs, burgers, and a selection of sriracha laced drinks.  And in addition to all the great recipes, there's a full color picture of each one.
To sum it up, this book is worth adding to your collection and would be a perfect gift for the fiery foods fanatics in your life. As for the cookies, you'll have to try them and let me know what you think.  I really enjoyed the texture of the cookies and might try using ¼ cup of some other slightly acidic liquid just to play with the flavors -- maybe a teaspoon of molasses mixed with water?
Recipe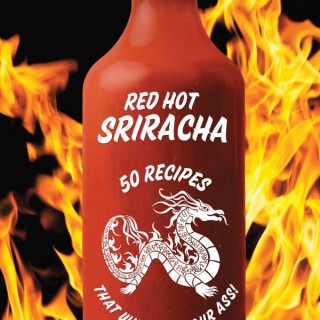 Sriracha Peanut Butter Chocolate Chip Cookies
Like a good date, these babies are best with a little hands-on action. Rolling the dough through turbinado sugar (aka raw sugar) before baking is crucial to impart sweetness and a bit of texture. Makes 54 cookies
Ingredients 
1

cup

unsalted butter, at room temperature (2 sticks)

(225g/8oz)

1 ½

cups

crunchy peanut butter

(400 grams)

1

cup

sugar

(200 grams)

1

cup

light brown sugar, tightly packed

(200 grams)

¼

cup

Sriracha

2

large eggs

1

teaspoon

vanilla extract

3

cups

all-purpose flour

(375 grams)

1 ½

teaspoons

baking soda

1

teaspoon

baking powder

1

teaspoon

sea salt

1 ½

cups

semisweet chocolate chips

(255 grams)

1

cup

turbinado sugar

(200 grams)
Instructions 
Preheat the oven to 375F (190C). Line two large baking sheets with Silpat or parchment paper and set aside.

In a large bowl, using a handheld mixer, cream the butter, peanut butter, sugar, and brown sugar on medium speed until the sugar dissolves and the mixture is light and fluffy, about 3 to 4 minutes.

Add the Sriracha, eggs, and vanilla and blend for 1 minute, or until well incorporated.

In a medium bowl, whisk together the flour, baking soda, baking powder, and salt.

Add the dry ingredients to the wet ingredients and mix for 1 to 2 minutes on medium speed until well blended. Fold in the chocolate chips.

Place the turbinado sugar on a plate.

Using a 1.-tablespoon scoop, scoop the dough into balls and then roll them in the sugar. Arrange the dough 2 inches (5cm) apart on the prepared baking sheets and continue with the remaining dough.

Flatten the dough with a fork and make a crisscross pattern on each cookie.
Notes
Recipe courtesy of Racepoint Publishing and Melissa Petitto.