Today's whole wheat chocolate chip cookies are bake sale perfection! They're about 4 inches across, fairly thick, and loaded with flavor from the walnuts and vanilla. Of course if you don't want to break the budget (calorie budget, mainly!), you can make the cookies smaller. Either way, they're perfect for wrapping individually.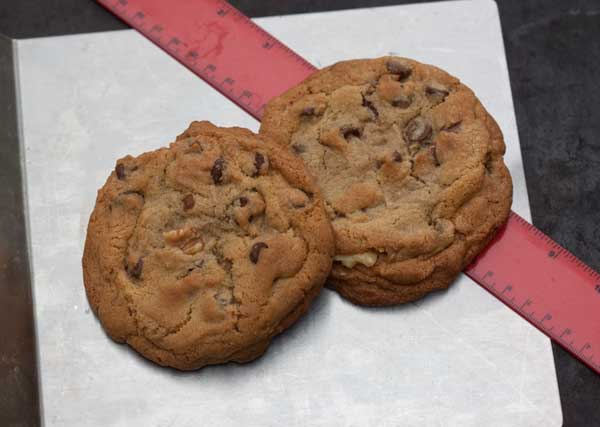 This recipe is a cousin to Best Big Fat Chewy Chocolate Cookies. I've made the "chewy" recipe several times, but for this version I increased the flour to give the cookies more support and used whole wheat flour for flavor and color. Using the right amount of flour is key, so I recommend weighing it. I use 320 grams total for larger size cookies, but use closer to 300 grams when I made the smaller size version.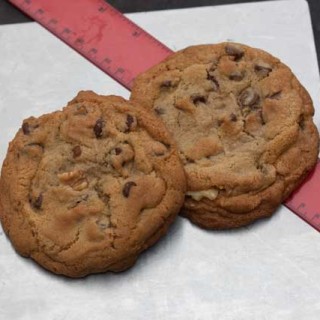 Whole Wheat Chocolate Chip Cookies With Walnuts
Whole Wheat Chocolate Chip Cookies with Walnuts are large, 4 inch cookies made with a dough that stands up to lots of chocolate chips and nuts.
Ingredients 
1

cup

whole wheat flour

150 grams

1

cup

or 1 cup plus about 3 tablespoons all-purpose or bread flour

150 to 175 grams

3/4

teaspoon

salt

1/2

teaspoon

baking soda

1 ½

sticks

168 grams good quality unsalted butter, softened**

1/2

cup

100 grams granulated sugar

1

cup

200 grams light brown sugar (or a mixture of light and dark)

1

tablespoon

vanilla extract

A large egg

1

large egg yolk

1 1/2

cups

to 2 cups good dark or semisweet chocolate chips

2/3 to 1

cup

toasted and chopped walnuts.
Instructions 
Preheat oven to 325 degrees F.

Carefully measure out both flours to total about 320 grams. Add the salt and baking soda and stir until well mixed.

In a mixing bowl, beat the butter until creamy. Add sugar and beat until creamy, then beat in vanilla. Scrape sides of bowl and add egg. Beat until blended, then beat in egg yolk. Scrape sides of bowl, then stir in flour mixture. Batter will be thick and kind of on the dry side, but it should not be crumbly.

Stir in chocolate chips and walnuts.

Divide the dough into 4 sections, then divide each of those sections into 3 sections to make 12 large balls of dough. Arrange 6 of the dough balls on a parchment or silpat lined baking sheet and bake at 325 for about 18 minutes or until cookies are brown around the edges and tops appear set.

Let cool completely.
Notes
I made a few different batches of these and played with the amounts of flour. For the larger size (12 count) cookies, 325 grams worked better. For smaller (24 count) cookies, keeping the flour around 300 grams worked better. Updated: I've made these several times now and like dividing into 18 balls. If chilled, the cookies will be even fatter, but the dough does not require chilling. Walnuts contribute to the texture so I recommend leaving them in. Also, when making the 18 count size using cold balls of dough, you can use 375 degrees.