Today's cake is based on a recipe from Maida Heatter whose inspiration came from a chocolate cake she tasted in a Fort Worth coffee shop. Instead of naming it after the shop, she called her cake "Cowtown Chocolate Cake" paying homage to Fort Worth's nickname.
It's a cute name for a cake, but as a side note I will add that Fort Worth has much more to offer than cowboys and cattle culture. It has several fine museums, a top zoo, a thriving arts scene and a lively college town vibe. And apparently it has multiple coffee shops that serve good chocolate cake, because I found several while trying to figure where Maida first tasted her Cowtown Chocolate Cake.
I have a couple of guesses as to where Maida found her Fort Worth chocolate cake, but no substantial proof so I'll just leave it at that and tell you about the cake. It's a good cake, but the icing what makes it great.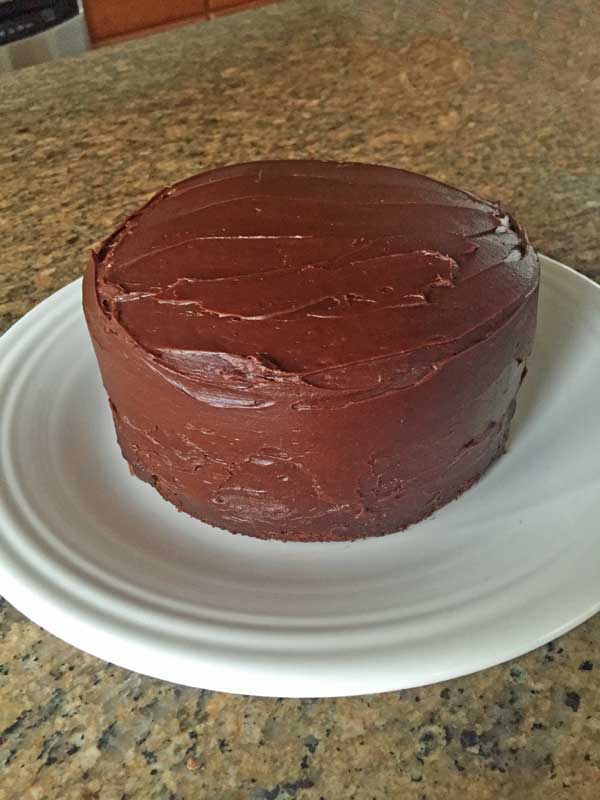 The texture is slicker, richer and less sweet than confectioners' sugar icing. Instead of cocoa powder, all the chocolate flavor comes from unsweetened chocolate, so you can use your personal favorite unsweetened. I think a good 85% or 90% would be fine, too.  It might take longer to thicken depending on what brand of chocolate you use, but it will thicken.  And it tends to thicken quickly as it cools, so plan on spreading rather than piping.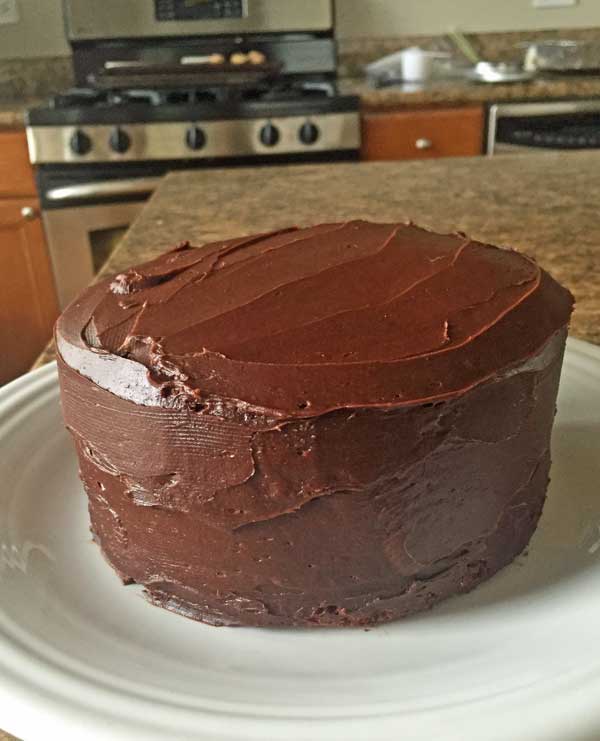 One last note. If you don't need a full cake you can always halve your Cowtown Chocolate Cake recipe and use two 6 inch round pans.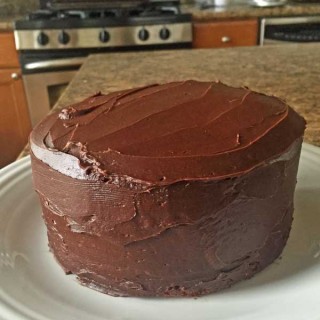 Cowtown Chocolate Cake
Maida Heatter's Cowtown Chocolate Cake is based on a cake from a restaurant in Dallas or Fort Worth.
Ingredients 
5

oz

unsweetened chocolate

chopped

1 1/2

cups

sifted all-purpose flour

6.8 ounces

1/4

cup

unsweetened cocoa powder

1

teaspoon

baking soda

1/2

teaspoon

salt

1

teaspoon

instant espresso powder

3

large eggs separated

1

stick

4 oz unsalted butter, softened

1

cup

light brown sugar

firmly packed (7 oz)

1

cup

granulated sugar

7 oz

1

teaspoon

vanilla

1 1/4

cups

buttermilk at room temperature
Ganache Icing:
1

cup

heavy cream

1

cup

granulated sugar

1/4

teaspoon

salt

5

ounces

unsweetened chocolate

chopped

1

stick

4 oz unsalted butter, cut up

1

teaspoon

vanilla
Instructions 
Preheat the oven to 350 degrees F. Grease two 9-inch round pans and line the bottoms with parchment, then grease again and dust with flour.

Heat the chocolate in a microwave safe bowl on high for 30 seconds. Stir and repeat until melted and smooth, then set aside.

Sift the flour, cocoa, baking soda, salt and espresso together twice and set aside.

With an electric mixer, beat the egg whites until soft peaks form. Reduce mixer speed to medium low and gradually add 3 tablespoons of the sugar (from the original 1 cup). Continue beating on a higher speed until stiff peaks just start to form. Set aside.

In a large mixing bowl, beat the butter until creamy. Beat in both sugars and vanilla,scraping bowl. Add the yolks and beat well. Add the melted chocolate and beat until blended, scraping bowl often.

Using a heavy duty scraper (or if using a stand mixer, just used the paddle attachment and low speed), add the flour mixture and buttermilk alternately, beginning and ending with the flour mixture and beating until smooth after each addition.

With the scraper, fold in about ¼ of the beaten whites to lighten, and then fold in remainder until completely blended.

Divide batter between the cake pans and smooth the tops.

Bake for about 28 to 35 minutes until tops of cakes spring back when pressed gently when touched.

Remove from the oven and gently loosen around the sides with a knife. Let stand for 5 minutes.

Invert cakes onto a cooling rack and let cool completely.

Ganache Icing: Stir the cream and sugar in a heavy 2 1/2 to 3 quart heavy saucepan over moderate heat. As soon as it comes to a boil, reduce heat and let the mixture simmer for exactly 6 minutes, stirring occasionally. Remove the pan from the heat, add the chopped chocolate. Stir until it is melted, then add the salt, butter, and vanilla and stir until mixture is smooth.

Place the saucepan in a large bowl of ice and water and scrape the bottom continuously for a few minutes with a rubber spatula until the mixture is cool and slightly thickened. Transfer the mixture to the bowl of a stand mixer mixing bowl (or just a big metal bowl) and beat at high speed for a few minutes until the color become slightly lighter and the icing is thick enough to hold its shape. I found i was able to do this step by hand pretty easily without even employing the electric mixer. As I beat the mixture in the bowl set in ice water, it began to thicken to an easily spreadable consistency.

To ice the cake, put some pieces of parchment under the cake along the outer edge and ice one layer. Stack the cake and ice the sides. Quickly pull away the parchment pieces you used to protect the plate.