Until yesterday the only really good coconut flour recipe I had was for gluten-free chocolate cookies, but that's changed thanks to this new chocolate coconut cake. It's gluten free, can be mixed in minutes, and has a chocolate flavor so intense it doesn't require any frosting.  It may not win any awards for appearance right out of the pan, but plated with a little whipped cream and fresh fruit, it will rival a restaurant dessert.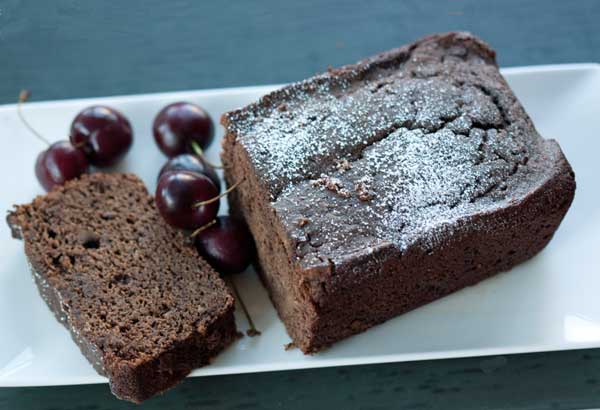 Now I must have been on some kind of subconscious mission to destroy this cake because I made some risky substitutes. I used Egg Beaters and trans-fat free margarine which I'd bought at an about-to-go-out-of-business Wal*Mart Express. Despite my substitutions, this cake managed to be truly excellent. I did use high quality cocoa powder, so that helped. Also, the brand of coconut flour was "Nutiva". Maybe different brands have different qualities? I don't know, but don't overbake it or let the batter sit out too long or it may come across as more dry.  Mine certainly wasn't, and  reviewers over on allrecipes.com gave it 5 stars.  Try it!
Recipe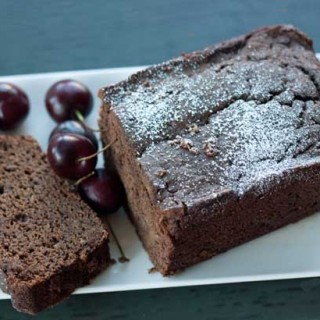 Coconut Flour Chocolate Cake
This chocolate coconut cake from Allrecipes.com and King Arthur is made with coconut flour and baked in a loaf pan. It's moist and delicious and doesn't taste like eggs despite having 6! Serve it with freshly whipped cream and fruit.
Ingredients 
½

cup

coconut flour

1

teaspoon

baking powder

6

tablespoons

butter

½

cup

Dutch-process cocoa powder

¾

cup

sugar

½

teaspoon

salt

1

teaspoon

vanilla extract

6

large eggs

at room temperature
Instructions 
Preheat the oven to 350 degrees F. Grease an 8 ½ x 4 ½-inch loaf pan. Line with a strip of parchment if desired and dust with cocoa powder.

Thoroughly whisk together the coconut flour and baking powder.

In a large, microwave-safe bowl, melt the butter with the cocoa, stirring until well blended.

Whisk the sugar, salt, vanilla, and eggs into the butter-cocoa mixture. Add the coconut flour and baking powder, whisking until smooth.

Pour the batter into the prepared pan and let it rest for exactly 10 minutes.

Bake until set, and a cake tester inserted into the middle comes out clean. Mine took exactly 35 minutes.

Let the cake cool in the pan for 30 minutes before turning it out onto a rack to cool completely. Let cake cool completely before slicing. Note: I let mine cool completely in the pan and didn't have any issues.