Every time I post a gluten-free recipe I mention King Arthur or Bob's Red Mill 1:1. Someone suggested I try Thomas Keller's Cup4Cup and I finally did! So here's a quick review of Thomas Keller's Cup4Cup Multipurpose Flour. It's not sponsored by anyone, it's just my experience based on how it worked in a recipe for thick, soft, chocolate chip cookies.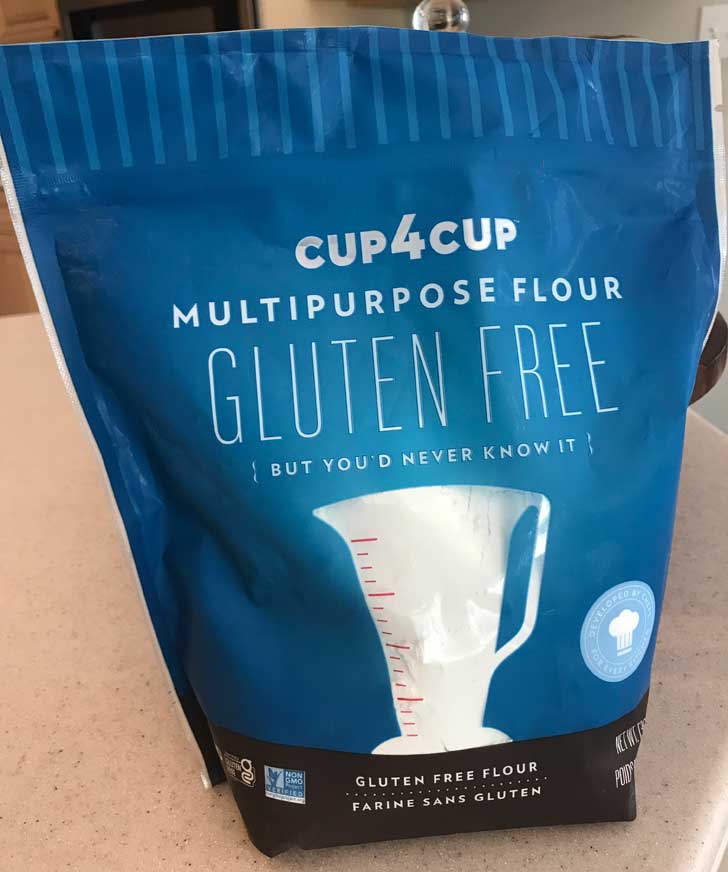 Cup4Cup Gluten-Free Multipurpose Flour
First, a little about the product. Cup4Cup is a gluten-free "multipurpose" flour designed by Thomas Keller's chefs to be used in place of all-purpose flour in cookies, biscuits and cakes. And while they do not advise using it in yeast breads, they actually have two yeast bread recipes on their website -- gluten-free brioche and focaccia. So if you have some mad baking chemistry skills you might be able to develop a yeast bread of some sort.
Dairy in Cup4Cup
One thing to know is that the ingredients in Thomas Keller's flour are a little different. Cup4Cup is a blend of cornstarch, white rice flour, brown rice flour, milk powder, tapioca flour, potato starch, and xanthan gum, with the surprise ingredient being the milk powder. I didn't think to look for that when I bought it, and for me it's not an issue. However, if you intend to make vegan or dairy free baked goods, you'll obviously want to use a different flour. But if you are okay with milk, the company's website says it's there to enhance taste, texture and flavor. And it really does.
Here's a picture of my usual cookies made with all-purpose flour.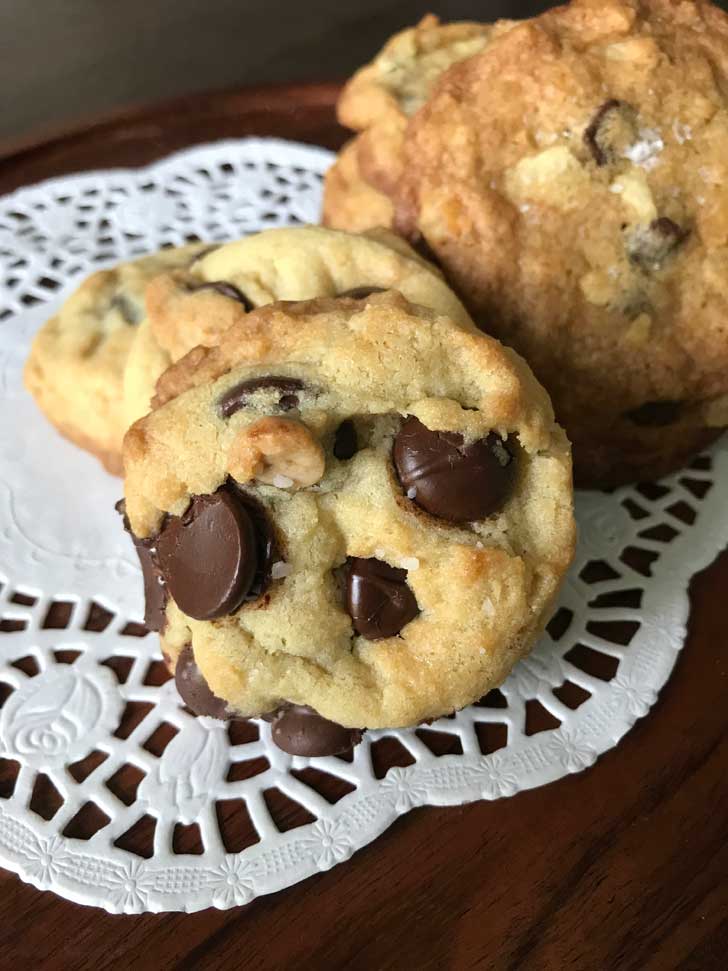 My Chocolate Chip Cookies with Cup4Cup
And here they are again with gluten-free Cup4Cup. They weren't quite as thick with the Cup4Cup, but still excellent. They browned quicker and tasted fresh even on day 2. The edges were crispy and the insides were soft, but not exactly cakey. I also felt like the cookies had more flavor. Part of it could have been I used vanilla paste, but I also think some of the flavor came from the flour itself.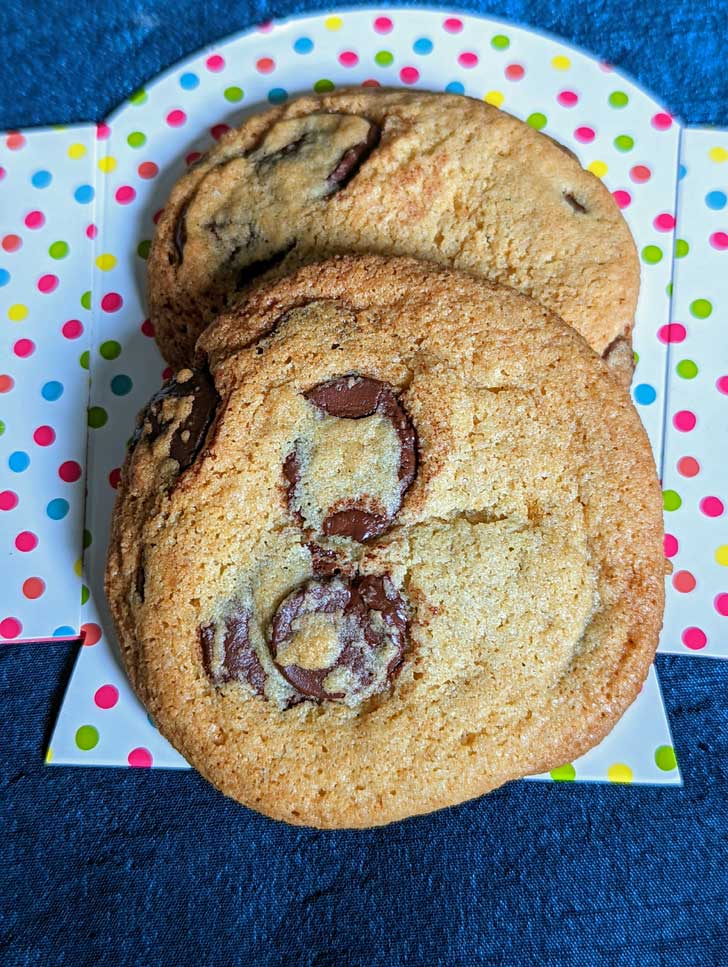 Where to Buy
I found the flour at Wegmans in their gluten-free section. It's probably available at other grocery stores, and it's definitely on Amazon, where it gets well-deserved good reviews.
Update on Cup4Cup
The recipe below is one of my favorites and works well with the Cup4Cup or AP or bread flour. If you have Cup4Cup, another great recipe is the one on the back of the bag! I'm going to have to give it its own post since the cookie are definitely not the same as the ones below.
Soft Thick Chocolate Chip Cookies
So that's my review of Cup4Cup, which worked beautifully in these cookies. You can use it in these cookies or you can make these cookies with all-purpose or bread flour.
They're not fancy cookies, but I like them so much I sent the recipe to Emma (aka Fuzz) to make at school. Here's her batch (made with all-purpose flour) with a thoughtfully written note telling people not to eat them while warm. These cookies really are better at room temperature. Feedback from the crowd was that they liked the "balance of sweet and salty" in the cookies. Most of the sweet comes from the chocolate chips and the dough just holds them together.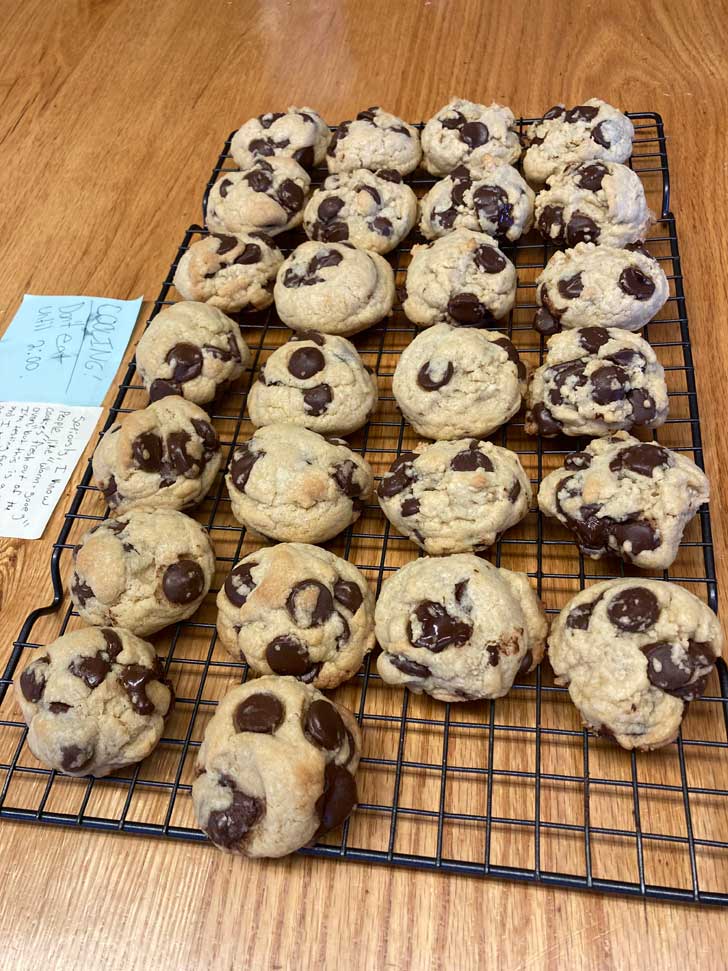 Thick Soft Chocolate Chip Cookie Tips
I've tested these with butter and margarine. I do not usually bake with margarine, but sometimes it makes cookies softer so I like to see how it interacts with other ingredients in different recipes. If using margarine, make sure whatever brand margarine you use has at least 80% fat, which means 90 to 100 calories per tablespoon. I've used Land o' Lakes, I Can't Believe It's Not Butter Sticks, Earth Balance (preferably stick), and Country Crock Plant Butter.
The recipe is really good with Irish butter such as KerryGold.
Weigh the flour and sugar for best results. If you don't have a scale, weigh the flour by spooning it gently into the cup. I always use the weight of 250 grams. Still shopping for a kitchen scale? This Oxo scale is a good choice It has a cool pull-out display feature and is also very easy to clean without breaking.
You can make these with any type of chocolate chips but they are best with large bittersweet chips like Ghirardelli Bittersweet. The larger size chips just go better with the dough.The dough itself is not so sweet and most of the flavor comes from the chocolate.
Don't overmix the batter. Cream the butter and sugar just until mixed, blend the egg just until mixed, then add the other ingredients.
You don't have to chill the dough, but the cookies will be thicker if you do.
The hardest part is waiting for the cookies to cool before sampling. These cookies are so much better after the chocolate chips have set. Or at least with the all-purpose flour. With the Cup4Cup, they were really good warm or at room temperature.
Recipe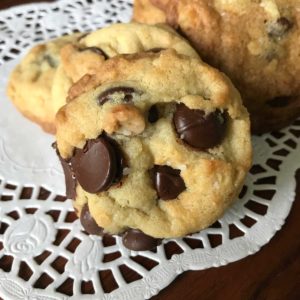 Thick Soft Chocolate Chip Cookies
A recipe for thick and soft (but not cakey) chocolate chip cookies that works well with all-purpose, bread or gluten-free flour.
Ingredients 
11

tablespoons

butter or 80% vegetable oil margarine like Land o' Lakes

(154 grams)

⅔

cup

firmly packed light brown sugar

(130 grams)

¼

cup

granulated sugar

(50 grams)

1

tsp.

vanilla extract

1

large

egg

(50 grams)

⅛

tsp.

salt if using margarine or salted butter or ¾ if using unsalted butter

½

tsp.

baking soda

250

grams

flour -- gluten free 1:1 or AP or bread flour

(A little less than 2 cups)

2

cups

bittersweet chocolate chips or a mix of bittersweet and milk chocolate
Instructions 
Preheat oven to 350 degrees F convection or 375 degrees F. for regular oven. If using Cup4Cup, use 350 degrees F.

In a large mixing bowl, beat the softened butter or margarine and both sugars until creamy. Add egg and beat just until blended, scraping side of the bowl often. Beat in vanilla and baking soda.

Add the flour and stir by hand or using the lowest speed of a mixer until blended.

Drop mixture by heaping tablespoonfuls (or use a medium size cookie scoop), spacing 2 inches apart, on ungreased baking sheets. Bake one sheet at a time for 10-12 minutes or until edges are golden. Remove cookies to wire racks and cool completely.

For even better cookies, scoop cookie dough onto a plate lined with plastic wrap, cover and chill overnight. Bake cookies as directed above. I usually bake a few right away, then chill the rest of the dough and bake a few every day.
Notes
If you use margarine, be sure to use a brand that has 100 calories per tablespoon.  The brands I've tested with include Land o' Lakes, I Can't Believe It's Not Butter Baking Sticks, Earth Balance and Country Crock.
For the flour, please weigh out 250 grams or measure by spooning it into the cup and leveling off.