Move over nut flours, there's a new kid in town -- gluten-free, grain-free Otto's Naturals Cassava Flour. It's the key ingredient in this Cassava Flour Biscotti, and perfect for many other recipes where you'd typically use wheat flour.
Jump to Recipe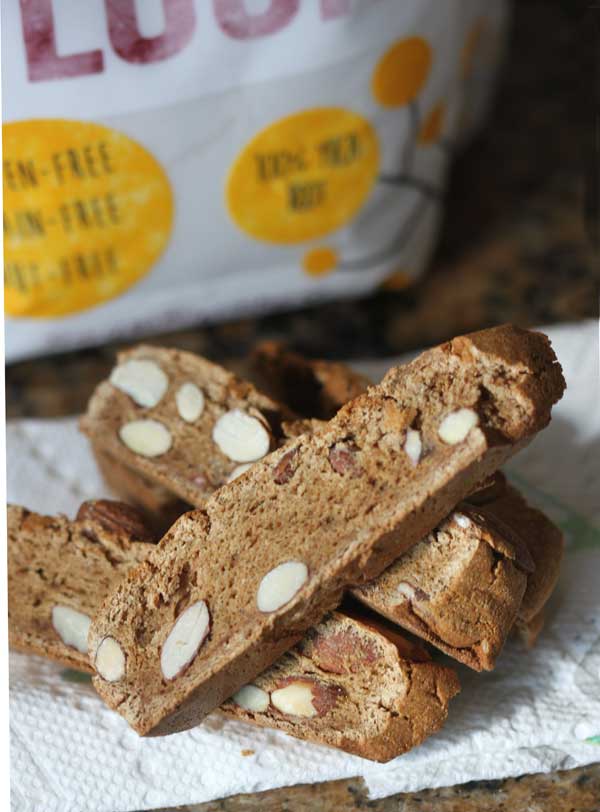 What is Cassava Flour?
Now if you've heard of cassava but aren't quite sure what it is, here's quick overview.  Cassava is a tuberous root vegetable also known as yucca. Similar to sweet potatoes and other starchy roots, it is a staple in Africa, Asia and South American. Unlike tapioca, which is extracted from the cassava root, cassava flour is made by grinding the whole peeled root.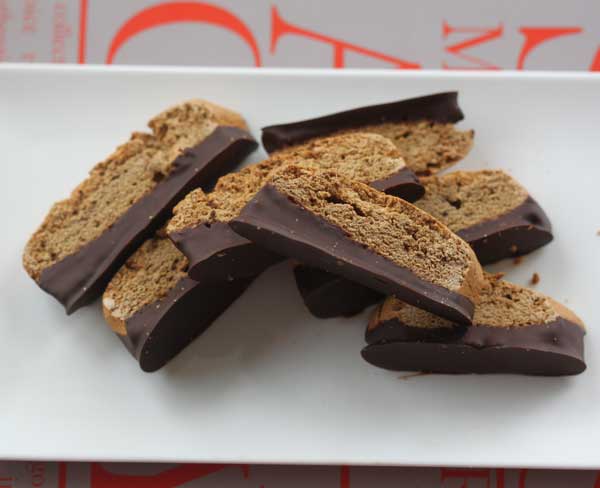 As for the Otto's brand, it has kind of a fun story behind it. Otto's Naturals was founded by Sadie and John Olsen who dealt with their own food sensitivities by traveling the world and tasting new and unusual foods. They "fell in love"with cassava in Brazil, and subsequently developed a special method for making a very clean tasting, smooth textured cassava flour that measures 1:1 in many wheat flour recipes.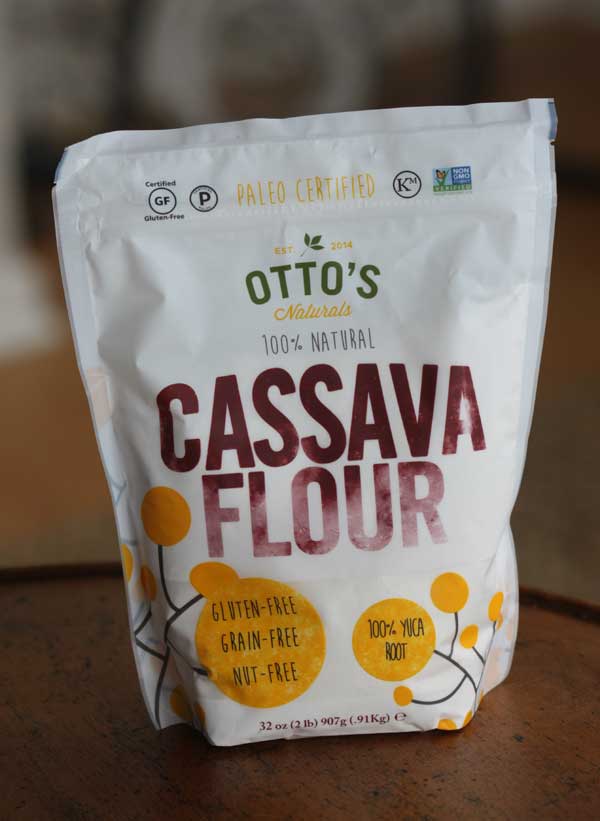 Cassava Flour's Neutral Flavor
Otto's really does have a fairly neutral flavor, and it's fun to play with because it is so easy to substitute for wheat flour.  So far I've used it in cookies, chocolate cupcakes a quick bread (that one didn't work out so well) and this biscotti.  Using cassava flour is fairly simple, but I do recommend weighing it rather than measuring by volume.  It's very soft and dusty, so it doesn't always settle the same way in a measuring cup. Experiment!  Maybe try some of the recipes from the  Otto's website first. Or try mine! It's a crunchy, no-oil, cassava flour biscotti made with coconut sugar.
Update
I posted this several years ago when Otto's was a new product. Now it's relatively more mainstream and I can buy it at Publix. They have a lot of great recipes on their website. I'll continue to update as I try them, but my family really loved the Cassava Flour French Baguette aka Gluten-Free Crunchy French Bread. I'm looking forward to trying their sandwich bread recipe as well as the brownies.
Recipe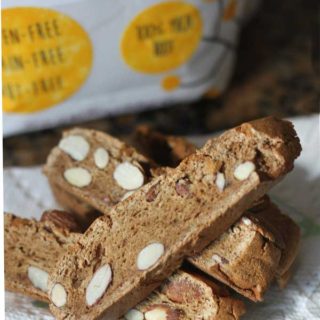 Otto's Cassava Flour Biscotti
Cassava Flour Biscotti is a crunchy, oil-free biscotti made with cassava flour, coconut sugar and whole almonds. You can use whole roasted almonds or raw almonds.
Ingredients 
1 ⅓

cups

Otto's Naturals cassava flour

170 grams -- I measured by weight

¾

teaspoon

baking soda

¼

teaspoon

salt

2

large eggs

⅔

cup

coconut palm sugar

80 grams

1

teaspoon

pure vanilla extract

a little water

optional

¾

cup

roasted unsalted almonds

optional but recommended
Instructions 
Preheat oven to 300 degrees F. Line a cookie sheet with parchment paper.

Stir flour, baking soda and salt together in a mixing bowl. Set aside

In a second bowl, using an electric mixer, beat the eggs until light and foamy. Add the sugar and vanilla and beat for another minute.

Stir the dry ingredients into the liquid ingredients. If the dough seems dry, add water one teaspoon at a time until it comes together. You may not need any.

Add the nuts (if using) and using your hands, knead them into the dough so they are evenly distributed. The dough will be thick, yet pliable and easy to shape.

Shape the dough into a 10 x 2 ½ inch log directly on the baking sheet.

Bake log at 300 degrees F. for 40 minutes. It will spread a just a bit and the top should crack slightly. Remove from the oven and let cool for about 5 to 10 minutes.

Transfer log to a large cutting board and using a sharp knife, cut the log every ½ to ¾ inch on the diagonal. Stand the cut biscotti on the baking sheet and bake at 300 for about 20-30 minutes. If you sliced the biscotti thinly (½ inch thick or less) check at 20 minutes.

Let cool on a wire rack. It should crisp as it cools.
Notes
You can make this with or without the nuts. Both versions taste great! It's crunchy, but a little softer than biscotti made with flour and sugar.
Let me know what you think of Otto's Natural Cassava Flour!