Thanks to those of you who over the past few weeks have given me peanut butter recommendations. I've tasted my way through a few and have found one I really love called Skippy Natural. It tastes great, has a very smooth texture and just the right amount of sweetness. It didn't taste like most natural peanut butters, so I checked Skippy's FAQ to see just why they called it "Natural" and they said they this:
Skippy® Natural does not contain artificial ingredients and has been produced using traditional, minimal processing methods.
That's good enough for me, because I do love this peanut butter even though it makes me feel disloyal to my old pal, Jif. But don't worry, Jif. I was looking through September's Rachel Ray magazine and they picked Jif as their favorite peanut butter in the "Crunchy" category, so way to go Jif! Just keep your eye on Skippy is all I gotta say.
Now back to that issue of Rachel Ray's magazine, one of the recipes inside is from their editor Silvana Nardone who says she loves peanut butter and chocolate. It's called Chocolate Peanut Butter Fudge Crunch Bars and between you and me, that recipe is the reason I bought the magazine. This morning, I made a half batch of the crunch bars and they were delicious! Just watch the amount of powdered sugar you add, because I think the original recipe has too much and only used half.
Hopefully, the original recipe will be posted on Rachel Ray. For now, I found a copy of it here.
If you want to make a half batch, below is how I made it using a 9x5 inch square pan.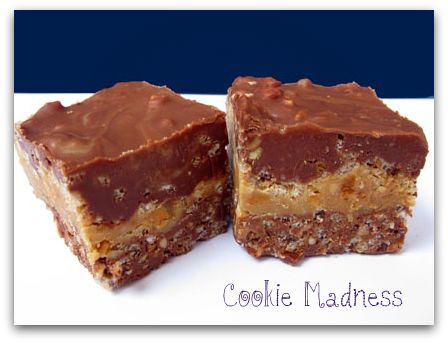 Recipe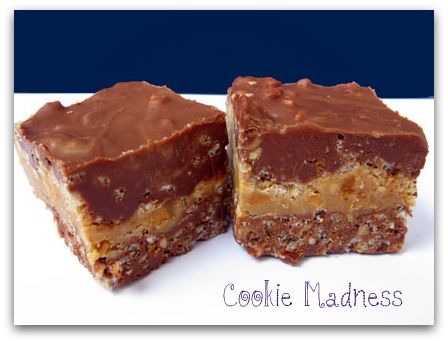 Peanut Butter Fudge Crunch Bars
Half Batch Chocolate Peanut Butter Fudge Crunch Bars
Ingredients 
3 ½

oz

semi-sweet chocolate

divided use or a heaping half cup of chocolate chips

½

tablespoon

unsalted butter plus 1 stick

4 oz butter

1 ½

cups

Rice Krispy Cereal

8

oz

peanut butter

⅛

teaspoon

salt

¾

cup

to 1 ½ cups powdered sugar

to taste
Instructions 
Line a 9x5 inch loaf pan with non-stick foil or regular foil. If using regular foil, spray it with cooking spray.

In a medium saucepan, melt 1 ½ oz chocolate (or ¼ cup chips) with ½ tablespoon of the butter. Stir in ½ cup of the peanut butter. When well mixed, stir in 1 cup cereal. Spread in bottom of pan and chill for 15 minutes or until firm.

Clean out saucepan and set over medium heat. Add 1 stick (4 oz) of butter and salt. Cook over medium until melted, then stir in remaining ½ cup of peanut butter. When smooth, stir in powdered sugar to taste. Pour a little less than half of the peanut butter mixture over the chocolate crispy mixture. Sprinkle remaining ½ cup of cereal over peanut butter mixture, pressing it gently into peanut butter mixture.

In a microwave-safe bowl, melt remaining 2 oz chocolate. Add melted chocolate to peanut butter mixture and carefully spread over Rice Krispies. This part is a little tricky, as the Rice Krispies want to go with the chocolate peanut butter mixture.

Chill until set. Lift from pan and cut with a big knife.

Makes 8-12, depending on how you cut