This is a recipe I came up with the idea for Root Beer Fudge Brownies while experimenting with root beer extract. They went over very well with tasters, but I admit I haven't made them since. I got kind of tired of root beer flavor, tbh. I'll probably make another batch soon and just use vanilla.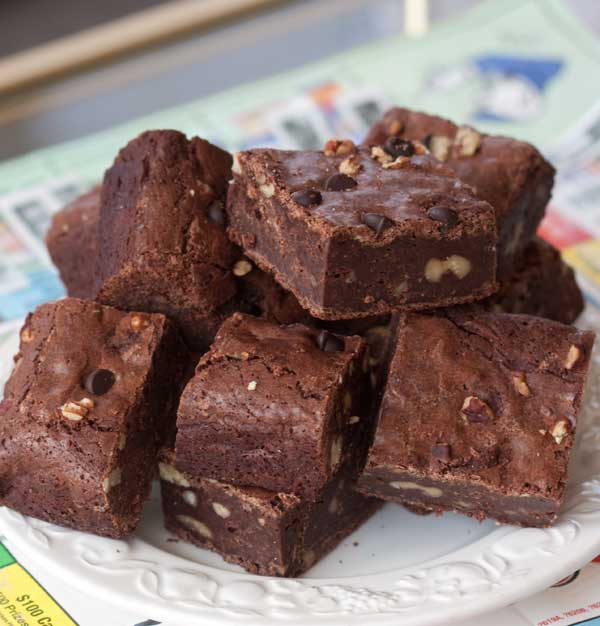 Root Beer Extract
If you decide to go with the root beer flavor, chances are it's because you already have some root beer extract and are looking for ways to use it. If you don't have the extract, you can find it at most grocery stores. For this recipe, I used a brand called Watkins which I bought a couple of years ago at a Wal*Mart back in Austin. It lasts a while!
Root Beer Fudge Brownies Pan Size
As mentioned, these are some thick brownies. I've only tested them in a 9 inch square pan and am quite sure they'd be way too thick in an 8 inch. You could probably use a 9x13 inch pan and adjust the baking time if you had to, but the brownies would no longer be thick. I recommend sticking with the 9 inch square pan.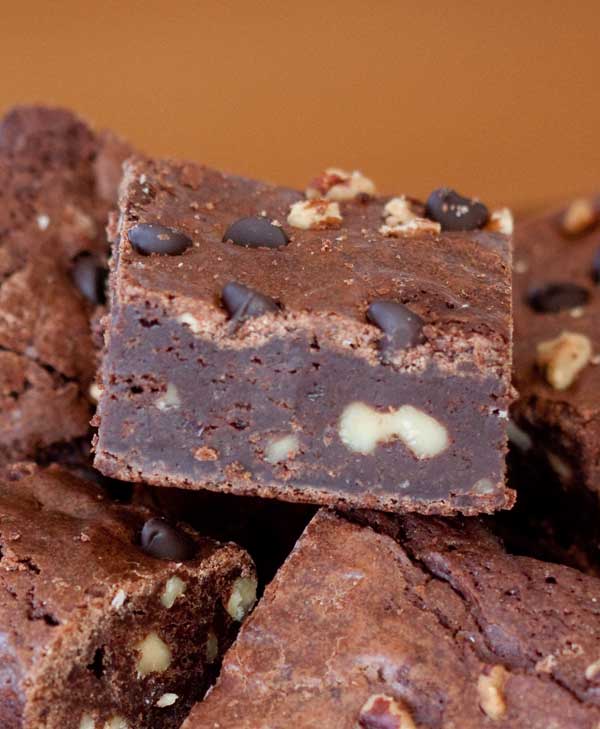 Try them and let me know what you think. They're better with age, so be sure to let them sit in the refrigerator or freezer for a day before cutting.
Recipe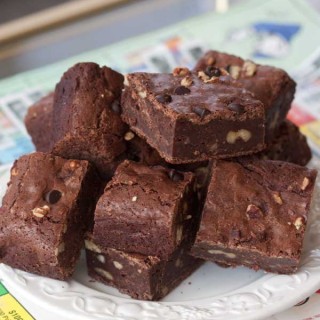 Root Beer Fudge Brownies
Root beer extract gives these thick fudge brownies a hit of root beer flavor. It's subtle, but there. For more root beer flavor you can increase the extract. Also, these brownies are at their best on day 2. They're okay on day 1, but refrigerate them overnight and they're even better.
Ingredients 
2

sticks

unsalted butter, cut into chunks

(230 grams)

3

ounces

unsweetened chocolate, chopped

(84 grams)

1

cup

dark or bittersweet chocolate chips

1

cup

granulated or ultrafine sugar

(200 grams)

1

cup

light brown sugar, packed

(210 grams)

4

large

eggs

room temperature

1

teaspoon

vanilla extract

1

teaspoon

root beer extract

1

cup

all-purpose flour, measured by spooning into cup or weighing

(128 grams)

½

teaspoon

plus a pinch of salt

½

teaspoon

baking powder

⅔

cup

walnuts or pecans

or a mix of both, toasted and chopped
Instructions 
Preheat oven to 350 degrees F. Line a 9 inch square metal pan with nonstick foil.

In a large, microwave-safe bowl, melt the butter, unsweetened chocolate and chocolate chips together at 50% power, stirring every 40-50 seconds, until mixture is melted and smooth. Alternatively, you may do this in a double boiler.

Add the 1 cup of granulated sugar to the hot melted chocolate mixture and stir gently. Set aside.

Whisk together the 1 cup of brown sugar with the 4 eggs. Whisk in the vanilla and root beer extract.

With a heavy scraper, gradually stir the egg mixture into the chocolate mixture.

Whisk together the flour, salt and baking powder. With the scraper, fold the flour mixture into the chocolate mixture until smooth. Batter should be glossy and shiny. Stir in the nuts.

Scrape the batter into the pan and bake on center rack for 35-38 minutes or until internal temperature of brownies registers 212.

Allow the brownies to cool at room temperature, then cover with foil refrigerate overnight.
Notes
To toast the nuts, bake them on a cookie sheet at 350 for about 6 to 8 minutes.