Happy Halloween! And I hope everyone has a fun and safe one. Fuzz is looking forward to trick-or-treating with her friends and a group of Russian exchange students. Meanwhile, I'll be hiding inside eating Halloween Chocolate Layer Cake with Todd.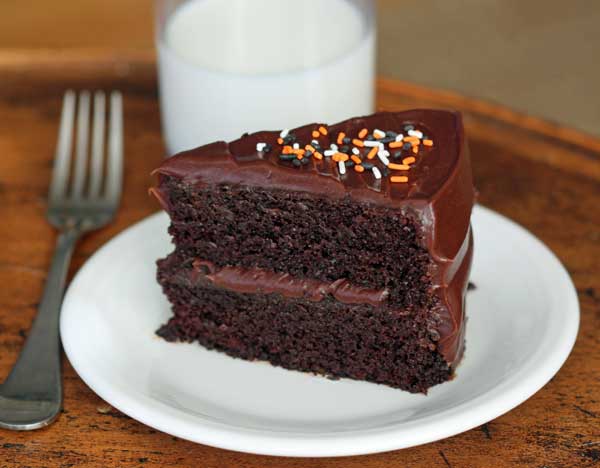 I served this same cake at a party last night, but Todd didn't get any so I "had to" make it again today. That of course was an excuse to try this new chocolate sour cream frosting which I found on Epicurious. It's good! And this cake is an old one that is always good. The cake works best with natural cocoa powder rather than Dutch. Regular Hershey's cocoa powder works great, but Scharffen Berger is even better. Also, I made this one in two 9 inch pans. It's not a super tall cake, but it's not exactly stubby. In fact, it's just about the right size for surrounding with Kit Kats and filling with M&Ms if you're in the mood for one of those Kit Kat cakes.
Update:  I really need to change the name of this cake.  First of all, it's not just for Halloween.  And second, the recipe works perfectly as a sheet cake.  To make it as a 9×13 inch cake, follow the recipe as written but bake in a 9×13 inch pan for about 50 minutes at 300.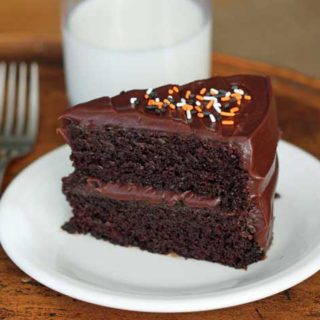 Halloween Chocolate Cake
Halloween Chocolate Layer cake is a rich, easy, chocolate layer cake perfect for the holiday. This version is frosted with a chocolate sour cream frosting.
Ingredients 
Cake Layers
2

ounces

of semisweet chocolate

chopped

1

cup

hot brewed coffee

2

cups

14 ounces sugar

1 2/3

cups

7 1/2 oz all-purpose flour

A cup

3 oz unsweetened natural cocoa powder (not Dutch process)

1 1/2

teaspoons

baking soda

1/2

teaspoon

baking powder

3/4

teaspoon

salt

2

large eggs

1/2

cup

vegetable oil

1

cup

buttermilk

shake well

3/4

teaspoon

vanilla extract
Sour Cream Chocolate Frosting
1/2

cup

1 stick unsalted butter

2

ounces

unsweetened chocolate

chopped

1/3

cup

unsweetened natural cocoa powder

2

teaspoons

vanilla

2

cups

confectioners' sugar

2/3

cup

sour cream

at room temperature
Instructions 
Preheat oven to 300°F. Grease two 9x2 inch round pans and line bottoms with parchment. Grease again and dust with flour.

Combine chocolate with hot coffee and stir until smooth. Let cool slightly while you prepare other ingredients.

In a large mixing bowl, mix together sugar, flour, cocoa powder, baking soda, baking powder, and salt.

In another mixing bowl, using an electric mixer, beat eggs for 2-3 minutes or until light and lemon-colored. With mixer going, very gradually add the oil, buttermilk and vanilla, then stir in the melted chocolate mixture.

Add flour mixture to egg mixture and beat on low to medium speed until blended -- don't overbeat.

Use a heavy duty scraper as you mix and be sure to scrape bottom of the bowl.

Divide batter between pans and bake in middle of oven at 300 until a tester inserted in center comes out clean. For 9 inch pans, this should be about 50 minutes.

Set the pans on a wire rack and let layers cool completely in the pan.

Loosen edges with a knife and invert layers onto racks. Carefully remove parchment paper and let cool completely.

To make the frosting, melt the butter and chocolate in a small saucepan over low heat, stirring constantly until smooth.

Transfer melted chocolate to a large bowl and whisk in cocoa powder and vanilla, followed by 1 cup of the sugar and half the sour cream. Whisk in remaining 1 cup sugar, then gradually whisk in enough of remaining sour cream to form spreadable frosting (I used it all).