You can run, you can hide, but you can't escape…
TOO. MUCH. CANDY.
I came home from a trip to find the mountain of Halloween candy right where I'd left it on the dining room table. Luckily, there was a solution – Candy Bar Bars from Eagle Brand.
The recipe looked familiar at first, but after reading it twice I realized I'd never tried it. And even if I had, it's one of those recipes that's different every time because you can swap out candy. I used a mix of Reese's and Snickers.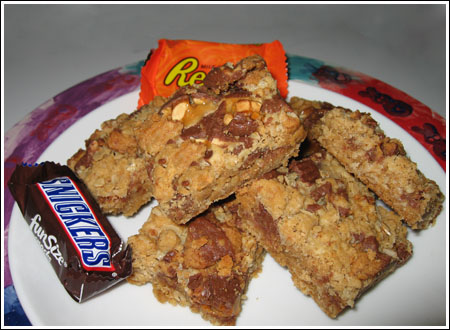 Texture
The crust is soft and crumbly but sturdy enough not to fall apart. And despite the ingredients, the bars aren't overly sweet. One thing to note is the bars are made in a 15x10 inch pan. I am partial to my 13x9 inch pan (she wrote, sinking into an abyss of baking geekiness) but since I'd made that jelly roll last week and had pulled the 15x10 inch pan out from under the mountain of other pans, I decided to use it as the recipe directs. I'm warming up to my 15x10 inch pan.
Candy Bar Bars
12 tablespoons butter, softened
¼ cup peanut butter
1 cup brown sugar, packed
¾ teaspoon vanilla
1 teaspoon baking soda
1 ½ cups all-purpose flour
2 cups rolled oats, quick cooking type
1 egg
1 (14 ounce) can Sweetened Condensed Milk (not evaporated milk)
4 cups chopped candy bars – a mixture of Reese's and Snickers works well
Preheat oven to 350 degrees F. Line a 15x10 inch rimmed metal pan (jelly roll) with parchment paper or non-stick foil.
In large bowl, combine butter and peanut butter; add brown sugar, vanilla and baking soda and beat well. Stir in flour and oats. Set aside about 1 ⅓ cups of the peanut butter mixture.
Stir egg into remaining peanut butter mixture in bowl. Using wet hands, pat into a baking pan – the layer will seem pretty thin and you'll probably worry that you don't have enough cookie batter to cover the bottom and use for topping. But don't worry. Bake for 15 minutes.
Pour condensed milk over the crust. Stir together reserved peanut butter mixture and chopped candy bars; sprinkle over all and don't get too tied up in using exactly 4 cups of candy. Use more, use less.
Bake 25 minutes or until golden brown. Set on a cooling rack and cool completely. When bars are absolutely, completely cool, go ahead and cut. Store leftovers loosely covered at room temperatures.
4 Dozen Bars
A 13x9 inch pan can be used instead, but unless you don't mind thick bars, you might want to use a little less of everything.