2017 is going to be the year of chocolate layer cake, but I couldn't wait until the new year to try this one! It's a giant rectangular chocolate cake developed by culinary food writer, editor and former food critic, Ruth Reichl. I found it in The New York Times Food section.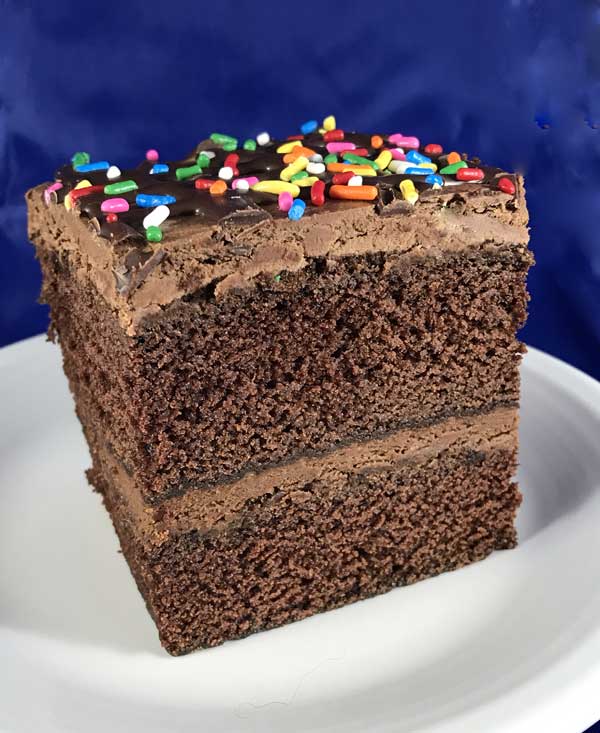 The original is a large cake made my stacking two 9×13 inch or two 9×12 inch layers, but mine is a half version, so more of a 6×9 inch brick shape. I just made one layer, cut it in half and stacked it.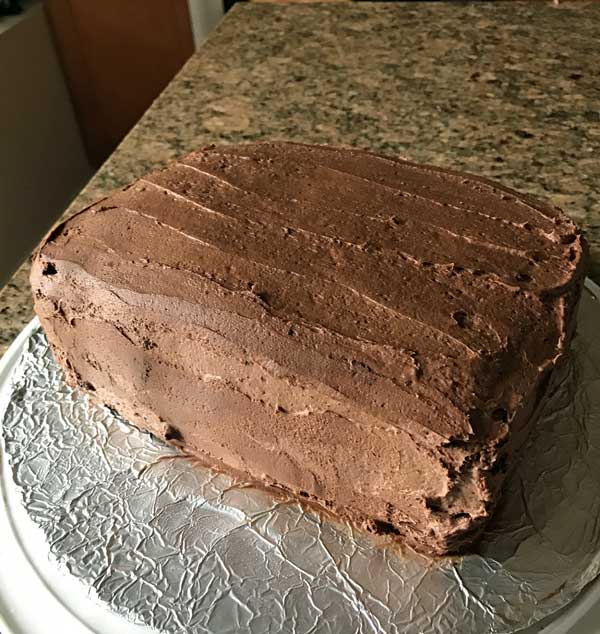 The shape was really kind of awkward because I didn't trim it neatly, but Fuzz and I had fun frosting it and trying to figure out how to make it presentable. We went the "sprinkles fix everything" route. A drizzle of melted chocolate mixed with coconut oil helped, too.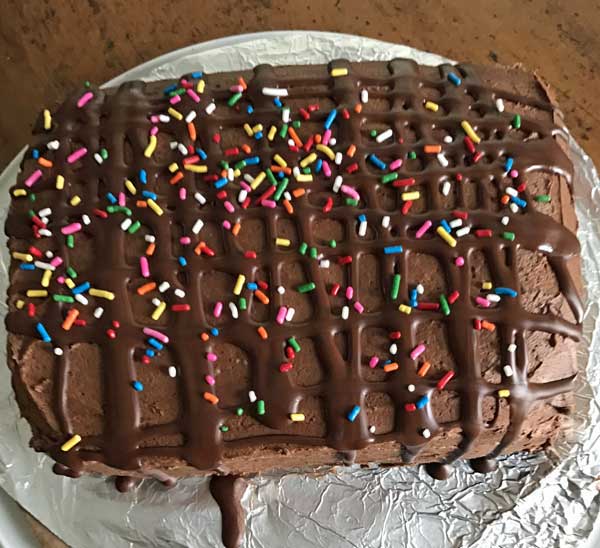 Rectangular Chocolate Layer Cake Texture
The cake is moist and tender and not as heavy and dense as some of my other favorites, but still very good. The only issue with the original recipe in the NYT is that it doesn't seem to provide enough frosting. I recommend doubling the frosting if making the original. For a half rectangular chocolate cake, halve only the cake and make the full amount of frosting. Also, someone in the comment section of the NYT pointed out that 1 cup of whipped cream cheese is not 220 grams since that's the weight of unwhipped. If you are baking by weight, keep that in mind. Since it's whipped, it's actually around 180 grams. I don't usually buy whipped cream cheese, but it did some magic in this filling by making it fluffy and light.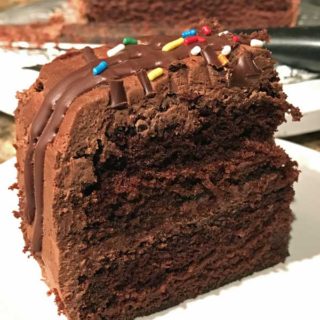 Rectangular Chocolate Layer Cake
A chocolate layer cake filled with chocolate flavored cream cheese filling. For a larger cake, double the recipe and bake in two 9×13 inch pans.
Ingredients 
1/2

cup

plus 2 tablespoons

50 grams unsweetened natural cocoa powder

3/4

cup

boiling water

1/4

cup

plus 2 tablespoons whole milk

1

teaspoon

vanilla extract

1 1/2

cups

190 grams flour

A teaspoon baking soda

5 grams

3/8

teaspoon

salt

1 1/2

sticks or 3/4 cup

170 grams unsalted butter, softened

3/4

cup

180 grams dark brown sugar

3/4

cup

150 grams granulated sugar

3

large eggs
Frosting
4

oz

115 grams unsweetened chocolate, chopped

3/4

cup

170 grams unsalted butter

1

cup

175 grams whipped cream cheese

1

teaspoon

vanilla

2 1/2

cups

300 gramsconfectioners' sugar
Instructions 
Preheat the oven to 350 degrees. Grease a 9×13 inch baking pan and line with parchment paper or wax paper**. Grease the paper and dust with flour or cocoa powder.

Whisk the cocoa powder and boiling water in a bowl until smooth and glossy, then whisk in the milk and vanilla.

In another bowl, whisk the flour with the baking soda and 3/8 teaspoon salt.

In a large mixing bowl, beat the butter and sugar until light and creamy. Add the eggs, one at a time, beating for 30 seconds after each egg is added. Continue beating and scraping bowl for about 3 more minutes or until light and creamy.

On low speed or by hand using a heavy duty scraper, beat in the flour mixture and cocoa mixture alternately.

Pour batter into the pan and smooth the top. Bake in the middle of the oven until a tester comes out clean, 25 to 35 minutes.

Let rest on a cooling rack for 2 minutes, then turn onto a rack to cool completely before frosting.

Frosting: Melt the chocolate in a microwave on high power, stirring every 30 seconds. Let it cool. Meanwhile, mix the butter with the whipped cream cheese. Add the melted chocolate, the vanilla and a dash of salt, and mix in the confectioners' sugar. Beat until light and fluffy.

Divide the cake. Spread frosting on top of one square and stack the second layer on top. Frost the entire cake.
Notes
I use parchment paper for most baked goods, but lately I've been using wax paper for cakes. It does smoke a little, but it's less expensive and easier to work with. The key is to use it only underneath batters and have as little exposed wax paper as possible.