Last week I had the urge to buy a muffin top pan even though I've lived 46 years without one and have a square muffin pan and a donut shaped muffin pan that I never use. At $15, it wasn't a huge expenditure and even if I only used it a couple of times I figured it would be fun to try. Based on reviews, I bought the Chicago Metallic muffin top pan, and these New York Style Crumb Cake Muffin Tops were my first creation.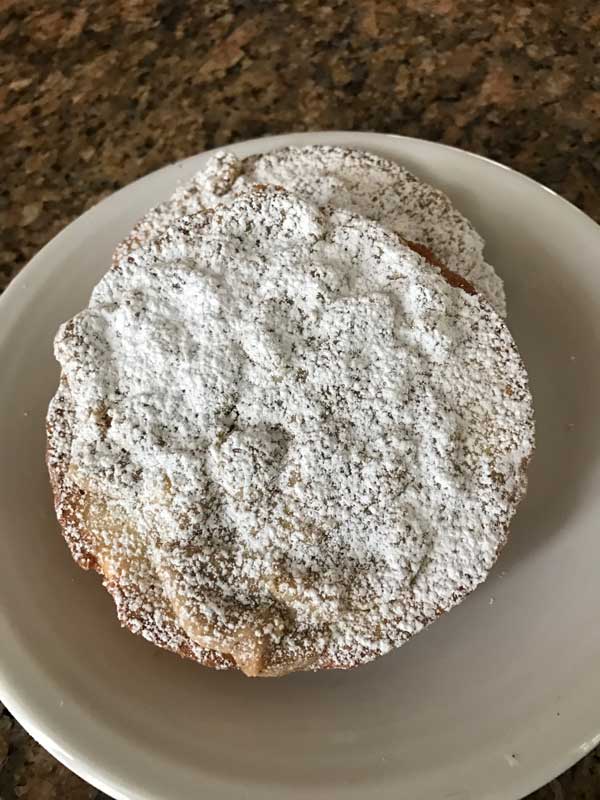 First, a little about the pan. I should have paid more attention to the reviews because it seems more people use this pan to make hamburger buns, perfectly shaped mini pizzas and round eggs. When you use it for muffin tops you get are really big muffin tops. They're nice, but I kind of wish they were a little smaller and that they'd make a batch of muffin batter go further. The Chicago Metallic muffin indentations hold about as much as a typical muffin cup so you get the same amount of muffin, just in a different shape. This could be a pro or a con depending on how you look at it, but if you want smaller size muffin tops you should get Whoopie Pie pan.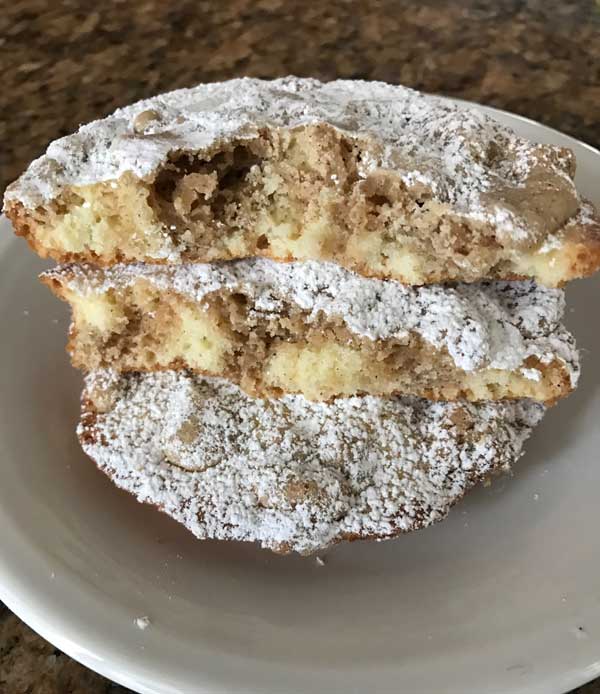 Overall I like the pan and love how easy it is to clean. Thus far I have only greased it with shortening rather than cooking spray, and muffin tops slide right leaving behind no burnt residue. I'll report back after I test it with cooking spray.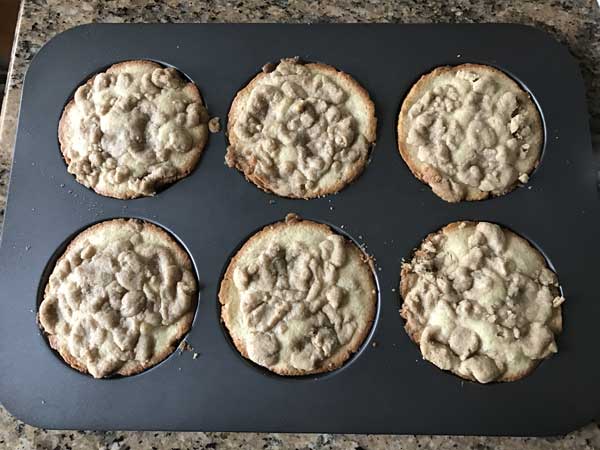 So hooray for the pan!  It was a good investment and I imagine I'll use it more than the square and donut pans.
As for this recipe, you may want to just skip it and make a New York style crumb cake, but if you like a high ratio of crumbs to topping and crispy edges, crumb cake muffin tops are worth a shot.  Also, make sure to use dark brown sugar.  See how pale and anemic mine look?  I had to use light brown because that's all I had.  Dark would be so much prettier.
Recipe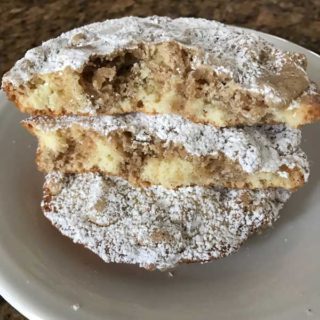 New York Style Crumb Cake Muffin Tops
This is my muffin top version of the Cook's Illustrated recipe for New York Style Crumb Cake. I designed the recipe to be used with two of the special pans, but if you want you can make one pan at a time or halve the recipe to just make 6.
Ingredients 
Crumb Topping:
8

tablespoons

1 stick unsalted butter

⅓

cup

granulated sugar

⅓

cup

dark brown sugar

¾

teaspoon

ground cinnamon

⅛ to ¼

teaspoon

salt

I used ⅛, but think ¼ would be better

1 ¾

cups

cake flour

7 ounces
Cake
1 ¼

cups

cake flour

5 ounces

½

cup

granulated sugar

3 ½ ounces

¼

teaspoon

baking soda

¼

teaspoon

salt

6

tablespoons

unsalted butter

cut up and softened

1

large egg

1

large egg yolk

1

teaspoon

vanilla extract

⅓

cup

buttermilk

Confectioners' sugar for dusting
Instructions 
Preheat oven to 350 degrees F. Grease two muffin top pans.

Make the crumb topping. In a microwave safe bowl or over the stove, melt the butter and allow it to cool slightly.

Mix together both sugars, cinnamon, salt. Combine with melted butter until well blended, then add flour and stir to make a dough. Set aside while you make the cake batter.

In a mixing bowl, mix flour, sugar, baking soda, and salt. Scatter butter pieces and stir with a rubber scraper until mixture is coarse and crumbly. If you have a stand mixer, you can do this with the paddle attachment. Add egg, yolk, vanilla, and buttermilk.

Beat with an electric mixer on medium-high speed until light and fluffy, about 1 minute, scraping bowl.

Using generously heaping tablespoons, spoon batter into the greased muffin top pans dividing evenly. With the back of a spoon, smooth the batter evenly.

Break apart crumb topping into marble and pea size bits and arrange bits over batter.

Bake for 15 minutes or until crumbs are golden and edges are brown.

Let cool in the pans for about 5 minutes, then carefully remove.

Let cool completely on a wire rack, then sift confectioners' sugar over the muffin tops.
Notes
Grease the pans with whatever you feel comfortable with. I prefer shortening because it doesn't burn as easily as butter. Also, this recipe halves quite nicely. Rather than split an egg yolk and an a whole egg in half, just crack one egg into a bowl and use the yolk and about half the egg white.