A few weeks ago my friend Bev emailed to say she'd made some changes to my old Gluten Free Almond Butter Brownies. She turned the Gluten Free Almond Butter Brownies into Gluten Free Peanut Butter Brownies by using peanut butter instead of almond butter, baking them in a 9 inch square pan and throwing in some peanuts and chocolate chips.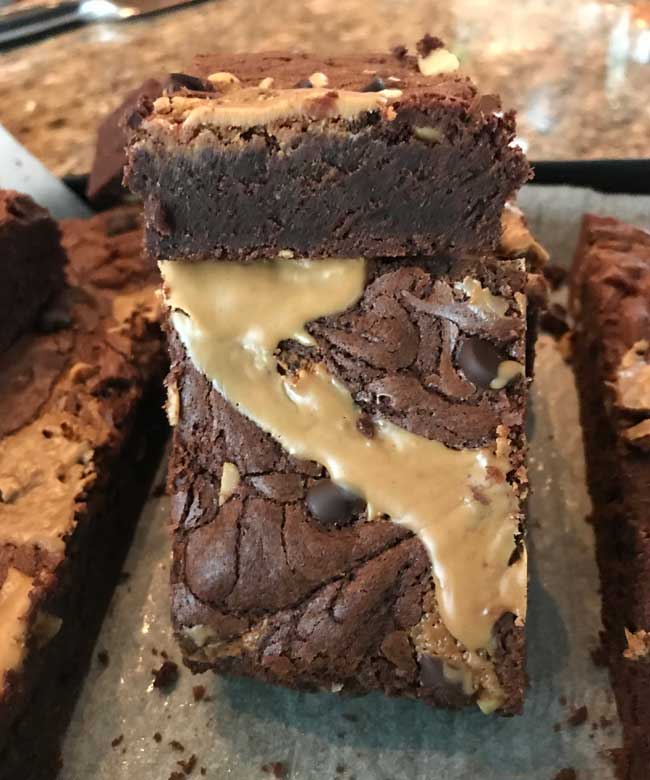 Truth be told, I hadn't made the almond butter version in a while because almond butter is so expensive, so I was very pleased to hear that peanut butter could be substituted. It took me a while to remember to buy the unsweetened peanut butter, but I picked some up yesterday and made Bev's version. They are, in my opinion, better than the almond butter version!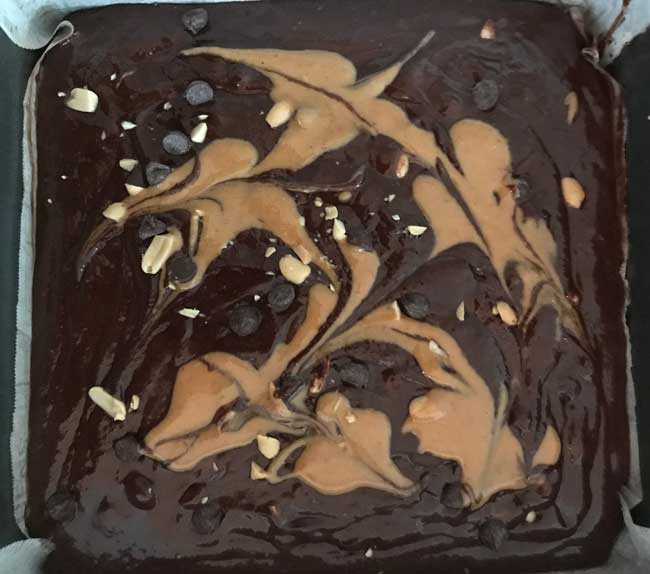 Now I've only baked these once, but I know a few people who are also planning to try them and will be looking forward to more notes.  My notes are that these are rich (of course) so you can cut them pretty small.  Also, the edges will be dryer than the centers, but they are still very good.  And finally, the swirl is something I just put together after Bev and I talked about how a swirl would be nice.  You may want to double it or adjust it with more/less honey.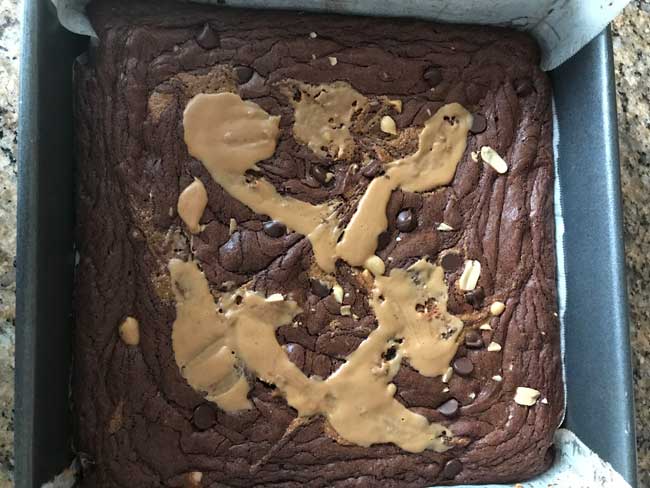 Recipe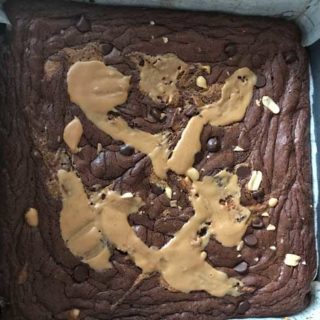 Bev's Gluten Free Peanut Butter Brownies
Gluten Free Peanut Butter Brownies are rich chocolate brownies flavored with peanut butter and topped with a peanut butter swirl.
Ingredients 
2

sticks

unsalted butter

(230 grams)

6

oz

semisweet or bittersweet chocolate, chopped (Ghirardelli 60%)

(170 grams)

½

cup

plus 1 tablespoon unsweetened natural style cocoa

(45 grams)

½

tablespoon

instant coffee dissolved in ½ tablespoon water

¼

teaspoon

salt

1

teaspoon

vanilla

3

large

eggs

room temperature

1 ¼

cups

granulated sugar

250 grams

½

cup

plus a generous tablespoon unsweetened peanut butter

(150 grams)

Handful of peanuts and chocolate chips

Optional Swirl: 1 tablespoon of peanut butter

1 teaspoon melted butter and ½ teaspoon honey or double using same proportions if desired.

Optional #2: A bit of sweetened peanut butter to dab over the brownies after they come out of the oven

see directions.
Instructions 
Preheat oven to 325 degrees F. Line a 9 inch square metal pan with nonstick foil or use parchment if you prefer.

In a large metal saucepan, melt the butter over medium heat. Remove from heat and add the chocolate. Let the chocolate sit in the hot butter for about 2 minutes to melt, then stir until smooth. Stir in the cocoa powder, coffee/water mixture, salt and vanilla.

In a mixing bowl, using an electric mixer, beat the eggs. Gradually add the granulated sugar, beating constantly until mixture is thick and yellow.

Add the peanut butter to the chocolate mixture and stir until blended, then pour the chocolate peanut butter mixture into the egg mixture and stir until blended. Stir in in peanuts, but hold off on stirring in the chocolate chips if the batter is still warm. Let it cool, then add the chocolate chips.

Pour the mixture in the pan. Make the peanut butter swirl mixture (you can double it if you want) by mixing 1 tablespoon of unsweetened peanut butter with 1 teaspoon of melted butter and ½ teaspoon of honey. Taste test, then add a dash of salt if you want. Drop mixture by spoonfuls over top of batter and drag a knife through to make a swirl pattern. Sprinkle chocolate chips over the top.

Bake on center rack for 45 to 50 minutes. Remove from the oven. The peanut butter swirl will have dried out a little, so take a few dabs of peanut butter and spoon just a tiny bit over the peanut butter swirl. The fresh peanut butter will melt over the baked on peanut butter so it will look less dry.

Let cool completely, then chill for about 2 hours or until firm and cold. Lift from pan and cut.

Alternatively, as soon as you take the brownies from the oven, plunge the pan into a roasting pan with ice water to quick cool. Put them in the refrigerator.