My most recommended and personal favorite gluten free brownie recipe is this one, but this week I felt like trying a new version of the recipe and tested this one --  Gluten Free Coconut Sugar Brownies.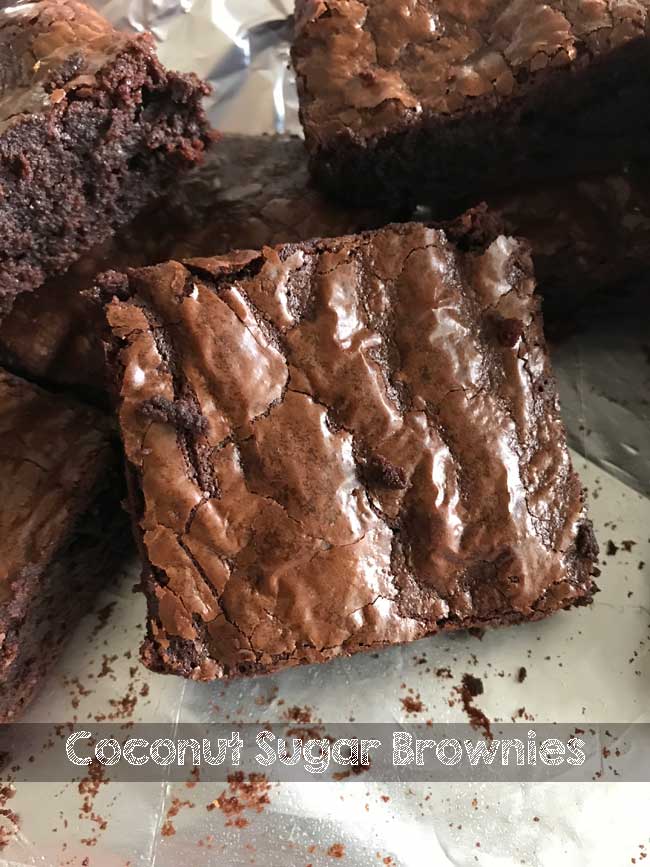 The new recipe uses coconut oil instead of butter, chocolate chips instead of unsweetened chocolate and coconut sugar. The coconut sugar brownies are less sweet but very, very, chocolate-y because like my original they contain a combination of melted chocolate and cocoa powder. In addition, the eggs are whipped, which gives the brownies a fluffy but still fudgy texture.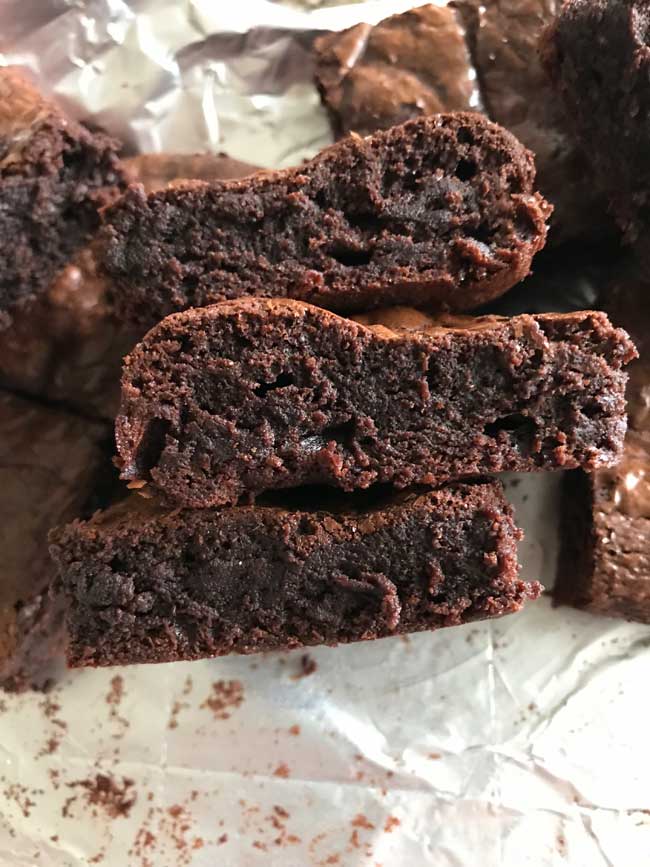 These are pretty simple and will most likely work with any brand of bittersweet or semisweet chocolate.  I  used Ghirardelli Bittersweet Chips for the chocolate, Guittard Cocoa Rouge for the cocoa powder and Arrowhead Mills for the gluten free flour.  For the coconut sugar I used Wholesome Sweeteners brand.
Recipe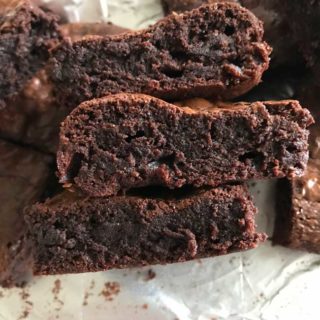 Gluten Free Coconut Sugar Brownies
Gluten Free Coconut Sugar Brownies
Ingredients 
2

large eggs

¼

cup

plus 2 tablespoons

84 grams coconut oil

1

cup

6 oz/170 grams Ghirardelli bittersweet chips (or your favorite brand)

¼

cup

20 grams unsweetened cocoa powder, natural or Dutch okay

¾

cup

120 grams coconut sugar, go by weight if possible**

1

tsp

vanilla extract

¼

teaspoon

salt

3

Tbsp

24 grams gluten free flour (I've tested with Arrowhead Mills)
Instructions 
Preheat oven to 350 degrees F. Line the inside of an 8-inch square metal pan with nonstick foil.

Bring the eggs to room temperature by dropping them in bowl with warm water or leaving them out.

Melt the coconut oil in a saucepan set over medium-low heat. When it is about halfway melted, add the chocolate chips, then stir in the cocoa powder. Remove from heat and stir until smooth.

Put the eggs in the bowl of a stand mixer and beat with the whisk attachment for about a minute. With mixer going, add coconut sugar and beat until mixture is pale and thick and tan (another 2 minutes). Beat in the salt and vanilla.

Pour the melted chocolate mixture into the mixing bowl and beat until blended, then stir in the gluten-free flour.

Spread batter in pan and bake for 25-27 minutes or until top appears set.

Quick cool the brownies by setting the hot pan in a larger pan (a roasting pan) filled with ice water. The ice water should come about ⅔ of the way up the sides of the smaller pan. Allow the small pan of brownies to sit in the water bath for about 30 minutes, then remove from water and lift foil of brownies from pan.

Alternately, you can just let the brownies cool at room temperature for several hours, but I've always had great luck with the quick cool method so I tend to use that every time.