I've mentioned before that one of my favorite secret ingredients for Sour Cream Pound Cake is a particular flavoring found only in certain regions of the USA. It's McCormick's Vanilla Butter & Nut Flavor, a bright yellow colored liquid with a very distinct flavor that's supposed to be a combination of butter & nut. I don't know. To me it tastes like yellow cake. It's fairly potent so in most cases I use tiny amounts at a time just to add a little something to certain recipes. That is, unless I'm making the Vanilla Butter & Nut Sour Cream Pound Cake from the back of the box. The recipe calls for a full tablespoon of flavoring, and it's what gives the cake a very golden color.
Today's cake was particularly golden because my eggs had very yellow yolks and I used a combination of butter and butter flavored Crisco just for fun. Normally I'd just use butter.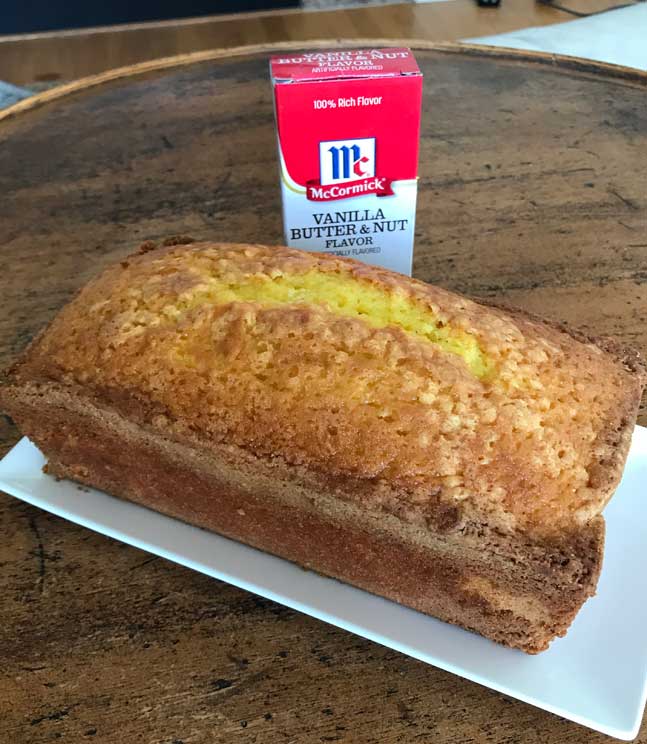 The cake also has ⅔ cup of sour cream, so as you can imagine it's pretty tender. I think it was even softer and more delicious on Day 2, so it's a good make-ahead.
But back to the extract -- if you can't find it, just use vanilla and the cake should still be terrific. I plan on making another one with vanilla bean paste.
UPDATE:  It seems the name of the product has changed!  McCormick is now calling it Cake Batter Flavor.
Recipe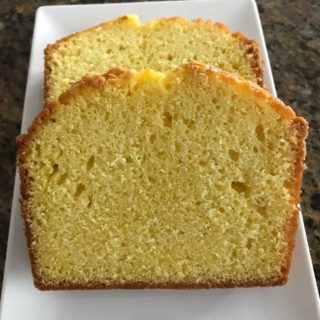 Vanilla Butter & Nut Flavor Sour Cream Pound Cake
An easy pound cake made with sour cream and McCormick Vanilla Butter & Nut flavoring.
Ingredients 
⅔

cup

unsalted butter

150 grams (or use ⅓ cup butter and ⅓ cup shortening)

2

cups

sugar

390 grams

⅔

cup

sour cream

4

large eggs

1

tablespoon

McCormick Butter & Nut Flavor

2

cups

all-purpose flour

sifted (should weigh 250 grams total)**

¼

teaspoon

baking soda

½

teaspoon

of salt plus a pinch

omit if using salted butter
Instructions 
Preheat oven to 325 degrees F. Grease a 9x5 inch loaf pan with shortening (it works better than butter and won't burn) then line with a strip of parchment. Grease the parchment and dust with flour.

In a large mixing bowl, beat butter, sugar and sour cream until light and fluffy, scraping bowl often.

Add the eggs one at a time, beating for 30 seconds after each egg is added.

Beat in the vanilla, butter & nut flavoring.

Beat in the baking soda and salt until well mixed, then add flour by hand and stir until well blended.

Bake at 325 for an hour or until toothpick inserted comes out clean.Let cool in pan for 10 minutes, then loosen carefully from sides and remove from pan. Let cool completely on a wire rack.
Notes
For best results weigh the flour. If you don't have a scale, stir and aerate well and measure with a light hand.