If a trip to The Bahamas sounds good right now, why not start planning one? It can be a long-term plan. Meanwhile, in the short-term you can make this spinoff of the famous Tortuga Rum Cake. I have another version that's a Bundt, but this one is a little different, plus it's baked as one 9x5 inch loaf or as two 8x4 inch loaves. Or you can halve the recipe (which is what I've been doing) and just bake one 8x4 inch loaf for the family. The catch is, it's best served the day after baking, so I'm calling it Next Day Coconut Rum Pound Cake.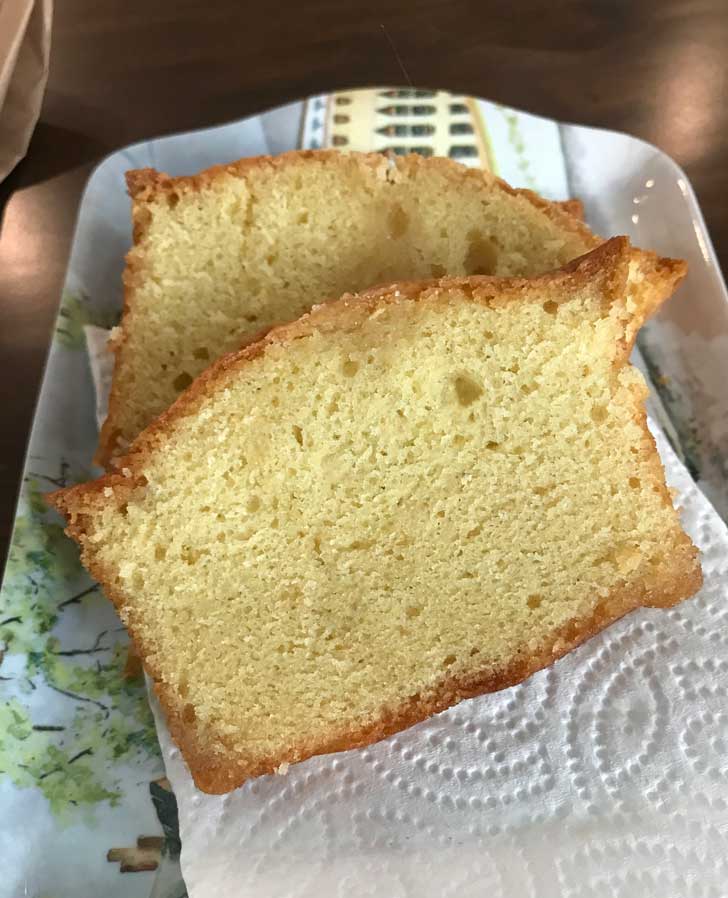 Texture and Flavor of Cake
With 4 eggs, 1 cup of butter and 2 cups of flour, you can guess that this is a rich and soft cake! The coconut flavor comes only from the coconut pudding mix and the coconut oil, so it's very subtle. If you have problems finding the coconut flavored pudding mix, just use vanilla. You'll still get some coconut flavor from the unrefined coconut oil, but you can also add a tiny bit of coconut flavor if you want. Honestly, it's good without any extra coconut flavor.
8x4 Inch Loaf Pans
For Coconut Rum Cake, I use 2 4-cup capacity 8x4 inch pans that measure 8x4 inch on the top but 7x3 on the bottom. My pair of loaf pans is an old one from Baker's Secret, and sadly I'm only seeing them on eBay. The 8x4 inch (4-cup) size is now less popular than the 8 ½ by 4 ½ (6-cup), which is too bad because the 4-cup capacity loaves are perfect for making taller half batch versions of standard size Bundt and tube pans. If you don't own the 4 cup capacity loaf pans, foil loaf pans from Dollar Tree are a similar size. They come in packs of three, held together by a very annoying sticker.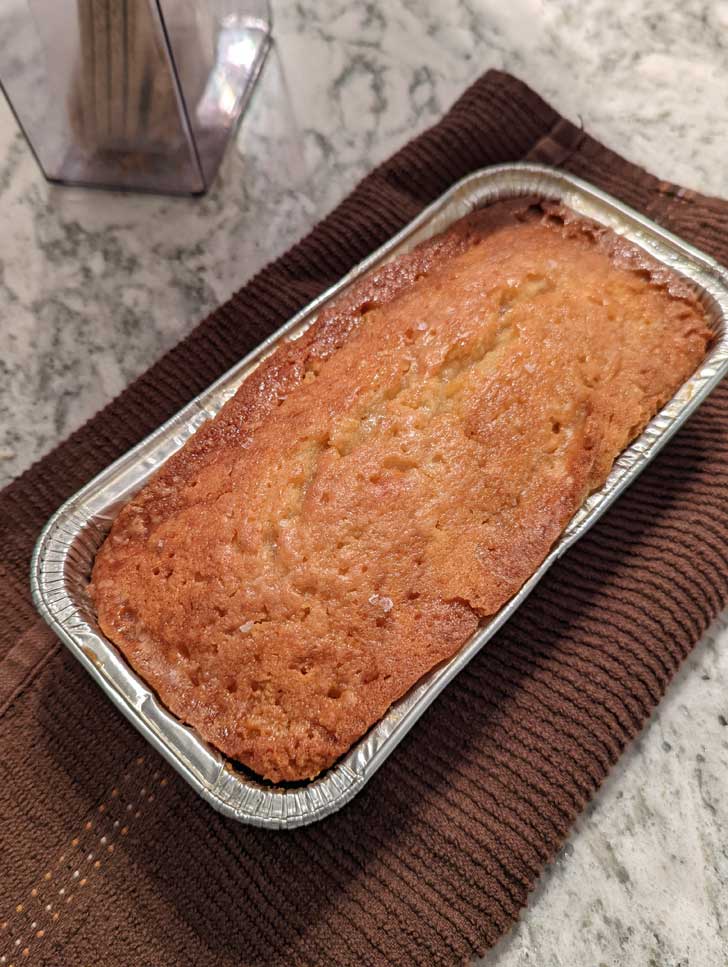 9x5 Inch Loaf Pan Rum Cake
Of course you can always make the full recipe in one loaf pan, which is what my daughter did at school since she has lot of people to share cake with. She used a standard 9x5 inch loaf pan and baked the cake for about 75 minutes.
A Few More Coconut Rum Pound Cake Notes
Even with the coconut flavored pudding mix, the flavor is mostly rum and vanilla, so if you want a stronger coconut flavor you'll need to add a little coconut extract or use coconut rum. Using unrefined coconut oil also adds some coconut flavor.
Gluten-Free Blend Coconut Rum Pound Cake
After testing the recipe a couple of times with all-purpose flour, I tested with King Arthur's Measure for Measure Gluten-Free Blend. It worked pretty well. The cake didn't soak up the rum glaze quite as well so the cake was extremely soft, but it was still pretty good. So you can try it with Measure for Measure or a different gluten-free blend. If testing with the gluten-free blend, I recommend making the smaller half-batch just to make sure you it works with your blend.
Coconut Rum Pound Cake Ingredient List
Flour -- Bleached or unbleached all-purpose or 270 grams of gluten-free Measure for Measure.
Baking Powder
Salt
Pudding Mix -- Instant coconut flavor or vanilla flavor. If you use coconut flavor, expect to see some little lumps of dried coconut in the cake batter. It's from the pudding mix.
Butter -- Unsalted, but I think salted would be fine.
Coconut Oil -- Unrefined coconut oil will give you more coconut flavor. You do not have to melt it, just weigh out about 105 grams.
Sugar -- Granulated
Eggs -- Be sure to bring them to room temperature.
Rum -- Any kind of rum works, or you can use coconut rum for more coconut flavor.
Milk -- I have never tested with anything other than whole milk.
Recipe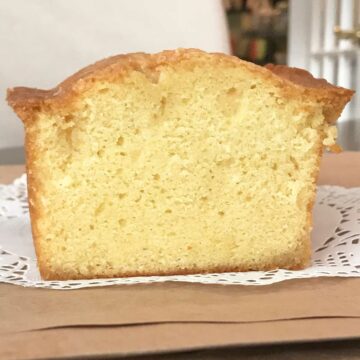 Coconut Rum Pound Cake
Bundt or loaf cake made with coconut flavored pudding mix and rum.
Ingredients 
2

cups

all-purpose flour

(270 grams)

2

teaspoons

baking powder

¾

teaspoon

salt

1

box

coconut or vanilla flavored instant pudding mix

(3.5 oz box or 4 serving size)

½

cup

unsalted butter, cut into chunks and softened

(114 grams)

½

cup

coconut oil

(105 grams)

1 ½

cups

granulated sugar

(300 grams)

4

large

eggs, bring to room temperature

1

teaspoon

vanilla extract

½

cup

whole milk

½

cup

rum
Glaze
¼

cup

butter, unsalted or salted

(56 grams)

1

tablespoon

water

½

cup

sugar

¼

cup

rum

½

teaspoon

vanilla extract
Instructions 
Preheat oven to 325 degrees F. Grease and flour two 8x4 inch (4-cup capacity) loaf pans or one 9x5 inch loaf pan.

Sift together the flour, baking powder and salt. Stir in the pudding mix.

In the bowl of a stand mixer, beat butter, coconut oil and sugar until light and creamy. Add each egg one by one, beating on medium speed and beating for 30 seconds after each egg is added. By hand, add the flour mixture alternately with the milk. Beat on low until smooth, then beat in rum and vanilla.

Pour into the pans (or pan) and set on a rimmed baking sheet. Run a knife through the batter to help release extra air. For two smaller cakes, bake for about 1 hour at 325 degrees F. For a 9x5 inch loaf pan, bake for about 1 hours and 15 minutes (75 minutes) but check at 1 hour. The cake should crack on top.

The next step is to glaze it, which you will do while the cake is still warm. So right after you take the cake from the oven, let it sit for 10 minutes and start making the glaze.
Glaze
Begin melting the butter over medium heat in a small saucepan. Add the water and the sugar and continue heating until butter is melted, then add the rum. Bring to a boil (it will look foamy). Remove from heat. Allow foaming to subside and stir in the vanilla extract.

After about 10 minutes, you can remove the cake from the pan or just leave it in there. I usually just leave it in there so that I can loosen it and remove it once it's cool and more stable. With a metal skewer, poke holes all over the warm cake being careful not to go all the way through. Gradually spoon the warm glaze over the cake, giving it time to sink down into the holes and soak in.

Allow the cake to cool slightly, then cover with foil and leave it alone for several hours or overnight.

Now here's the hard part. Leave the cake(s) alone until the next day! Keep covered in foil or put in zipper bags and serve on day 2.