Tahini Carrot Cake is a one layer cake baked in an 8 inch square pan. The recipe is adapted from Rachella's Tahini Carrot Cake, which I mentioned earlier in the Tahini Sugar Cookies post. It's the carrot cake that inspired Soom Tahini.
The Soom sisters tasted the cake in Israel. They were so impressed with the cake and the Israeli tahini it was made with, that they went back home to the states and created a tanini good enough to eat straight from package. Or in this case, mixed in with cake frosting and swirled on top.
Tahini -- A Natural Fit for Carrot Cake
It didn't occur to me to put tahini in carrot cake. However, when I read about it, it seemed like a natural fit. And it really is. The tahini makes the carrot cake a little darker and adds a hint of sesame flavor. And then along with the tahini you get the flavor from a half tablespoon of cinnamon, some allspice and brown sugar, so it does have some complexity. The cake also has nuts. If you wanted to, you could throw in some golden raisins, but the cake is fine without them as well. And I really didn't miss the pineapple, which is something I usually enjoy in carrot cake.
Tahini Cream Cheese Frosting
And then there's the cream cheese frosting. I wasn't sure we'd like tahini flavored cream cheese frosting, and as I made the frosting I became even more convinced I wouldn't. It tasted a bit too sweet and didn't get as much tartness from the cream cheese because the tahini flavor was in the way. But I frosted the cake anyway.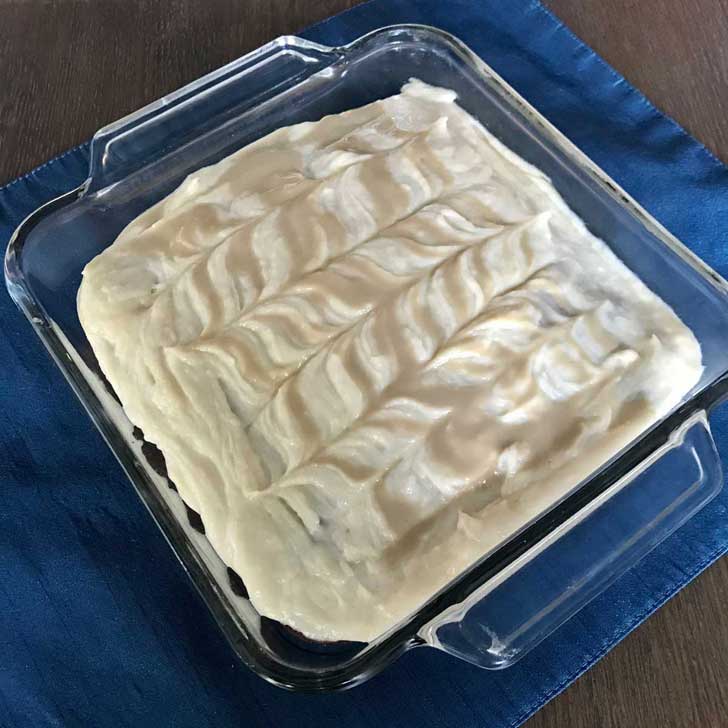 It looked sort of boring, so I swirled some tahini through the top. It still looked boring. I should have put some nuts on top, but figured no one would really care and just left it like this. When I cut the cake a few hours later, the frosting tasted SO much better. So if you are making the frosting and don't love the flavor right away, give it a chance. It's a great little cake.
Recipe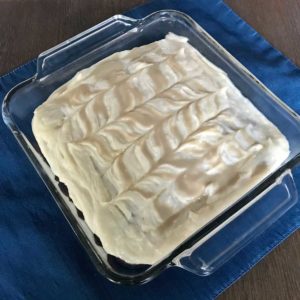 Tahini Carrot Cake with Tahini Frosting
An 8 inch square cake with tahini in both the cake and frosting
Ingredients 
½

cup

all-purpose flour (or use ww pastry, see note)

(70 grams)**

½

tsp

baking soda

¼

tsp

baking powder

¼

tsp

salt

½

tbsp

ground cinnamon

½

tsp

ground allspice

2

large

eggs

(110 grams)

¾

cup

lightly packed light brown sugar

(150 grams)

6

tablespoons

canola oil (or you can use grapeseeed)

6

tablespoons

premium tahini paste

(80 grams)

1 ¼

cups

peeled and shredded carrots

(120 grams)

⅓

cup

chopped walnuts

optional
Frosting
¼

cup

unsalted butter, cut into small pieces, softened

(56 grams)

4

oz

cream cheese, softened and at room temperature

(115 grams)

¼

cup

premium tahini paste, bring to room temperature

(56 grams), plus more for swirling

1

cup

confectioners' sugar, I recommend sifting

(114 grams)

Pinch of salt (optional)
Instructions 
Preheat the oven to 350F. Grease an 8 inch square dish.

In a bowl, whisk together flour, baking soda, baking powder, spices and salt. Set aside.

In a mixing bowl, using an electric mixer, beat the eggs and brown sugar until mixture starts to thicken a little (about 3 minutes). With the mixer going, add oil gradually (in small amounts). Repeat with the tahini, adding gradually.

Fold the flour mixture into the batter and stir until blended, then fold in the carrots and nuts (if using).

Pour batter in pan and bake on the middle rack of the oven until a skewer inserted in the center comes out clean, about 35 minutes. Let cool completely, then frost with cream cheese frosting.

Frosting:, beat the softened butter, softened cream cheese, and tahini with an electric mixer. When smooth, add the confectioners' sugar and mix on medium speed until smooth. Add a pinch of salt if desired. Note: When you beat the confectioners' sugar, don't overbeat it. Overbeating can sometimes cause cream cheese frosting to be runny.

Spread frosting on top of the cake. Cover and chill until ready to serve, then serve cold or at room temperature or however you like your carrot cake!
Notes
If you happen to have some whole wheat pastry flour, you should substitute 70 grams of it for the AP.  The original recipe called for whole wheat pastry flour.  I used AP flour because that's what I had on hand.  We thought it was fine, but next time I'll try with the whole wheat pastry flour.