If you're in the mood to bake with tahini and want something simple, here are some Mini Chocolate Chip Tahini Cakes made with cake mix. They are soft, sweet, tahini flavored chocolate chip cakes baked in ceramic 3x5 or 3x6 inch loaf pans.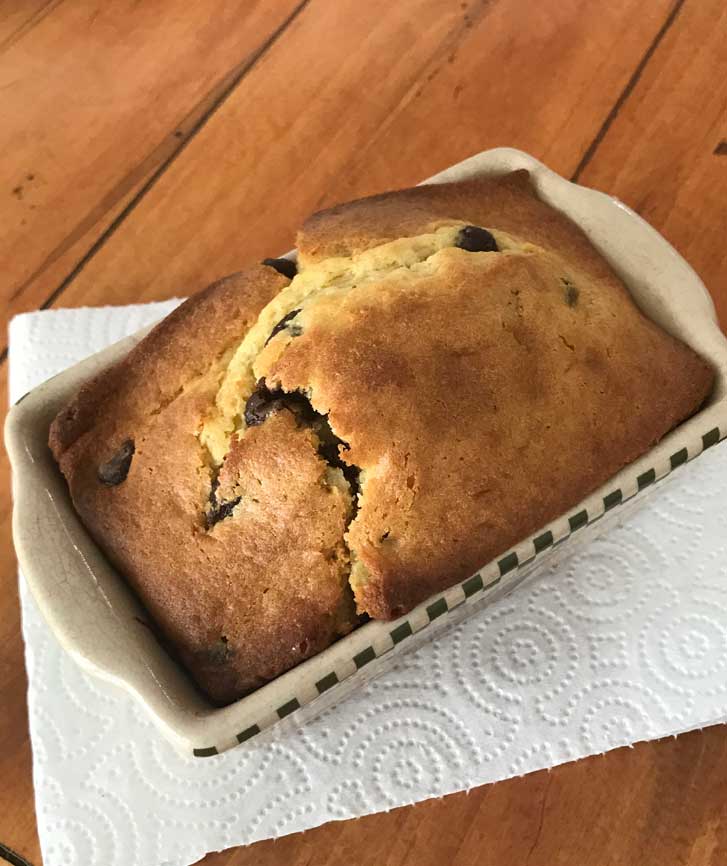 A New Take on Cake
The recipe is adapted from The Cake Mix Doctor, A New Take on Cake, which is a must-have book if you are a Cake Mix Doctor fan who is still working from the original Cake Mix Doctor book. That one's a classic, but this newer book includes recipes using updated cake mix size boxes along with more modern baking techniques such as making 6 inch layer cakes, slab and skillet cakes. And then of course there are more innovative ingredient such as tahini.
Chocolate Chip Tahini Cakes Flavor and Texture
But back to the cakes! The flavor is good. On the first bite I could really taste the tahini. Later, I went back for a second taste and thought the tahini flavor was more subtle. I could barely taste it, actually. The texture is like every other doctored cake mix cake with pudding -- soft and moist from the pudding and cake mix ingredients.
Chocolate Chip Tahini Loaf
The book's recipe is for one big loaf called Chocolate Chip Tahini Loaf. I knew right away that it was one I'd make as minis because I could share them with friends and it would be easy to scale down. The full recipe makes 6 loaves, but you can make ⅓ or ⅔ of the recipe if you only need 2 or 4 loaves. I used ⅓ of a box of cake mix and made 2 loaves.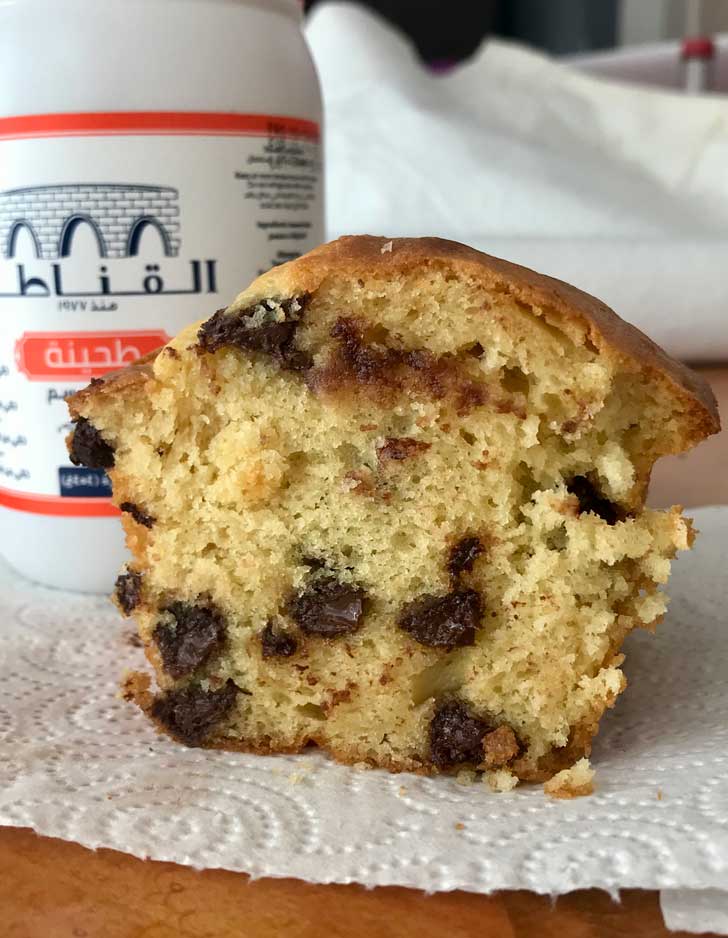 Loaf Pan Sizes
If you make the full recipe you should have about 3 pounds of batter. Depending on how deep your loaf pans are, you should be able to put 8 oz of batter into each little ceramic loaf pan for 6 loaves. For two large loaves, you could do two 8 ½ by 4 ½ inch pans, though they'd be slightly short. For one loaf, you can use the original version from the book, which is a 10x5. You could also make it as Bundt cake. So far I have only tested this recipe in the small ceramic loaf pans and not as one big loaf.
Recipe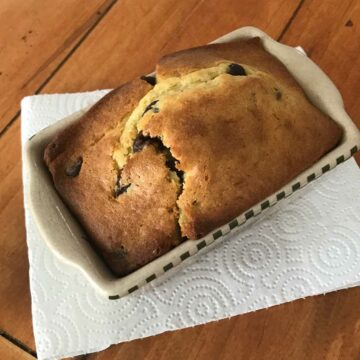 Tahini Chocolate Chip Loaf
An easy tahini flavored chocolate chip loaf cake made with cake mix. You can make this as one giant loaf, in which case it will take about an hour to bake, or 6 mini loaves. The minis take about 40 minutes.
Ingredients 
1

box

yellow or butter recipe cake mix (15.25 oz)

4

tablespoons

vanilla flavored instant pudding mix

1

cup

non-dairy or regular dairy milk

3

large

eggs

¼

cup

vegetable oil

¾

cup

well-stirred tahini

1

teaspoon

vanilla extract

1

cup

chocolate chips
Instructions 
Preheat oven to 350 degrees F. Grease and flour six mini loaf pans. They should be around 3x5 or 3x6 inches and about 2 ½ inches deep.

In a large mixing bowl, stir together the cake mix and pudding mix. Make a well in the center and add half of the milk. Stir the milk in with some of the dry mixture, then stir in the eggs, followed by the oil, tahini and vanilla.

You can stir by hand or use low speed of an electric mixer.

Stir in the chocolate chips.

Divide the batter among the 6 mini loaf pans (pans should be a little over half full) and set on a rimmed baking sheet.

Bake for about 40 minutes or until loaves are set.
Notes
Do not overfill the loaf pans.  The batter rises substantially, so try not to fill over halfway full.  If your loaf pans are smaller or not as deep as the ones I used, you may get more loaves than 6.  Just do not overfill.