A while back my daughter made Butterfinger Bark as a holiday gift for her friends. She had a good time making it, and I enjoyed eating it! However now we've found a new and slightly more sophisticated bark courtesy of Cooking Light — Spicy Aleppo Chocolate Tahini Bark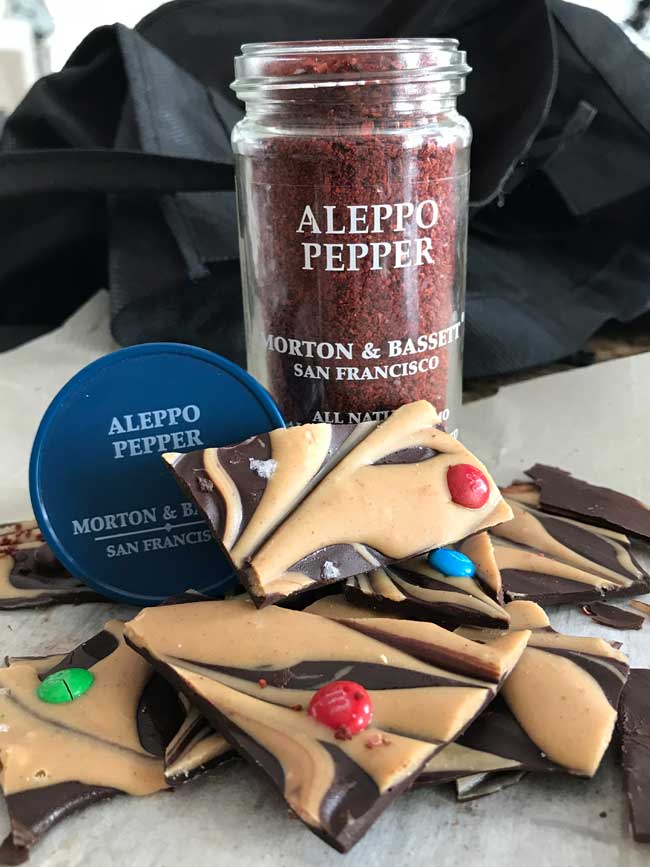 Since I'm currently taking a ride on the put-tahini-in-everything bandwagon, I used the opened jar of tahini from few days ago. It worked nicely, but what I'm learning about tahini is different brands have varying levels of bitterness. The brand I used has some bite to it, but when mixed with the melted peanut butter chips it mellowed out. I currently have an order in for some Soom, so we'll see how that one tastes.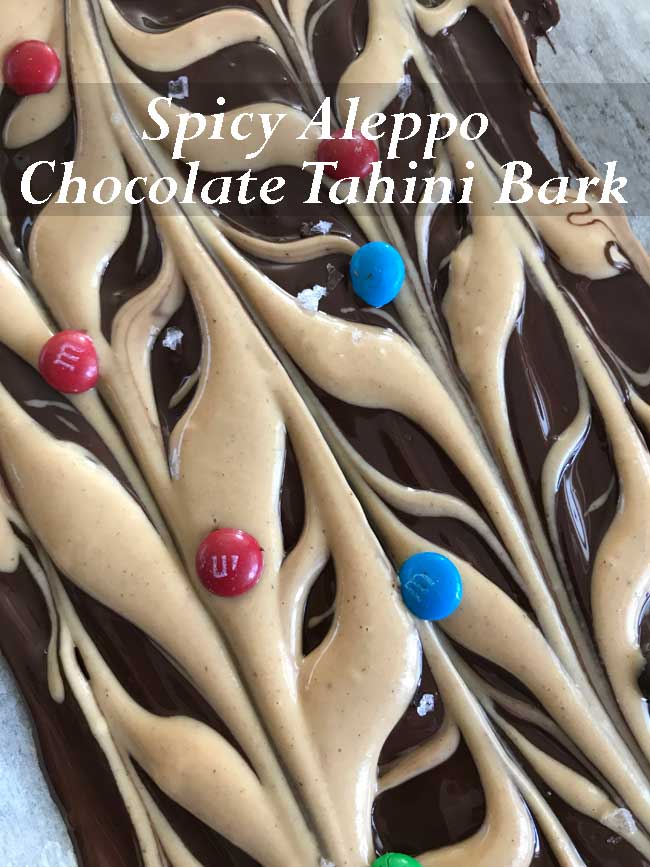 Okay, so how was this bark? Very good! So good in fact that I made another trip to the store and bought the Aleppo pepper. I thought I could get away with leaving it out and using red chili flakes, but the tongue numbing burn wasn't as pleasant as the gentle warmth from the Aleppo so it was worth a quick run to the store for new pepper.
Here's the recipe as I made it. Cooking Light recommends chocolate chips. I used Trader Joe's dark chocolate, but I didn't temper it well so the bark has to be refrigerated to stay solid. If you are not a pro at tempering chocolate, you may want to stick with the chocolate chips.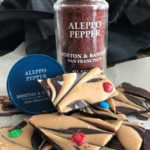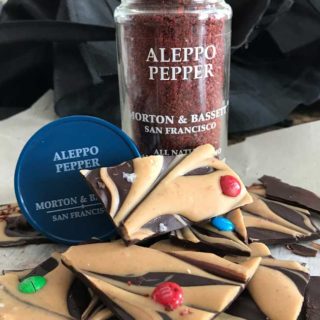 Print Recipe
Spicy Aleppo Chocolate Tahini Bark
Aleppo Chocolate Tahini Bark is a quick dessert made with melted chocolate, peanut butter chips and tahini.
Ingredients
8

oz

bittersweet or dark chocolate chips or chopped dark chocolate**

1/4

cup

peanut butter chips

Reese's brand

1

tablespoons

tahini

Maldon sea salt

Aleppo pepper
Instructions
In a microwave-safe bowl, melt the chocolate chips on high stirring every 30 seconds until melted.

Put the peanut butter chips in a small bowl and spoon the tahini over them to coat. Microwave at 50% power stirring every 30 seconds, until creamy. You could probably get away with using high, but I like to melt vanilla and peanut butter chips on a lower power because there's less risk of scorching.

Spread the melted chocolate evenly over a large parchment covered baking sheet, then spoon lines of tahini mixture over chocolate. Gently swirl through or make lines up and down. Sprinkle with sea salt and pepper (an Mini M&Ms if you just happen to have some)..

Put the tray in the freezer for about an hour or until set, then break into pieces.
Notes
I used Trader Joe's Dark.