Chocolate Tahini Bark is a slightly more sophisticated version of the Butterfinger Bark my daughter makes for her friends during the holidays. It may sound a little strange, especially considering the Aleppo, but it is a great candy recipe courtesy of Cooking Light.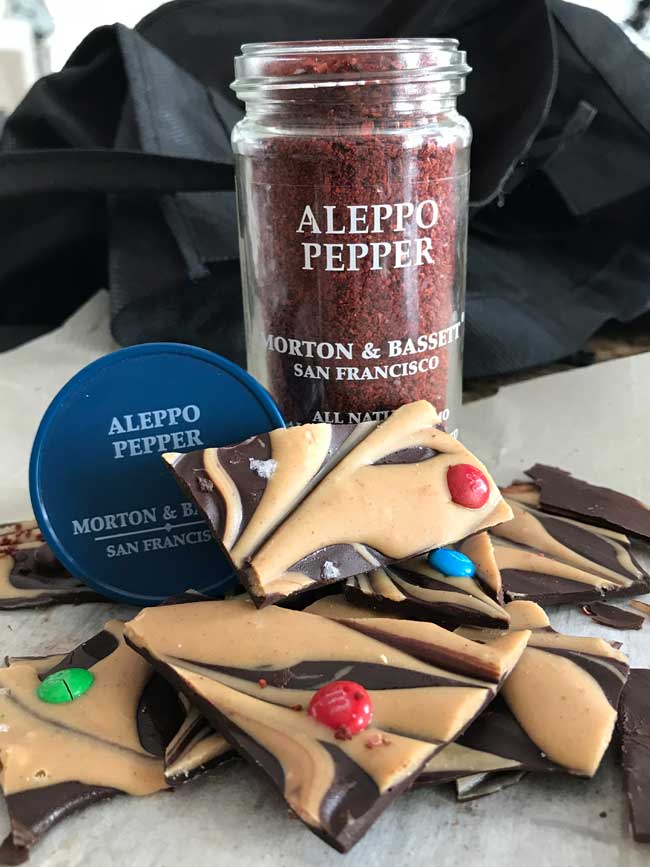 What I learned a while back (and what you may already know) is that some brands of tahini are better than others. Once you find the brand you like it's hard to stop eating. I love Soom, which can be ordered from Amazon.  However, there are a lot of other good ones.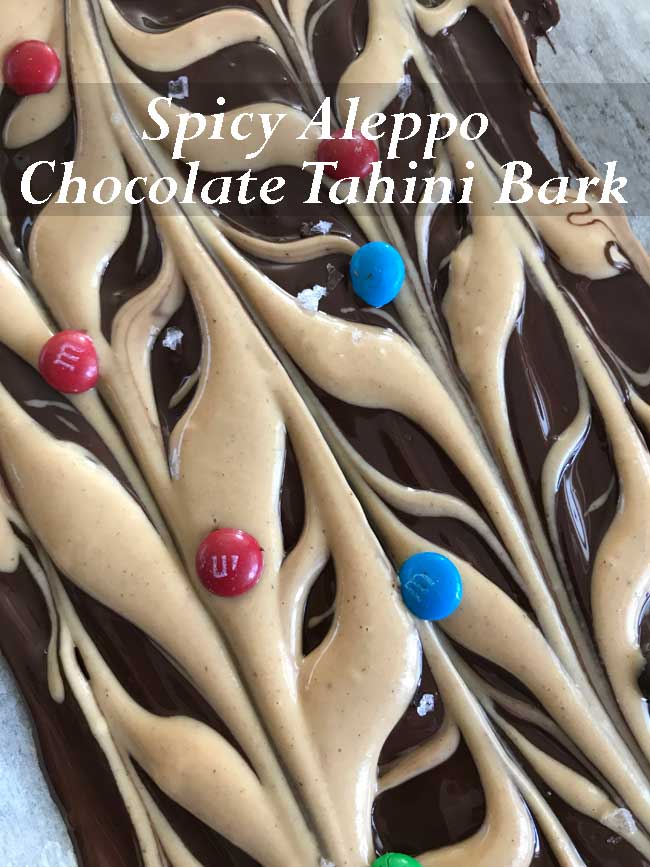 About the Aleppo, it is part of the title of the recipe but you can leave it out if Chocolate Tahini Bark is as exotic as you are willing to go (or if you just don't want heat from the pepper). But the Aleppo isn't really that spicy, so I recommend at least trying it.
Here's the recipe as I made it. I've made it with both dark chocolate and chocolate chips. Chocolate chips work better because they don't need to be tempered and you can keep it at room temperature longer.
Keto Chocolate Tahini Bark
If you are following a keto diet or just trying to lower sugar, you can make Keto Chocolate Tahini Bark or Keto Aleppo Chocolate Tahini Bark. I've put the proportions in the notes section, but basically you substitute Lily's (or your favorite) sugar free chocolate chips for the bittersweet and use a mixture of 1 part coconut oil or cocoa butter, 2 parts peanut butter and 3 parts tahini for the swirl.
Recipe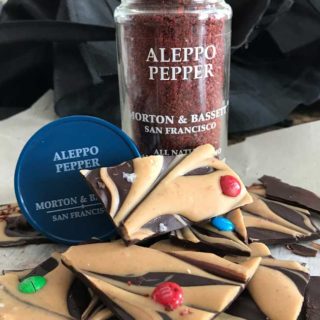 Spicy Aleppo Chocolate Tahini Bark
Aleppo Chocolate Tahini Bark is a quick dessert made with melted chocolate, peanut butter chips and tahini.
Ingredients 
8

oz

bittersweet or dark chocolate chips or chopped dark chocolate**

¼

cup

peanut butter chips

Reese's brand

1

tablespoon

tahini

Maldon sea salt

Aleppo pepper
Instructions 
In a microwave-safe bowl, melt the chocolate chips on high stirring every 30 seconds until melted.

Put the peanut butter chips in a small bowl and spoon the tahini over them to coat. Microwave at 50% power stirring every 30 seconds, until creamy. You could probably get away with using high, but I like to melt vanilla and peanut butter chips on a lower power because there's less risk of scorching.

Spread the melted chocolate evenly over a large parchment covered baking sheet, then spoon lines of tahini mixture over chocolate. Gently swirl through or make lines up and down. Sprinkle with sea salt and pepper (an Mini M&Ms if you just happen to have some)..

Put the tray in the freezer for about an hour or until set, then break into pieces.
Notes
For a keto version, use 8 oz of sugar free chocolate chips.  I like Lily's milk chocolate flavor. To make the swirl, melt  14 grams of coconut oil (about a tablespoon). Stir in 28 grams of softened peanut butter (little less thant 2 T.) and 42 grams of Tahini (3 T.).  Sweeten to taste with liquid allulose or liquid stevia and drizzle over the melted chocolate mixture.  The keto version will need to be refrigerated.