Every year I forget how much I love making and eating candy barks. It's such an easy but satisfying homemade candy, and it's fun to make because you can customize the flavors. This Butterfinger Bark, which you can make with crushed Butterfinger candy bars or pre-crushed Butterfinger Bits, is one of our favorites.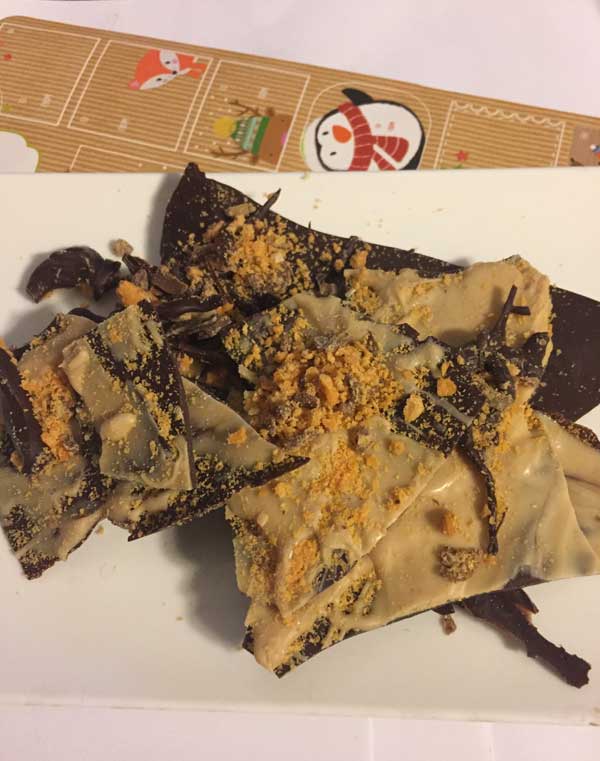 Like Peppermint Bark and Spicy Aleppo Chocolate Tahini Bark, Butterfinger Bark is super easy. You just melt some chocolate chips in the microwave, spread the melted chocolate on a flat surface, then swirl with a mixture of melted white chocolate and peanut butter. The crushed Butterfinger bars or Butterfinger Bits are then scattered over the top, so you get a variety of contrasting textures in each bite.
Butterfinger Bark Packaging
Another fun thing about homemade bark type candies is packaging. You can wrap it up in tin tie or cellophane bags or put it in decorated tins. When my daughter was younger, she used to like decorating the tins as much as making the candy.
Recipe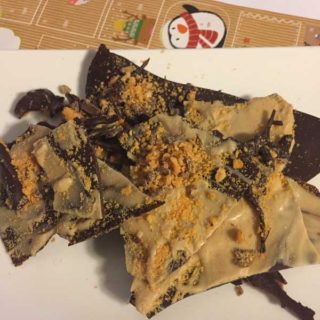 Butterfinger Bark
A great holiday candy bark for those who'd prefer peanut butter over peppermint. We saw the Butterfinger Bits at Target, but ended up using crushed Butterfinger candy bars.
Ingredients 
2

cups

semisweet chocolate morsels

1

cup

white morsels

¼

cup

creamy peanut butter

1

cup

6 oz Butterfinger Baking Bits or a couple of crushed Butterfinger bars
Instructions 
Line a large baking sheet with parchment paper or wax paper or nonstick foil.

Put 2 tablespoons of semisweet morsels in a freezer type zipper bag or a disposable decorating bag and set aside.

Melt remaining semisweet morsels in a microwave-safe bowl on high power for 45 seconds; Stir and repeat until fully melted. Spread the melted semisweet chocolate in a thin layer across the baking sheet and let it sit while you prepare the white morsels.

Melt white morsels in a microwave-safe bowl. You can use 50% power and stir at 1 minute intervals, or use high power and stir at 30 or 45 second intervals. I prefer using a lower heat with white morsels. Stir the peanut butter into the melted white morsels.

Drizzle peanut butter mixture over top of set semisweet chocolate. Sprinkle crushed Butterfinger or Butterfinger Baking Bits over top and press down lightly to adhere.

Microwave the reserved 2 tablespoons morsels in heavy-duty freezer plastic bag on high power for about 20 seconds; knead until smooth. Cut a tiny corner from bag; squeeze to drizzle over bark.

Chill for 1 hour before breaking apart and serving. Store refrigerated in airtight container.