If there's one baked good I'm never satisfied with, it's Millionaire Shortbread. Sort of a bar cookie version of the Twix, Millionaire Shortbread has a bottom layer of shortbread, a middle layer of caramel and a top layer of chocolate.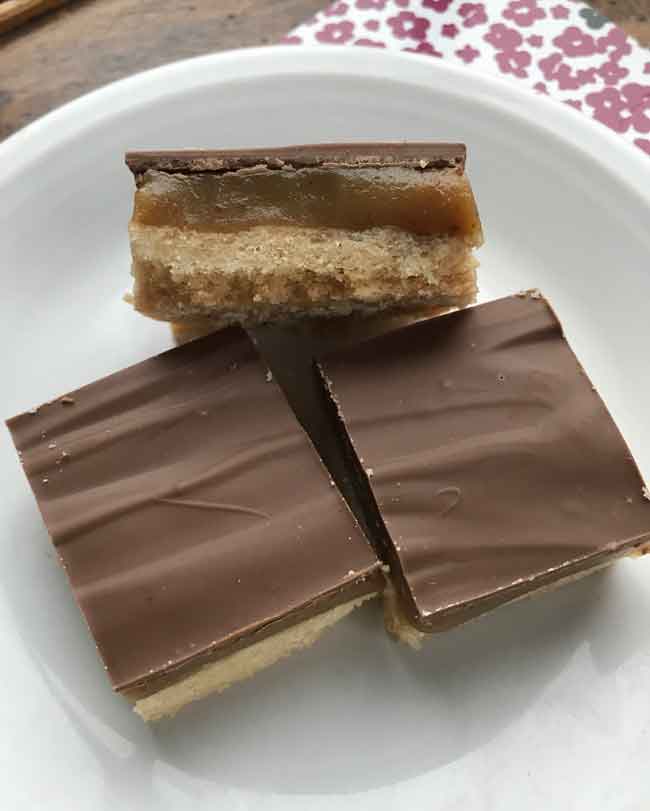 Over the years I've tried so many recipes and was never 100% happy with the results.  The caramel layer was always pretty good, but the crust was never quite right -- either too bland, too hard, or too soft.  I've made it with cornstarch, cornmeal, rice flour, cake flour, adding an egg yolk, brown sugar...you name it. But  I never found the crust completely satisfying until I incorporated a little roasted flour.
Roasted Flour Shortbread Crust

Adding roasted flour to cookies is my current obsession. In excess it can ruin the texture, but just a fraction of roasted flour in cookies often enhances the texture and bumps up the flavor, especially in things with very few ingredients such as shortbread. I'm really not sure why I didn't try this sooner, but adding roasted flour to the shortbread layer in Millionaire Bars makes them better.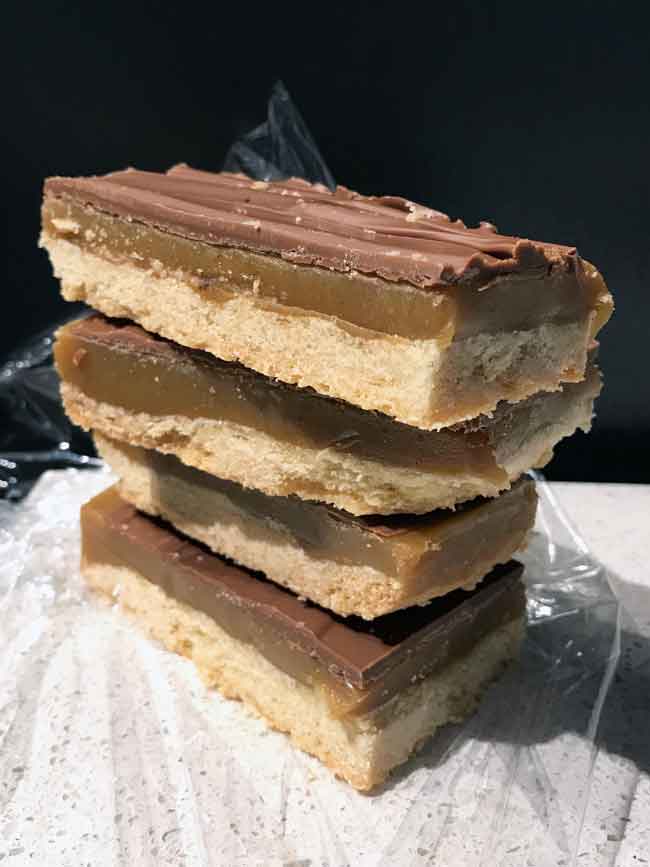 Roasting Flour Temperature and TIme
The good news is that roasting flour is extremely easy and can be done ahead of time.  Here's a picture of the roasted flour. I bake it at 350 for about 15 to 17 minutes. It comes out of the oven lighter (it loses 8% of its weigh every time) very crumbly and requires sifting.  I make a bunch, sift it and store it in a tupperware container.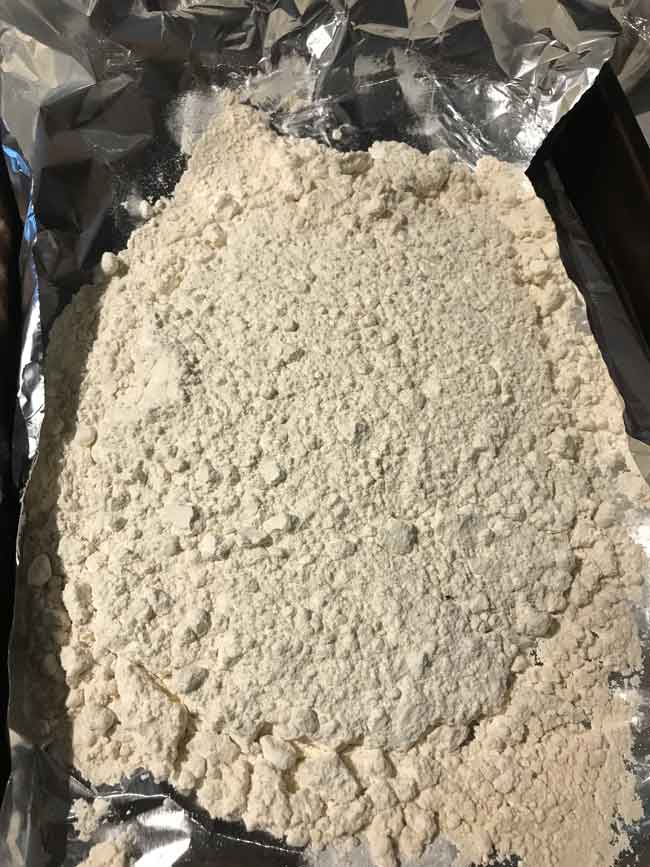 So once you have your roasted flour, you use ½ cup of it in the crust. That's pretty much the only trick. You can brown the butter if you want.  I tried it and the bars tasted good, but the browned butter flavor is pretty strong.  That said, I may be the only person on the planet who feels like brown butter is a little overdone and trendy these days and doesn't always enhance. So if you love brown butter the directions for the brown butter version are in the notes.  It's actually easier than the regular version because you just mix the dough in the saucepan you used to brown the butter and scrape up the bits.
Millionaire Bars Caramel Filling
Okay, onto the filling!  And I'm sorry this is post is so long.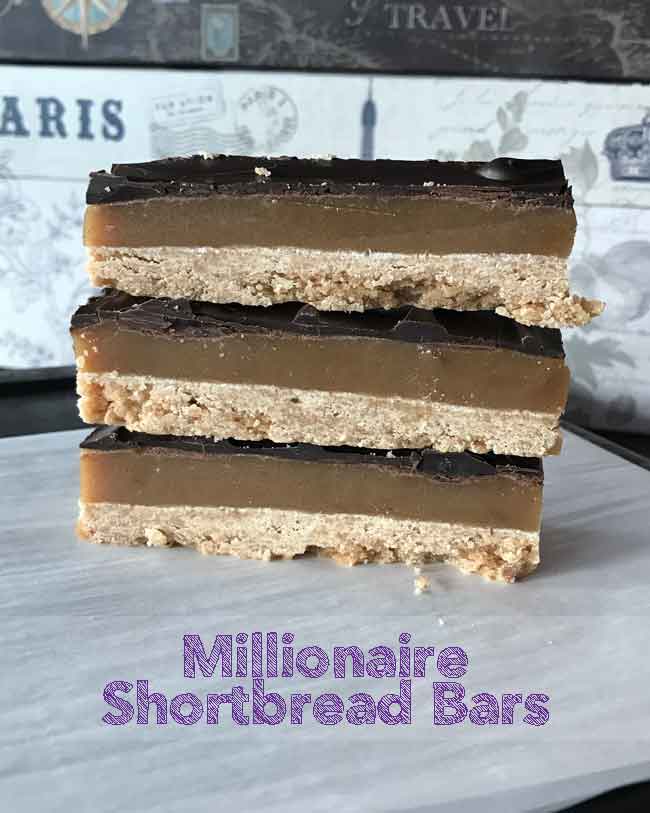 The filling I'm currently fond of is adapted from a British recipe that calls for only ⅓ cup of condensed milk.  If you are cringing at that measurement, it's probably because you are an American cook who is accustomed to using a full 14 oz can of condensed milk in any recipe.  It's interesting how American recipes almost always call for a full can. In other parts of the world they have condensed milk in squeeze bottles and you can use just as much as needed. Up until recently that wasn't the case in America, but Eagle Brand recently introduced a new squeeze package. I was excited about it until I saw the price. You get the same amount of condensed milk for more money, so for now I'd still rather keep the unused portion in a Tupperware container in the refrigerator.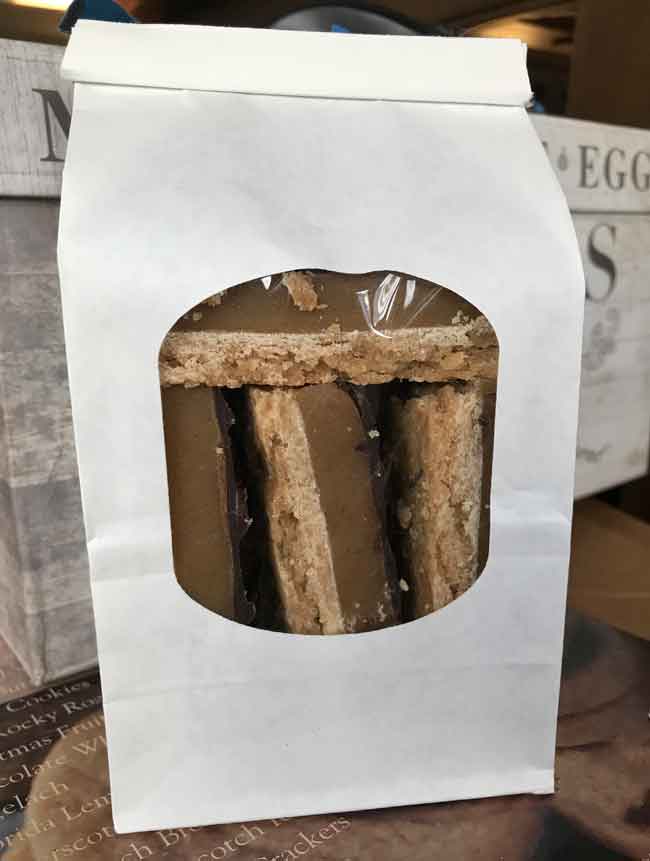 In the past I've made the caramel either too soft or too firm and have decided that softer is better when it comes to partnering with shortbread. This filling is just right. It's soft enough not to clash with the shortbread and not so soft that it has to be constantly refrigerated. It also calls for a mixture of light and dark brown sugar which is kind of a hassle but worth it. And because I've had a hard time remembering to buy Lyle's Golden Syrup , I used Trader Joe's organic corn syrup which is golden colored. If you don't have Lyle's Golden Syrup or Trader Joe's, Karo light corn syrup works.
Millionaire Bars Topping
Last but not least is the chocolate topping.  Some bakers make it with a ganache, but after trying ganache vs. melted chocolate my personal preference is just good quality melted chocolate.   One 4.5 oz Lindt bar, melted in the microwave, is usually enough to cover an 8 inch square pan. If you're more into dark chocolate, use dark.  The bars in the photo above were topped with one big dark chocolate Dove bar.
Recipe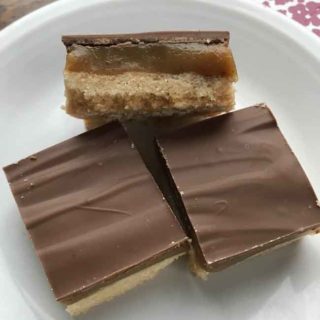 Roasted Flour Millionaire Shortbread
Roasted Flour Millionaire Shortbread
Ingredients 
1

stick

salted butter

(114 grams)

¼

cup

granulated sugar

(50 grams)

⅛

teaspoon

salt or if using unsalted butter, use ½ tsp.

⅔

cup

all-purpose flour

(84 grams) I use the weight, not the volume

½

cup

roasted all-purpose flour

(60 grams ) weigh for best results! ½ cup is an estimate. I use the weight
Caramel Filling
⅔

cup

unsalted butter

(150 grams)

¾

cup

brown sugar, half dark and half light

(150 grams)

⅓

cup

condensed milk

(100 grams)

3

tablespoons

corn syrup or Trader Joe's organic corn syrup

(60 grams)

¼

teaspoon

salt

¾

teaspoon

vanilla
Topping
4-6

oz

good quality milk chocolate or dark chocolate

chopped
Instructions 
First you'll need to roast some flour. I recommend roasting at least 2 cups at a time so you'll have more than enough for this recipe plus some extra. To roast the flour, lay 2 cups on a foil lined rimmed sheet pan and bake at 350 for 15 minutes. Let cool and sift. Weigh out as much as you need for any given recipe.

Line an 8 inch square metal pan with regular or nonstick foil.

In a mixing bowl, combine both flours (84 grams of all-purpose and 55-60 grams of roasted all-purpose), sugar and salt. Pour the melted and cooled butter over flour and stir to make a crumbly mixture. Press tightly and evenly into the bottom of the pan and chill crust for at least 30 minutes or until ready to bake.

Bake the crust at a low and slow 300 for about 40 minutes.

In a 3 quart heavy saucepan, partially melt or just soften the butter over low to medium low heat. Remove from heat and stir in brown sugar, condensed milk and syrup until uniform.

Return saucepan to heat and bring to a boil, stirring often. As soon as it starts to boil reduce heat to a simmer and insert candy thermometer (I use my deep fry thermometer) and cook to 225 degrees F. This should only take about 5 or 6 minutes. Remove from heat and stir in salt and vanilla. At this point the caramel will still seem very runny and won't look anywhere near setting. Pour over the crust and allow to cool at room temperature for about an hour. Transfer to the refrigerator when the pan is cool enough to do so.

To make topping, chop up the milk chocolate and microwave for 30 seconds. Stir well. Continue microwaving at 50% power and stirring often. Spoon over caramel layer. If using bittersweet chips, melt in microwave for 30 seconds on high. Stir well, the continue microwaving on high for 30 seconds and stirring. Pour over bars. Allow chocolate to cool slightly, then put in the refrigerator or freezer until set.

Once the chocolate and the caramel have set you can store the bars in the freezer, refrigerator or at room temperature. I store mine in the freezer and bring them to room temperature before serving.
Notes
For a browned butter crust, use the following method: Brown 1 stick of butter in a large (3 quart) saucepan. Remove from heat. In a separate bowl mix together both flours, salt and sugar, then add the flour mixture to the saucepan, stirring well and scraping any brown bits off the bottom of the pan and into the dough The dough will be very moist and uniform and kind of shiny from the melted sugar. Spread it evenly in the pan, let cool slightly, then chill for at least 30 minutes or until it is very cold. Bake at 300 degrees F. for 40 minutes.