I've always wanted to make the perfect Millionaire Shortbread, but my idea of perfection keeps changing and that's been an impediment. But this week I finally found my new favorite square pan recipe. All three components work! The shortbread is soft enough to cut without crumbling, the caramel is deeply flavored and the topping is a thick layer of straight up milk chocolate. I went a little crazy writing details for this post, so here's a jump to the recipe button.
Jump to Recipe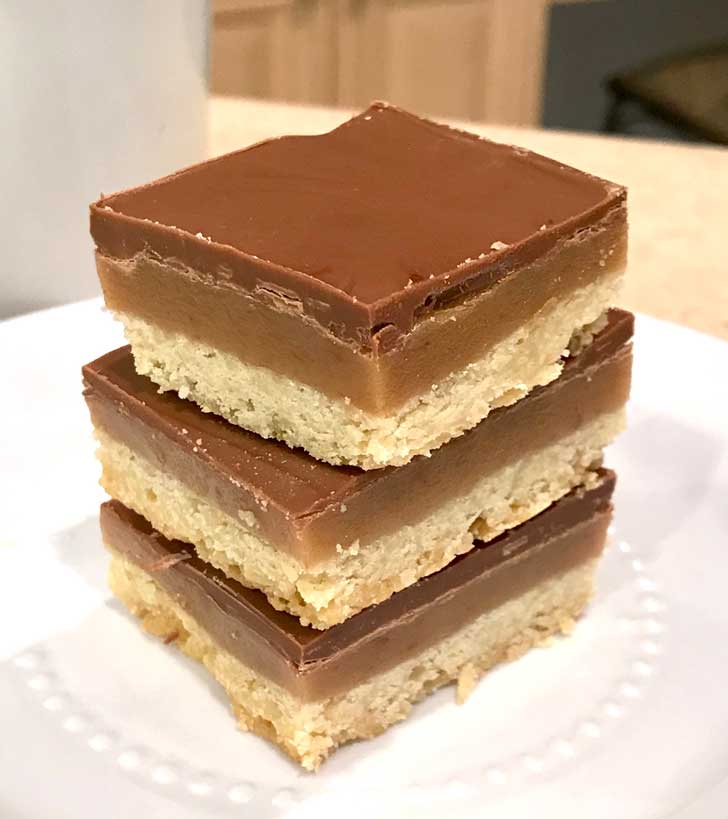 8 Inch Square Pan
This recipe is better than others I've made, plus I personally like it because it only makes one 8 inch square pan.  You can double it and make a 9×13 inch pan, but an 8 inch pan goes a long way. For this recipe you'll weigh out half a can of condensed milk, so in anticipation of that you may want to also have ingredients to make a half batch of Animal Cracker Seven Layer Bars or homemade No-Churn Ice Cream.
Millionaire Shortbread Crust Notes
Butter — I've tested store-brand butter and Vermont Creamy cultured butter. The crust is softer and easier to cut with the store-brand butter, but jagged and crumbly with the higher fat cultured butter. In a taste test, the cultured butter version would probably win, but I kind of preferred the softer texture of the store brand butter.
Salt — Make sure to use enough. So many crusts are bland tasting from lack of salt, but with all the sugar the salt is a good counterpart.
Baking Powder — Softens the crust a little without making it overly soft like cake flour or egg yolk. I'll be adding it to Millionaire Shortbread crust from now on.
All Purpose Flour — I've been testing with slightly lower protein brands (Gold Medal as opposed to King Arthur) in an effort to keep the gluten lower for a more tender crust. I think it helps, but the jury is still out. It would be interesting to also test bleached against unbleached.
Millionaire Shortbread Caramel Layer
When I jumped back into making Millionaire Shortbread, I burned the first batch of caramel right away. Brown lumps appeared, they quickly multiplied, and then the caramel started to separate. I'm terrible with caramel in the first place, but I think the choice of ingredients increased the margin of error. The batch I burned used store- brand condensed milk and heavy cream. I read somewhere that some brands of condensed milk burn more easily based on the way they are treated. So I blamed it on the store-brand condensed milk, made it again with Eagle Brand and didn't have the burning issue. I also omitted the cream so I can't say it was a fair experiment! Anyhow, here are some tips for people who aren't naturally good at making caramel.
You know you're not supposed to scrape the pot while making caramel, but it's just as important to use the right size pot so that there's less surface area making contact with the candy. I recommend a 2 quart saucepan with a heavy, nonstick surface. I use a pot by Crofton I bought a while back at Aldi or Homegoods (I forgot).
Use Eagle Brand condensed milk just in case it's true that other brands burn quicker. I can't confirm or deny this yet.
Melt the butter gently, then stir in the sugar and other ingredients off heat so that mixture is homogeneous before you start cooking. Everything should cook at the same speed.
Cook the caramel at a steady simmer — low and slow so that it takes about 15 minutes to hit 237.
Chocolate Topping
Millionaire Bars are great topped with straight-up milk chocolate. For this recipe I've tested with melted Dove Milk Chocolate Promises and a whole Lindt Bar which I just threw on top of the hot caramel. I like the method of putting solid chocolate on the hot caramel and let it kind of melt in best.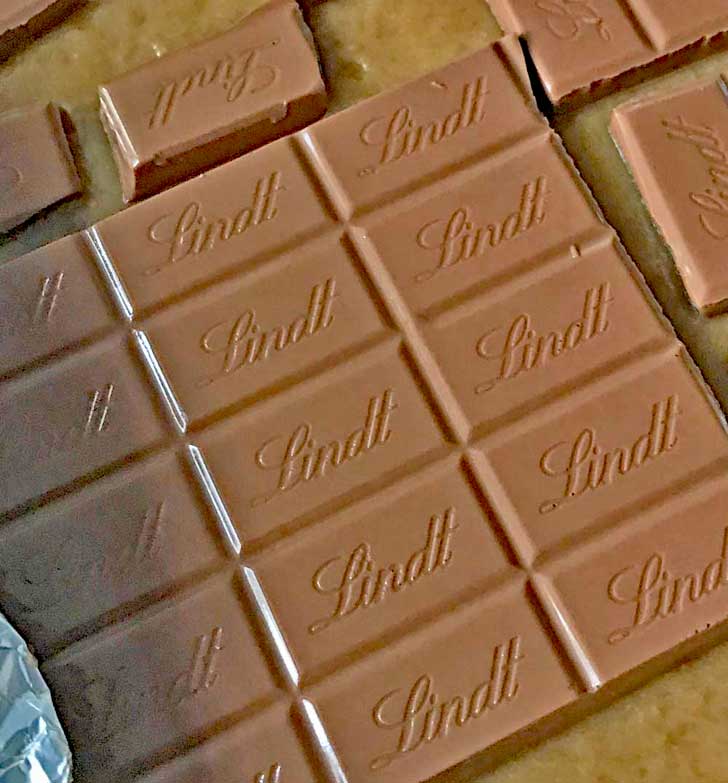 Here's the recipe!
Recipe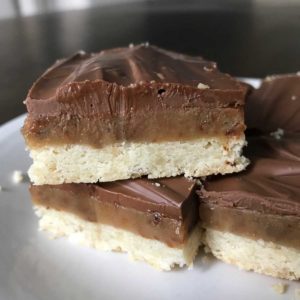 Millionaire Shortbread
A basic recipe for Millionaire's Shortbread made in an 8 inch square pan.
Ingredients 
Shorbread Layer
1

cup

all-purpose flour

(125 grams)

1/8

teaspoon

baking powder

1/4

teaspoon

salt

1

stick

unsalted butter, cut in 1 inch chunks and softened

(115 grams)

1/4

cup

sugar

(50 grams)
Caramel Layer
4

tablespoons

unsalted butter, cut into chunks

(56 grams)

1/2

cup

light brown sugar, packed

(100 grams)

1/2

can

can sweetened condensed milk

(196 grams)

1

tablespoon

dark corn syrup or Golden Syrup

(18 grams)

1/8

teaspoon

salt

1/4

teaspoon

vanilla extract
Chocolate Layer
6

oz

milk chocolate

(170 grams)
Instructions 
Line an 8 inch metal pan with foil and spray foil with cooking spray.

Mix together the flour, baking powder and salt. Set aside.

In a mixing bowl, cream butter and sugar. Stir the flour mixture into the butter mixture until fully blended. Break up the dough and scatter it evenly over the bottom of the pan, then use dampened fingers to press into an even layer. Dock with a fork and chill dough for an hour.

Preheat the oven to 325° F. Bake the chilled crust for 25 minutes, then let cool while you make the caramel layer.

To make the caramel layer, put the butter in a heavy bottomed 2 quart saucepan and melt over gentle heat. Remove from heat, then add the brown sugar and stir until dissolved. Still off heat, stir in the condensed milk, corn syrup and salt. Bring mixture to a simmer and cook over low to medium low (just keep it at a simmer with heat slowly rising), stirring often, until it reaches 237 degrees F. This should take about 15 minutes, so don't rush it. To avoid brown bits, use a wooden spoon for stirring and don't scrape the sides of the pot if you can avoid it.

Quickly stir in the vanilla, then pour over the shortbread. Break up the milk chocolate (or slap on a whole bar) and set it on the hot caramel. Cover pan with a heavy duty baking sheet or other large flat object to hold in the heat and soften chocolate. This should take about 5 to 10 minutes.

Most Fun Part: Using the back of a spoon, spread the softened chocolate over the firm (but still warm) caramel and let it all cool at room temperature. Transfer to the refrigerator.

To serve, lift bars from pan using foil. Cut into squares. If it's rock hard, let it sit at room temperature for about 20 minutes.